Plus, the US World Games tryout list gets whittled down to 32.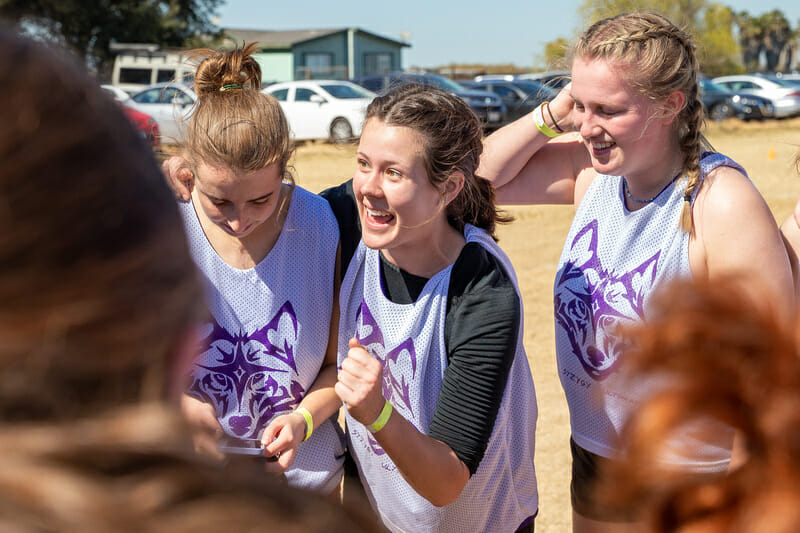 Opening Pull is Ultiworld's weekly wrap-up of the previous week in ultimate, available both here on the site and as an email newsletter. We've gathered the news you need to know and highlights you need to see. Check back weekly or subscribe now to receive Opening Pull in your inbox along with a rundown of the previous week's content on Ultiworld.
Carleton Syzygy and Brown Brownian Motion Big Weekend Winners
On a busy weekend slate in the D-I college division, Carleton Syzygy and Brown Brownian Motion won tournaments with perhaps the most competitive fields we'll see before Milwaukee.
Carleton took home the Stanford Invite title with a largely dominant undefeated weekend including wins over four Top 10 women's teams and denying UC Santa Barbara the Southwest Triple Crown. Syzygy knocked off the Burning Skirts in the semifinals before topping UC San Diego 12-10 in the final.
On the other side of the country, the Brown men earned an impressive win at the Smoky Mountain Invite against an elite field peppered with Top 25 competition; they won their three Sunday bracket games by a total of four points, handing #1 North Carolina their second loss of the weekend.
You can read up on our Day 1 coverage from Stanford and Smoky Mountain on this site now, and stay tuned for full weekend recaps in the coming days.
Meanwhile in D-III, the Richmond Spidermonkeys came out on top of a 10-team round robin at FCS D-III Tune Up, finishing the weekend 6-1 including a double game point victory over runners-up Berry and a loss to Navy.
Ultimate Canada Announces Dates and Location for 2022 Canadian Ultimate Championships
Last week, Ultimate Canada confirmed details about the country's various club national championship events for this year. The adult/senior divisions will take place on August 18-21 and the junior divisions will take place on August 21-24, both in Brampton, Ontario — the site originally scheduled to host the canceled 2020 edition of the tournament.
In addition, the Canadian Masters Championships were announced for the weekend of August 6-7 to avoid competing with WMUCC in June, though a location has yet to be confirmed.
WFDF Bans Russian, Belarusian Athletes from Events
Staying aligned with other world sporting governing bodies like the IOC and FIFA, the World Flying Disc Federation has banned Russian and Belarusian athletes from competing in sanctioned events until further notice and suspended the national governing bodies in those countries, as sanctions on Russia for their attacks on Ukraine continue to broaden.
A statement from Russian ultimate athletes also condemned the actions of their own government and expressed solidarity with their peers in Ukraine.
32 US Athletes Get Invite to Second World Games Tryout
Following the first tryout weekend in late February, 32 players have been offered spots at the second tryout that will take place March 26-27 back in Round Rock, TX. From that group — which includes eight returners from the 2017 roster — the coaching staff of Matty Tsang, Miranda Knowles, and Patrick Sherlock will select a team of 14 players to represent the United States at the World Games this summer in Birmingham, Alabama.
Coming Up
The Western Ultimate League is kicking off their 2022 season this coming weekend with a four-game slate hosted in Arizona. Check out all the action between the Arizona Sidewinders, San Francisco Falcons, Seattle Tempest, and Utah Wild from Friday through Sunday.
We're down to the last of our reader-voted Play of the Year brackets, as four candidates remain in the running to be named the Block of the Year! Weigh in on your favorites in the semifinals and final this week!
Correction: A previous version of this article (and accompanying email newsletter) incorrectly stated that Brown handed North Carolina their first loss of the season; Massachusetts beat Darkside the day prior.