Midseason action in Texas!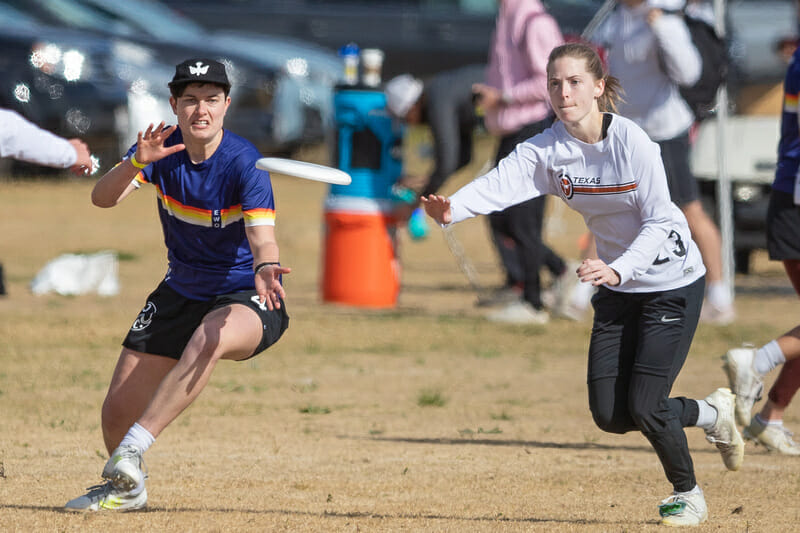 Our coverage of the 2022 college season is presented by Spin Ultimate. You can get 15% off all college uniforms and swag right now at Spin Ultimate!
Centex has been one of the long-standing pillars of college play, in particular for its midline location drawing teams from multiple regions. While its standing in the women's division has been prominent, the men's division has been more inconsistent. It's still a strong field in the former, but lacking on elite teams in the latter.
However, once the teams hit the fields, the rankings don't mean as much. Many of these clubs have tough regional journeys ahead in the Series, and Centex will be one of their last regular season opportunities — even if it is also their first — to take shape as a squad.
Tournament Profile
Date: March 19-20
Location: Austin and Round Rock, TX
Weather Forecast: Highs between 60 and 70, 15 mph winds, rain on Friday evening
Top 25 Women's Division Teams: #8 Tufts, #15 Texas, #17 Pittsburgh, #18 Florida State, #19 Northeastern, #21 Dartmouth, #24 Michigan
Top 25 Men's Division Teams: #13 Texas, #25 Florida
Competition Schedule & Scores
Filming Schedule
These games will be available online next week for Ultiworld Full and Plus subscribers. They are being filmed, not livestreamed. Additional games may also be recorded.
Women's Division
Dartmouth vs. Illinois
Chicago vs. Georgia Tech
Northeastern vs. Florida State
Prequarter
Quarterfinal
Semifinal
Final
Men's Division
Iowa State vs. Oklahoma Christian
LSU vs. Chicago
Chicago vs.. McGill
Crossover Game
Quarterfinal
Semifinal
Final
College Team Packs are on sale now! Get video access and subscriptions for your entire team and coaching staff (including all of our 2021 college fall footage) along with a guaranteed filmed game, download access for highlight/Callahan/Donovan reels, and more.
Women's Division
Top Seeds Get Second Chances
Top-seeded #8 Tufts Ewo is already very familiar with #15 Texas Melee at this point in the season, having beaten them twice in close games just two weeks ago at Stanford Invite. Tufts also notched a 13-6 win over third-seeded #17 Pittsburgh Danger back in February, so there will be few surprises in store for them as the favorites this weekend in Austin. Hazel Ostrowski, Julia Lober, and Leija Helling lead a patient, experienced Ewo offense with a lot of Nationals-level experience under its belt. Now traveling to their third tournament of the season in three different regions, Tufts is quickly building a resume of a strong contender in 2022, and have the least to prove of any team in the field.
No.2 seed Texas, after losing to Ewo at Stanford, will be happy to have a chance to make another run at them on their home fields. They'd be wise not too look too far ahead, though – their matchup with #24 Michigan Flywheel, a perennially strong program in the Great Lakes region, will be one to watch on Saturday. Mindy Radike anchors this team on the handler side, which has seen a lot of talent graduate or run out of eligibility in recent seasons, though they retain a strong core of cutters led by Summer Wilson and Sonja Stojcic.
Pittsburgh Danger, another Nationals regular making the trip south, looks to build on mixed bag of a season thus far. They have earned easy wins against some of the teams in this field — Michigan, Ohio State, Georgia Tech — scattered among blowout losses to teams they hope to compete with in May, like Tufts, Vermont, and North Carolina. Danger has the advantage of one of the deepest rosters in the field: Annelise Peters, Miranda Kosowsky, and Beth Manturuk lead a talented and experienced handler core, which should give them a leg up if things get windy, as they often do in Texas in March.
Ranked Teams Make Long-Awaited Debuts
Behind the top seeds lurk three teams that all bring major unknowns. #19 Northeastern Valkyries and #21 Dartmouth Daybreak are two programs that we've grown accustomed to seeing on the national stage in recent years. However, due to COVID restrictions and travel issues, neither team has played in a tournament of this caliber since the spring of 2020, so both will be eager to test the waters, build chemistry with new teammates, and simply return to meaningful college ultimate.
Clara Stewart returns to lead Northeastern, who boasts a slightly more experienced roster than their New England counterparts; Centex will also mark a homecoming for local YCC product Elyse Hall. For Dartmouth, gone are the various superstars who led them to multiple years of dominance in the division. Grace Alston, Jennifer Qian, and Caroline Tornquist are notable holdovers from the 2019 squad that finished second in the nation, but it'll be the rookies – of which Daybreak has 10 – that fill out this year's results.
#18 Florida State bring the opposite side of the spectrum, as a team that has generated a ton of meaningful experience together of late. The Seminole Ladies were surprise Nationals qualifiers in the fall, and have jumped into our rankings again thanks to an 18-0 record across three tournaments already this season. While that run is certainly impressive, it has come against mostly regional competition. The deeper field at Centex will immediately test the small roster's resolve to keep the streak alive: their pool contains Northeastern, the only west coast representative in USC Hellions of Troy, and a tough WashU Iron Horse squad that nearly stole a bid to Nationals in 2021.
The Pandemic Impact
As 2019 and 2020 grads continue to run out of eligibility, it'll be interesting to see how the college division recovers. The missed season-and-a-half of ultimate put a strain on every program, but especially the mid-level ones that make up much of the field at Centex, causing rosters to shrink and adding an air of mystery to the proceedings. This weekend, with ideal conditions in the forecast, should help identify the teams that are returning to form, the teams that are still building towards the future, and the teams that are ready to win now.
Men's Division
Defending the Home Turf
#13 Texas TUFF are the hosts of this year's Centex, and against a slightly weaker field than in past years, also come in as the favorite to win it all. Facing significant roster turnover from a fall 2021 season in which they nearly reached the Nationals semis, they got a first look two weeks ago at a breezy SMI. That's admittedly a tough first outing for a team still building chemistry, but they were competitive in losses to top teams Brown, Colorado, and UMass, and scored three convincing wins on day one. Look for Jake Radack, Jake Sames, and John Clyde to get the disc moving and young cutters Zach Slayton and Jake Worthington to make plays in the deep space. Saaketh Palchuru, Kolbe Bauer, and Richmond grad transfer Chris Cassella anchor a defense that can give opponents headaches.
Southeast Bubble Watch
#25 Florida is the only other team in the field currently in our rankings. They've been active in the early season, getting quality reps in at Warm Up and then making the trip cross-country to Stanford Invite, where they reached quarters before falling to Oregon. Michael Arbutine has emerged as a do-it-all cutter for this small, huck-happy roster. Defending National finalist Georgia is still the frontrunner in the region, but some surprising losses at SMI have opened the door to teams like Florida and no.3 seed Tulane. The Tucks were one of the darlings of 2021 Nationals, coming in as the no.16 seed and wreaking havoc in their pool, and almost all of that roster has returned for the spring, including handler duo Charles (Lieberman) and Charlie (Smith), alongside downfield threat Kai Durvasula. Their results at a windy Stanford Invite were a bit disappointing, going 0-3 in their pool before righting things in consolation play, so they'll look to come out firing in Texas in order to put themselves back in bid contention.
The Southeast contingent also includes LSU and Central Florida, two teams that will look to avoid each other after already facing off on three occasions this season (LSU leads the series 2-1). The Tigers began the season with a rough showing at Florida Warm Up, but bounced back with a win at their home tournament in Mardi Gras. They've had almost a month since to prepare for Centex, where they have had strong results in past years and will get a matchup with top-seed Texas on Saturday.
Unknowns from Other Divisions – and Other Countries
Two of the most notable additions to the field this year are defending D-III National Champions Oklahoma Christian and winners of the "furthest travel" award, McGill University (of Montreal, Canada). These teams are seeded no.13 and no.16, respectively, but how they actually stack up against the competition remains to be seen. Both are led by local products making the trip home to play against unfamiliar competition – OCU's Elliott Moore and McGill's Hayden Stone and Calvin Coulbury. Like many strong D-III programs, Oklahoma Christian has talent at the top of the roster, but struggles with depth, which could make a deep run in the tournament difficult. McGill, on the other hand, is perhaps more dramatically under-seeded. They played the fall U.S. series out of the tough New England section, where they barely missed Regionals after a one-point loss to no.10 seed Dartmouth Pain Train.