The WUL is a third of the way through and the PUL's first results are in.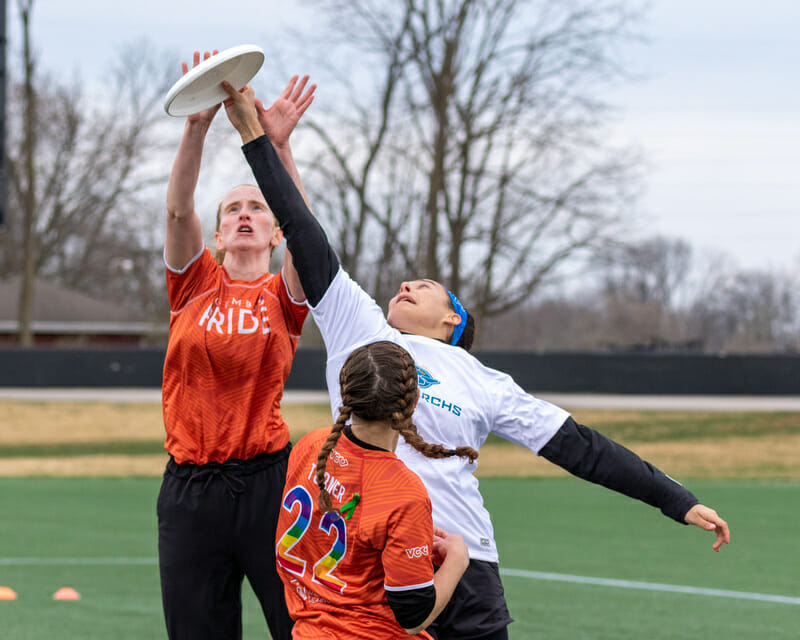 This is it, folks; this is not a test. Both the Western Ultimate League and the Premier Ultimate League are both in season, simultaneously. Get ready for a lot of women-matching semi-pro action! The lay of the land is becoming more visible in the Western Ultimate League, where home teams have been putting in work for the fans. Meanwhile, the PUL kicked off with each of the two games bringing something new to the table.
We are also thrilled to launch our new podcast, Double Overtime, which will go in-depth on both leagues. It is hosted by Jenna Weiner and Sascha Vogel, so you won't want to miss it.
Results & Standings

WUL Standings

PUL Results
PUL Standings
East
No games yet.
Midwest
Mikwaukee 1-0
Minnesota 0-0
Indy 0-0
Columbus 0-1
South
Raleigh 1-0
Nashville 0-0
Austin 0-0
Atlanta 0-1
Weekly Storylines
Postseason Gets Structure in PUL, Taking Shape in WUL
When our Premier Ultimate League Season Preview went live, we weren't quite sure of how the league's Championship Weekend would be set up. We now have some answers as to how the postseason will work.
As was the case in 2019, four teams will be invited to Championship Weekend. Three of those teams will be the division winners, the top team in each of the East (DC, Portland, New York, Medellin), Midwest (Milwaukee, Minnesota, Indy, Columbus), and South (Atlanta, Austin, Nashville, Raleigh), based on overall record.1 The final slot will be awarded to the non-division winning team with the best score according to the USAU algorithm. The league previously used the algorithm in the 2019 season to decide playoff berths. The host team is no longer guaranteed a postseason spot.
The lends added importance to divisional matchups and will sharpen focus on the East, where all four teams are in the top six of preseason Power Rankings. Under this structure, a maximum of two of those teams can reach the postseason.
Meanwhile, over half of the Western Ultimate League has played half of their games. The bottom two teams on the table aren't eliminated, but San Francisco has only two games remaining, putting them in a very difficult hole to climb out of. The Falcons almost certainly need to win out — which means flipping the script on a Week 6 trip to undefeated Seattle — and even that might not be enough. Meanwhile, Los Angeles has their lone home game of the season this weekend, with two road games and a neutral site game through the rest of their schedule. Road teams are 1-7 so far in 2022, so it isn't looking good for Astra.
That all cleans things up for the rest of the league. Seattle has to feel very secure with a league-leading three wins. That leaves Oregon, Utah, Arizona, and San Diego to battle it out for three postseason invites, with one being the odd one out. There are four games remaining between teams in that group, all within the next three weeks.
PUL Opening Weekend: Milwaukee Tops Columbus, Raleigh Runs Wild
The opening game of the season took place in Columbus, with the Pride hosting the Monarchs. Given the teams' thrilling Midwest Championship matchup last year, the pairing was a juicy way to start the season.
The first goal, however, came under unusual circumstances, as the Monarchs conceded a goal as an apologetic gesture after events pertaining to potentially rostering a player who had committed sexual assault.
The Pride jumped out to an early 2-0 lead with their first earned break, but the first half was a draw. Milwaukee quickly drew back to even at 2-2 and each of the first two quarters ended at ties. It was a 5-0 Monarchs run to begin the second half that shifted the game. Georgia Bosscher launched her lone assist — to go with an impressive three goals and a block — to Sarah Lipscomb for a hold, and a handler-led conversion on their next break chance, capped off by a Robyn Fennig dish. Jacqueline Jarik scored two of the team-leading four goals during the run, where the Monarch's D-lines turned the disc over just once.
The home team tried to fight back, but could never bring the deficit closer than three. As was the case during the Championship Series, Penny Wu was strong for Pride, firing in many of the team's assists, and looks primed for a big season as one of the league's best drivers of offense. Her opposite, Anna Thorn, anchored Milwaukee with a trio of assists and an equal number of blocks.
Atlanta played host to visiting Raleigh in the second game of opening weekend. The Soul have a pretty inexperienced roster this season, and missing veterans like Leah Tsinajinnie and Cate Woodhurst only exacerbated that issue. They weren't given much time to find their feet against the Radiance, who blitzed the hosts with their intense attack. At the end of the first quarter, Raleigh doubled up Atlanta, 8-4, and ballooned to 28-13 by the final buzzer. It's the largest margin of victory we've seen in the league.
Onyx Surpass Sidewinders, Super Bloom Claim First Win in OT
Visiting teams left with little for their troubles this past weekend, as Arizona was overcome by Oregon and San Francisco came up just short against San Diego.
A run out of the gate powered Oregon's home-field defense against Arizona, jumping out to a 5-1 lead that got as big as 9-3. Kimber Coles, who has made a career out of finding space the end zone, outscored the Sidewinders by herself through the first eight points, three goals to two. While Arizona battled back to within three in the second half, they could never threaten to overtake Oregon's advantage. Dani Runzo was fantastic, going 38 for 41 with one goal, four assists, and two blocks. The Sidewinders were egalitarian, with five players recording two assists, although that group also compiled 12 turnovers on 126 touches. Despite missing Aly Steinfeld, the Onyx were the superior outfit from start to finish.
By contrast, San Francisco and San Diego played within three goals the entire game. San Francisco's first lead didn't come until the 2:44 mark in the fourth quarter, the final goal of a dramatic four-goal run by the Falcons. But Alex Diaz came up with a clutch sky on a huck, and eventually flipped in the fifth of her massive six assists to tie the game at 14-14. Neither team was able to score the game-winner in regulation. In the extra period, San Diego was able to generate a short field turn after missing a huck of their own, and their fast-paced offense found Kristen Pojunis. The Falcons had a dramatic final offensive point, with a number of saves, nearly giving up a break, and a narrowly missed game-tying huck from Jessie O'Connor (what would have been her seventh assist of the night!) to Gem Bozzini, but could not survive.
Power Rankings
WUL
PUL
Highlight of the Weekend
The Onyx's Jaycee Jones called an incredible timeout against Arizona, after a pretty routine aerial display over two defenders.
WUL Fantasy Updates
Standings
We're about a third of the way through season (already!), and here's how the standings sit:
Spencer T. (378)
Keith R. (345)
Cassie B. (341)
Venu M. (340)
Akshat R. (334)
Jesse C. (331)
Fred (330)
Jarred C. (326)
Henry A. (325)
Jomskylark (321)
It helps to be one of the only people to roster Claire Toth! Spencer T. has a nice lead already, and it could get worse for the rest of the competitors: captain Dena Elimelech has only played two games thus far.
Keith R. — well, that's me — also has Elimelech in a captain's slot, but is mostly riding that, captain Han Chen, and Lindsey Doyle to success. That's despite eating a zero from Paige Kercher, who has yet to take the field Utah.
Like the top two, Cassie B. also has Elimelech as a captain and, like Keith, has a 0 on the roster (Elsa Winslow) that could power things up. Captain Cassie Wong and picks including Ari Nelson, Shayla Harris, and Qxhna Titcomb gives Cassie a great core of strong performers.
Top Scorers in Week 4
Here are the top-scoring players for the week2
Claire Toth (San Francisco) – 8 [3%]
Jessie O'Connor (San Francisco) – 7 [9%]
Jade McLaughlin (Arizona) – 6 [12%]
Morgan Zajonc (Oregon) – 6 [1%]
Alex Diaz (San Diego) – 6 [42%]
Kelli Iwamoto (San Diego) – 5 [36%]
Shayla Harris (San Francisco) – 5 [14%]
Kimber Coles (Oregon) – 4 [7%]
Melissa Dunn (Arizona) – 4 [12%]
It was another big week for California alum Claire Toth, who led all scorers for the week. She and teammate Jessie O'Connor were a cut above the rest of the league.
Top Scorers Overall
Morgan Zajonc (Oregon) – 60 [1% rostered]
Jade McLaughlin (Arizona) – 51 [12%]
Lindsey Doyle (Arizona) – 48 [2%]
Qxhna Titcomb (Seattle) – 42 [54%]
Sam Rodenberg (Seattle) – 42 [1%]
Ari Nelson (Arizona) – 42 [12%]
Claire Toth (San Francisco) – 42 [3%]
Han Chen (San Francisco) – 42 [26%]
It is pretty impressive to see Zajonc atop the standings, considering that Arizona and San Francisco, who populate most of the rest of the top spots, have played an extra game. But Zajonc is the only player in the league with 5+ goals, assists, and blocks. The other holdouts are the Seattle duo of Titcomb and Rodenberg, the latter of whom has a healthy lead in the scoring table with 12 goals.
Up Next
Western Ultimate League
Utah (1-1) at Los Angeles (0-2)
Premier Ultimate League
Indy (0-0) at Nashville (0-0)
DC (0-0) at Raleigh (1-0)
---
Tiebreakers: head-to-head, followed by divisional record. ↩

Does not include players who were not rostered. ↩