The Radiance and Shadow went toe-to-toe.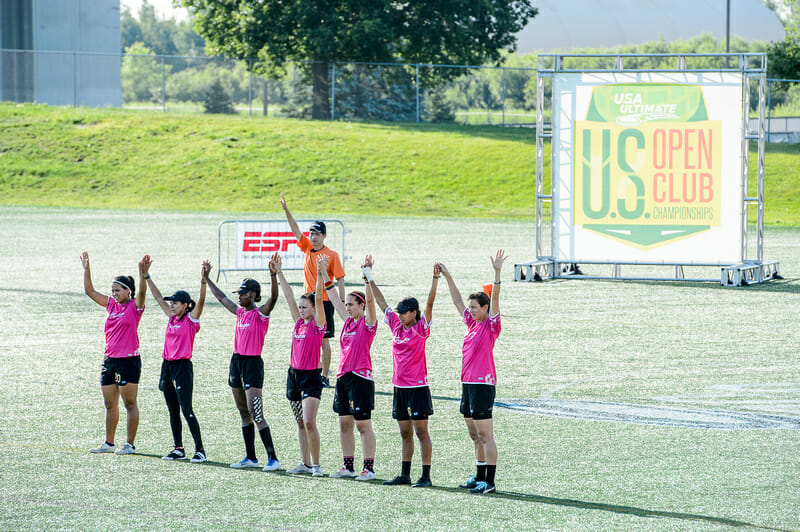 Opening Pull is Ultiworld's weekly wrap-up of the previous week in ultimate, available both here on the site and as an email newsletter. We've gathered the news you need to know and highlights you need to see. Check back weekly or subscribe now to receive Opening Pull in your inbox along with a rundown of the previous week's content on Ultiworld.
2022 Club Guidelines Released
We may be in the throes of the college season, but club teams are already making plans and even beginning to host tryouts. Likewise, USA Ultimate has begun setting up for club season. Last week, they announced the Club Season Guidelines for the 2022 season.
Included are the dates and locations for the Triple Crown Tour events. The Pro-Elite Challenge returns to Colorado on July 9-10. The Pro Championships are headed to Raleigh on September 3-5. The US Open and Nationals remain in their typical locations of Blaine, MN, and Del Mar, CA, respectively.
Some other notable changes were announced. There are no tournament requirements this year, as was the case in 2020, and all teams will play in their Sectionals events. Some high-profile events will also use 'Prescribed Ratio' Rule A for mixed division competition as USA Ultimate transitions from the "gendzone" rules. And the rankings algorithm returns to our lives for us to fuss over!
Welcome to the College Postseason
The college rolls on, but alas, not for everyone. The postseason began this weekend, meaning the next tournament is no longer guaranteed.
A number of Conference Championships took place to kick things off, and there were even some surprising results. Purdue hammered #22 Michigan in the Eastern Great Lakes D-I women's final, while Liberty upset #25 Virginia in the Virginia D-I women's final. Meanwhile, #11 Navy won the D-III men's portion of Northern Atlantic Coast, beating out #14 Christopher Newport and Richmond – the #4 team in our Power Rankings but third-place finisher in their Conference!
There are two more weekends of Conference Championships to go, with Regionals following immediately after.
Raleigh Radiance and DC Shadow Play PUL Classic
The Premier Ultimate League's second full season may have launched two weeks ago in Columbus, but it really took off this week in Raleigh. The Radiance, who topped our initial PUL Power Rankings, played host to DC Shadow, a talented challenger with a star-studded roster. The duo played out a high-level slugfest that stands as one of the best games in the league's catalog.
No lead ever felt safe as the two teams always remained within striking distance of one another. But while DC had a chance to force overtime, Raleigh was simply too good, and they earned the 17-16 win.
TEP Brings US Showcase Games to Colombian Event
Colombia's Torneo de la Eterna Primavera, located in international ultimate hub Medellín, has been an attractive destination for US club players for a few seasons now, but this year's event has gone above and beyond.
The events kick off with the Premier Ultimate League regular season match between the Milwaukee Monarchs, who have yet to lose a game in any PUL play, and the similarly undefeated Medellín RevoPro. It's the host team's only home game of the season, so the reigning champions will be pretty hyped.
After that, there's more showcase action. The Colombian World Games team will get run against an American all-star team. Likewise, the AUDL's Los Angeles Aviators will play a group of Latin American all-stars. A preseason match between the New York Empire and DC Breeze closes things out.
Between all of that are the tournament's traditional competitions.
Coming Up
We are in the swing of things with more College Conferences, a big mini-tournament weekend in the WUL, and more PUL action.
TEP is taking place in Colombia, which also includes the lone RevoPro home game in their PUL schedule and some AUDL showcase events.