The 48 athletes that will represent the country in Poland this August.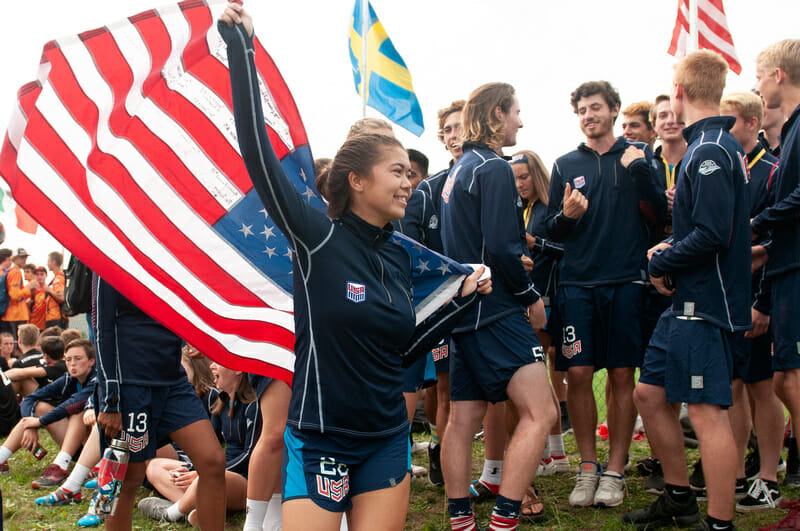 USA Ultimate announced the 48 players that were selected to the Under-20 USA National Teams that will compete at the 2022 World Juniors Ultimate Championships in Wroclaw, Poland this August. This will be the first WJUC since 2018 after the 2020 edition was canceled due to the COVID-19 pandemic.
As has been the case in the past, the rosters were chosen based on a pair of geographically split tryouts this winter that were attended by more than 200 of the nation's top junior players. Rosters were trimmed to 24 players in each of the men's and women's divisions.
Here are the players selected for the teams.
WOMEN'S DIVISION ROSTER
| NAME | HOMETOWN |
| --- | --- |
| Harper Baer | Carrboro, NC |
| Mia Beeman-Weber | Berkeley, CA |
| Erica Birdsong | Atlanta, GA |
| Maggie Brown | Seattle, WA |
| Rachel Chang | Palo Alto, CA |
| Abigail Davis | Cedar Hills, UT |
| Lula Dutille | Lexington, KY |
| Naomi Fina | Seattle, WA |
| Anna Fisher Lopez | Takoma Park, MD |
| Elise Freedman | Lafayette, CO |
| Chagall Gelfand | Seattle, WA |
| Abbie Gillach | Boulder, CO |
| Lauren Goddu | Seattle, WA |
| Acacia Hahn | Eugene, OR |
| Chloe Hakimi | Seattle, WA |
| Michiko Magnant | Alexandria, VA |
| Sydney Mannion | South Orange, NJ |
| Grace Maroon | Philadelphia, PA |
| Bella Russell | Apex, NC |
| Lia Schwartz | Washington, DC |
| Emma Smith | Vienna, VA |
| Caroline Stone | Austin, TX |
| Grace Wang | Bethesda, MD |
| Elsa Weybright | Eugene, OR |
Head Coach: DeAnna Ball (Columbus, OH)
Assistant Coaches: Jason Adams (Boston, MA) & Manisha Daryani (San Francisco, CA)
MEN'S DIVISION ROSTER
| NAME | HOMETOWN |
| --- | --- |
| Alexander Belfiore | Yarrow Point, WA |
| Loic Billaut | San Jose, CA |
| Tobias Brooks | Durham, NC |
| Edward Brown | Philadelphia, PA |
| Louis Douville Beaudoin | Amherst, MA |
| Anil Driehuys | Chapel Hill, NC |
| Eli Fried | Chapel Hill, NC |
| Oscar Graff | Salt Lake City, UT |
| Adam Grossberg | Blue Bell, PA |
| Ocean Hines | Seattle, WA |
| Benjamin Horrisberger | Portland, ME |
| Tucker Kalmus | Seattle, WA |
| Declan Kervick | Burlington, VT |
| Peter Kotz | Newton, MA |
| Caelan McSweeney | Arlington, VA |
| Declan Miller | Shoreline, WA |
| Felix Moren | Portland, OR |
| Will O'Brien | Eugene, OR |
| Callahan Phinney | Seattle, WA |
| Zeppelin Raunig | Seattle, WA |
| Everett Saunders | Highland, UT |
| William Selfridge | Salt Lake City, UT |
| Josh Singleton | Chapel Hill, NC |
| Benjamin Yam | Falls Church, VA |
Head Coach: Reid Koss (Seattle, WA)
Assistant Coaches: Andy Neilsen (Chicago, IL) & Cody Mills (San Francisco, CA)