The reigning champs will square off against a fellow 2021 quarterfinalist and two programs making their Nationals debut.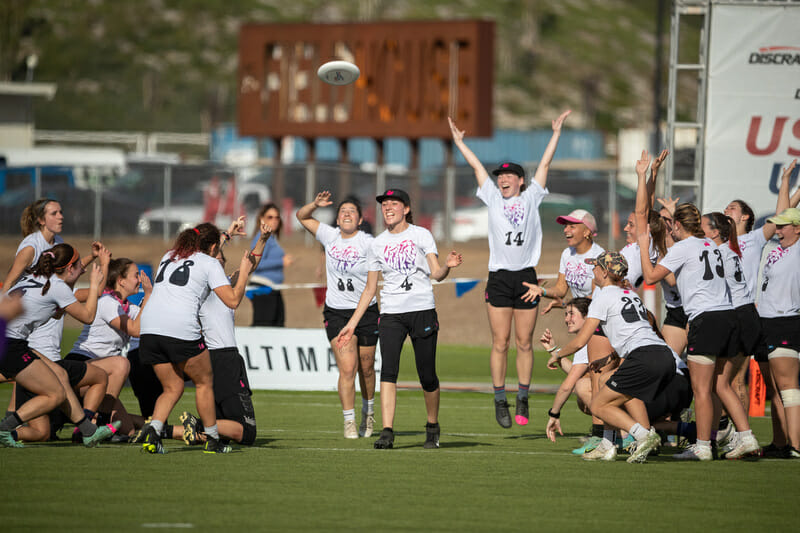 Our coverage of the 2022 College Series is presented by Spin Ultimate. Please support the brands that make Ultiworld possible and shop at Spin Ultimate!
Returning to its normal late-May slot in the calendar for the first time since 2019, the D-III College Championships are finally upon us. Despite an irregular spring season without rankings to influence the bid allocation, 16 worthy teams arrive at the campaign's final weekend ready to resume the regular business of crowning a national champion. This season we have a women's field featuring four previous national-title winners as well as four programs with no previous Nationals experience.
We've got you covered for all the exciting action this weekend, but before the first pull goes up tomorrow, let's get to know the teams who will be competing in Milwaukee. Then follow along at ultiworld.com/live for updates and livestreams throughout the weekend!
Pool A | Pool B | Pool C | Pool D
Seeding: A1; overall no. 1
Power Ranking: #1
Path to Nationals: Def. Wellesley 11-9 in New England final
Past Nationals Appearances: 2010*, 2015*,1 2019, 2021
Location: Middlebury, VT
While Middlebury enjoyed some success last decade in qualifying for two D-I College Championships, their ascent up the D-III ranks in the years since switching over has been fast and impressive. The Pranksters have made quite the name for themselves over the past few seasons, placing fifth at their first-ever D-III Nationals appearance in 2019 before winning a title this past December in Norco. The reigning champs have looked even stronger in their encore this spring and head to Milwaukee as favorites to repeat.
In their already impressive season, the Pranksters put together a record of 18-1, allowing only a single opponent all spring to reach double-digits against their stifling defense. Their only loss came on the first day of their 2022 campaign, against #2 Carleton Eclipse at College Southerns over spring break — a defeat they quickly avenged in the tournament final later that weekend. Since then, they have breezed through the rest of their schedule, picking up wins over a ranked D-I opponent in Appalachian State as well as multiple teams that will be joining them in Milwaukee, including pool mates Berry and fellow top seed Wellesley.
The Pranksters return most of the star-studded roster from their fall victory, led by a trio of All-Americans: the indomitable 2021 Player of the Year and current Donovan Award nominee Claire Babbott-Bryan, reigning Defensive Player of The Year Kamryn You Mak, and Offensive Player of The Year second runner-up Keziah Wilde. While these names will figure prominently in any opponent's scouting report, the Pranksters won their title in large part due to their incredible depth of contributors. After a spring of spreading out playing time to get new additions and depth pieces meaningful reps in key roles, Middlebury can expect to get contributions from up and down the roster — a terrifying prospect for the teams trying to take the defending champs down in Milwaukee.
Despite all their recent success, the program has maintained the carefully cultivated Pranksters culture. The goofy antics remain and even in pre-tournament interviews kept up their trolling, promising that they have become a serious team this season by wearing all-black uniforms, nixing sideline cheers, and voting to have no fun at Nationals this year.2 If they can maintain their composure in addition to staying loose,  Middlebury has everything they need to continue their winning streak through the weekend and join Eclipse and Rice Torque in the elite club as the only D-III women's programs with multiple national titles.
Seeding: A2; overall no. 8
Power Ranking: #9
Path to Nationals: Def. Union 11-8 in Southeast final
Past Nationals Appearances: none
Location: Mount Berry, GA
What a breakout season it has been for the Berry Valkyries. Having only competed in their first-ever tournament in February 2020, a trip to Nationals two pandemic years later is an incredible achievement. Yet, if you ask them, it was all part of the plan — they entered this season knowing their goal was earning a bid to nationals.
After losing to the Union Jills by a large margin at regionals in the fall, Berry used the experience to grow and came in with a game plan to secure their first-ever trip to Nationals. Berry played just a single regular season this spring, but got to test themselves against some elite competition at Needle in a Ho Stack in Charlotte in March. While they endured some tough defeats at the hands of D-I ranked Appalachian State and D-III #1 Middlebury, the Valkyries learned plenty that prepared them for the postseason.
"We keep the fundamentals first with our movement on the field, throws into space, and smart defense," said coach Cori Bradham.
This spring, sadly only two Southeast schools signed up to compete in the College Series. In their single-round Conf-Regionals game-to-go, the Valkyries reversed their fall result, earning a big win against 2021 national quarterfinalists #10 Union, and announced themselves on the national stage.
The Valkyries will be competing with a small roster in Milwaukee, guaranteed to make them play scrappy. Some players to keep an eye on in their Nationals debut are captains Hannah Tritschler, who has proven she can beat defenders with her speed, and Malia Busenitz, who the team considers their rock. Berry is led by a team of three coaches — Cori Bradham, Robert Bradham, and Morgan Dale — each bringing their own perspective to the team.
The Southeast region has always had a hard time maintaining consistent D-III women's programs, with a revolving door of teams that pop up for a year or two before fading away. Berry is looking to change that and build a lasting program that can be competitive at the regional and national level for years to come. And make no mistake, this team is dangerous right now. With the drive and determination this team has, they have a real shot at breaking seed and potentially making it to the podium.
Seeding: A3; overall no. 12
Power Ranking: #15
Path to Nationals: Lost to Skidmore 14-7 in Metro East final; def. Rochester 12-10 in the game-to-go
Past Nationals Appearances: none
Location: Geneseo, NY
For SUNY Geneseo, it has already been a historic season. Over the course of the spring, they have amassed an impressive 19-4 record, finishing as the top D-III team at the Northeast Classic behind only two ranked D-I teams, and then earning a Conference championship title in Western NY. While they lost the Metro East final to Skidmore, they did enough to earn their first-ever trip to Nationals.
Escargot worked hard in all their games this spring, but are proudest of the two Regionals games they played against the University of Rochester. Any time they play Rochester — a long-time familiar foe — they face a challenge that results in closely-matched games. But Escargot went three-for-three against their in-state rivals during the Series, including a victory in the game-to-go that saw them qualify for the trip to Milwaukee. The team credits these games with helping define their playing style and solidifying their team chemistry.
The team will be looking for big performances from their three seniors: Katey Church, Allie Judge, and Kate Flynn — all of whom will be missing their graduation for the chance to compete in Milwaukee this weekend. Out of the three, Church will likely bring the team the most success as the team's leader on and off the field. She and Judge join Kat Arriaga as captains who hope to lead the team to success in lieu of a coach.
"Escargot utilizes everything they have on the field," said Arriaga. "Playing both rookies and vets, engaging every cutter and position on the field, and placing a strong emphasis on using everyone on the team to help them succeed, not just the star players."
It has been a formula that has worked so far this season. Winning is a habit and the 19 wins Escargot have earned so far in 2022 bode well for their first shot at the Big Show. Even their losses portend a potential bracket contender. Of Escargot's four losses on the year, two were one-point defeats to #7 Lehigh, a perpetual nationals qualifier, and another came at the hands of D-I #24 Brown. The last and most came in the regional final against a strong Skidmore side. Now that Metro East pair will be making their Nationals debut together.
Seeding: A4; overall no. 13
Power Ranking: #17
Path to Nationals: Def. Claremont 11-7 in Southwest final
Past Nationals Appearances: 2011, 2019, 2021
Location: Los Angeles, CA
After playing second fiddle to Claremont in the Southwest for most of last decade, Occidental has shifted the narrative with their third straight Nationals appearance out of the division's smallest region.
Occidental had a strong fall season with their returning seniors, ultimately falling to Portland in the quarterfinals in Norco. Looking to improve on that finish in 2022, they have spent this spring season building skills in their rookies. So, when they went undefeated at the Southwest Showdown, it was a major accomplishment. They were able to put some newly developed strategies to the test and hone their fundamentals.
"Our team relies on a strong on-field work ethic and scrappy play with small numbers, always there to get a fast break on defense," said the WAC captains.
Coming into this tournament, the team has a roster of 16 people — one of the smaller lineups headed to Milwaukee this weekend. Yet, Occidental still has its standouts, including 2021 Breakout Player of the Year, Sophie Havranek, whose strong leadership and on-field abilities will not go unnoticed. Other players to watch include sophomore Ava Letteire, who had a strong debut in the fall series, and the introduction of freshman Meiyi Weisbrod, who has already shown that she has a strong field presence.
WAC has been coached this season by Enway Melo, who constantly motivated players and encouraged them to succeed. Unfortunately due to COVID-related concerns, she will not be present this weekend. Instead, they will be welcoming back the leadership of their former coach, Linda "Skipper" Harmon, who will provide the players with a deep knowledge of the sport.
---
Middlebury qualified for D-I College Championships in 2010 and 2015. ↩

Wink wink. ↩