The division's most successful blueblood faces off against a trio of teams that have exceeded expectations thusfar this spring.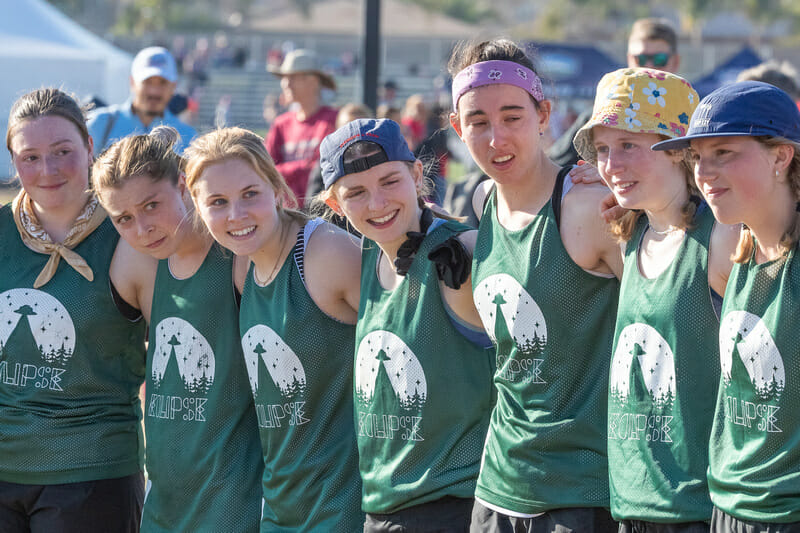 Our coverage of the 2022 College Series is presented by Spin Ultimate. Please support the brands that make Ultiworld possible and shop at Spin Ultimate!
Returning to its normal late-May slot in the calendar for the first time since 2019, the D-III College Championships are finally upon us. Despite an irregular spring season without rankings to influence the bid allocation, 16 worthy teams arrive at the campaign's final weekend ready to resume the regular business of crowning a national champion. This season we have a women's field featuring four previous national-title winners as well as four programs with no previous Nationals experience.
We've got you covered for all the exciting action this weekend, but before the first pull goes up tomorrow, let's get to know the teams who will be competing in Milwaukee. Then follow along at ultiworld.com/live for updates and livestreams throughout the weekend!
Pool A | Pool B | Pool C | Pool D
Seeding: B1; overall no. 2
Power Ranking: #2
Path to Nationals: Def. St. Olaf 10-8 in North Central final
Past Nationals Appearances: 2011, 2012, 2013, 2014, 2015, 2016, 2017, 2019, 2021
Location: Northfield, MN
For #2 Carleton Eclipse, the pandemic offered an opportunity to reset and look for new ways to improve an already strong program. Eclipse has a long history of success at D-III Nationals, owning a division record three national titles and a number of other high finishes. This year, however, they're making a drastic change to the construction of their roster. In years past, Eclipse would bring a small roster and rely on star players like Emily Hall, a 2021 Second Team All-American. Though Hall is still on the team, captain Grace Hague says that "the future of Eclipse is going to be big rosters with lots of depth," and with nine rookies on the 2022 roster, all of whom played crucial roles in the team's 19-2 record, the future may be now for Carleton.
Along with making changes to the makeup of their roster, Eclipse has also added to their coaching staff, bringing on Emma Nicosia last fall to pair with long-time coach Cameron Barton. The two won 2nd runner-up D-III Coach of the Year honors in 2021 in no small part due to their commitment to the philosophy that Eclipse holds — declining to nominate any one player for the Donovan award and maintaining that they are a team of communal strength, rather than mentioning any top players.
Despite the uniformity in which they describe themselves, Eclipse is a team full of personality; between having a line of players getting their heads buzzed together, to jerseys they wear which draw inspiration from both the Grateful Dead and their counterparts on Carleton CHOP's stuffed lion Fruit Pooch, this is a team that not only has the skills to compete for a championship, but will have a blast while doing so.
While the 19 wins on the season is tied with SUNY Geneseo and fellow Pool B competitor Haverford for most in the tournament, the more impressive distinction that Eclipse owns is being the only team to beat #1 Middlebury Pranksters this year, doing so 8-7 at College Southerns (though they also lost to the Pranksters at the same tournament). If the tournament holds seed, these two teams would play for a third time this season, but with significantly higher stakes. While an Eclipse-Pranksters final will be a popular prediction, it is far from a guarantee. One fun game that is guaranteed in pool play though, is a sort of homecoming for Eclipse's Hazel DeHarpporte, who transferred from Haverford after her first year. She'll be squaring off against her former teammates on Saturday at 3:15 PM in what should be a battle for the top spot in Pool B and a bye to quarters.
Seeding: B2; overall no. 7
Power Ranking: #8
Path to Nationals: Lost to Lehigh 15-8 in Ohio Valley final; def. Cedarville in game-to-go
Past Nationals Appearances: 2011, 2012, 2014, 2017
Location: Haverford, PA
Heading into this tournament, there isn't a team getting underrated more than #7 Haverford Sneetches. Don't be fooled by the Sneetches' dancing and assortment of costumes ("flair," as they call it); at 19-3, the Sneetches have more wins than any team in the field — and the vast majority of them have come in dominating fashion. Coach Jason Oswald (and Tuna the Dog) have certainly been a welcome addition, helping to lighten the load for the Sneetches' captains and bringing out the best in their players, while also encouraging the high-energy atmosphere in which their team thrives.
Although leadership expected a rebuilding year, the Sneetches unexpectedly found themselves competing on the national scene. An undefeated weekend at Bring the Huckus, punctuated by a universe point win against in-region rival Lehigh Gravity, to start the spring really set the stage for a big season. The Sneetches continued their torrid start to the spring at Jersey Devil, losing only to D-I Cornell and beating Nationals contender no.4 seed Wellesley Whiptails. The start to the Series has been much of the same, with the Sneetches dominating all non-Nationals teams, while splitting a pair of games against Gravity.
Much of this surprising success can be attributed to the large freshman class that joined the Sneetches this year, most of whom either had prior ultimate experience or were natural athletes that grew into their new sport. One of those freshmen, Zoe Costanza, has quickly become one of the main contributors. Captains Julia Smeltzer and Lindsey Hua explain that Costanza has a "talent for losing her defender and catches any disc that is in the air even remotely close" to her on that field. Costanza often finds herself on the receiving end of big throws from do-it-all hybrid Riah Newfont, the Sneetches' Donovan nominee and most consistent player. Feeding these two downfield threats the disc are the handling corps of Hua and Lizy Szanton, who also serve as the front line in the Haverford zone.
Though every player on the Sneetches' roster is playing at Nationals for the first time, they certainly have the talent and experience to compete against top talent.
Seeding: B3; overall no. 11
Power Ranking: #14
Path to Nationals: Def. SUNY Geneseo 14-7 in Metro East final
Past Nationals Appearances: none
Location: Saratoga Springs, NY
After an undefeated run through the Metro East, the #11 Skidmore Wombats are making their first-ever appearance at D-III Nationals. Despite their success so far in the Series, they almost didn't even make it to Conferences; in the week leading up to the tournament, they experienced a COVID outbreak which resulted in more than half of the team being unable to participate in the tournament. Despite a small roster and many important players cheering on from home, they went undefeated. Skidmore will have to show a lot of that same grit and determination this weekend; with the university's graduation on Saturday, the Wombats will be playing with only seven healthy bodies in Pool Play. While this is a tough blow to Skidmore's chances of getting to the bracket, the rest of Pool B can breathe a sigh of relief that they won't have to deal with the dynamic senior class that the Wombats boast. Captain Claire Slattery describes them as the foundation of the team, not just as players, but as leaders too.
Though the senior class won't be in attendance, that doesn't mean the Wombats are just going to roll over. Slattery emphasized that versatility and adaptability are two of the key tenets of the team and a major reason the seniors feel comfortable entrusting the team's first Nationals appearance to a line of underclassmen. All seven players in attendance on Saturday will be playing multiple roles, doing whatever is needed of them, in an effort to not only save legs but to create matchup problems for their opponents. If Skidmore is going to give its seniors a chance to make some noise in the bracket, the single line of Wombats in attendance on Saturday will certainly have to be at their best.
Despite having some experience playing big games with small numbers, if Skidmore is going to pick up some wins on Saturday, it will be in no small part because of coach Karoline Hart, the first in the team's history. It's no coincidence that the first year the team hired a coach is the first they made the jump to Nationals. Hart has provided an extensive knowledge of the game that the team had not tapped into in the past, and done so while "striking a balance between providing support and respecting players' agency and leadership," which is a tough balance to find in only one year. The rest of the leadership team has the utmost confidence in Hart to help guide the small Wombats roster through their first Nationals, and hope that this weekend is the start of an extended run of national relevance.
Seeding: B4; overall no. 14
Power Ranking: #19
Path to Nationals: Def. Catholic 11-3 in Atlantic Coast final
Past Nationals Appearances: 2011, 2012, 2013, 2019
Location: Fredericksburg, VA
Despite coming into the tournament as the no.14 seed, Mary Washington Massacre may be among the most athletic teams in Milwaukee this weekend. In an up-and-down season, the one constant for Massacre has been defensive intensity. No opponent has scored more than nine points on them in any game this season. The two biggest contributors to this baffling stat is their loose zone that slows the pace of the game, lulling their opponents into a false sense of security, and the athletic defenders downfield who will bid for anything close. Mary Massacre generate tons of blocks and even when they aren't connecting, they're putting pressure on their opponents, forcing mistakes. On Sunday of Atlantic Coast Confregionals, they only gave up three points over two games, bageling Elon while winning the game-to-go 11-3 against Catholic.
On a turn, Massacre's offense is as aggressive, if not more so, than their defense. The disc will almost certainly be picked by the nearest former defender, looking to fast break before the offense even fully processes that they've lost possession. Led by Donovan Nominee Ellie Heil, Massacre boasts a group that will attack the deep space as their first, second, and third looks. This offensive unit is not afraid to turn the disc, because as much as they like scoring, they may enjoy forcing turnovers even more. Chloe Wade and Ayumi Yuzawa are the other players to look out for, as they thrive on getting open in small spaces and feeding Heil.
While it's easy to discount the bottom seed in the pool, Mary Washington has more than enough athletic ability to put a scare into any of the teams they play on Saturday. Write them off at your own risk.