We have yet to see the first animating event of the 2022 D-I College Championships, though it was palpably close in the last round on Friday.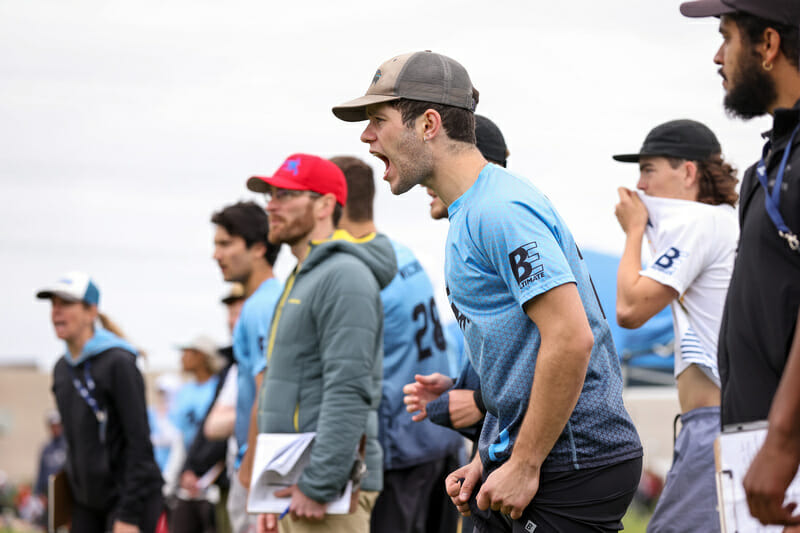 Our coverage of the 2022 College Series is presented by Spin Ultimate. Please support the brands that make Ultiworld possible and shop at Spin Ultimate!
We, as a society, have really stretched the word "vibe" past a certain threshold of meaning in recent times. What was presumably at one point a way to communicate something ineffable yet instantly recognizable has become a crutch for a senseless reflex to avoid describing something in actual specificity.
But reader, let me tell you, for much of the day on Friday at College Nationals, the vibes, well, they were off.
College Nationals is usually brimming with an exuberance pushed right to the brink of chaos. It is evident and infectious from the moment you get to the fields. It's a cocktail of scrappy underdogs leaving their hearts on the field, wide-eyed freshmen seeing how big the frisbee world can be for the first time, seniors in their last tournament doing everything in their power to defy their collegiate mortality, programs trying to redefine themselves or protect a legacy, and all shaken up by the randomness of sport and life and everything. Your eyes dilate from the fumes.
But sometimes, like today, it doesn't always get there.
D-I College Championships 2022: One Point In A Pool Play Game That Explains Nationals (Men's) is only available to Ultiworld Subscribers
Already have a subscription? Log in
Whether you visit Ultiworld for our reporting, our podcasts, or our video coverage, you can help us continue to provide high quality content with a subscription. By becoming a subscriber, not only do you receive benefits like exclusive articles and full article RSS feeds, you also help fund all of Ultiworld's coverage in general. We appreciate your support!