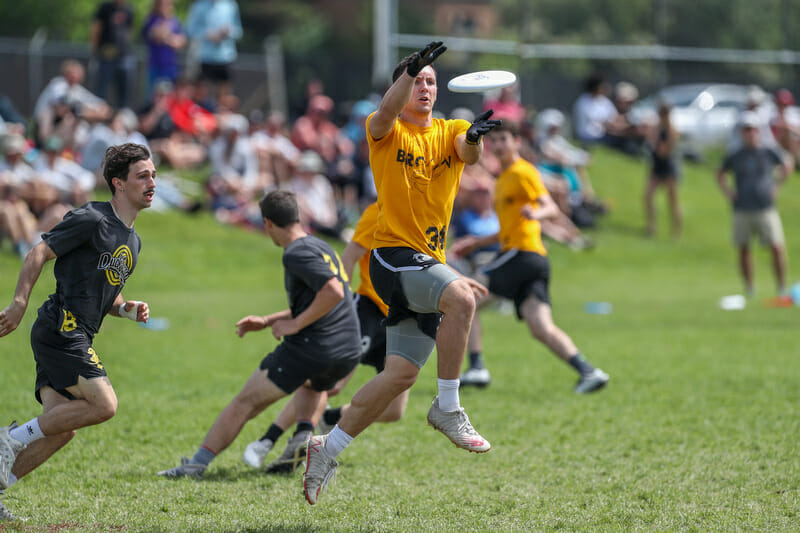 Our coverage of the 2022 College Series is presented by Spin Ultimate. Please support the brands that make Ultiworld possible and shop at Spin Ultimate!
MILWAUKEE, Wisc. — Sometimes the simple truths are the ones we find hardest to internalize. Maybe something about how simple they are prevents us from trusting them, a wariness about the world that has taught us to see things in grays instead of blacks and whites.
But the simple truth this weekend is that throwing the frisbee is the most important skill in the sport, and the teams who have the caliber of throwers to play their game as normal in the ever-present wind are the ones who are winning. No team has optimized their abilities more to hitting throws in these conditions than Brown.
While Minnesota huffed and puffed and emptied their tank trying to cope with the wind and the heat and their opposition, Brown never had to deviate from plan A and cruised to a 14-8 win that wasn't even as close as the final score indicates.
Brown's gameplan was clear from the beginning: throw waves of zone at Minnesota with their top O-line players rotating through on defense and grind their handler weave after the turn. As with just about everything for Brown, it went according to plan. They notched their first break of the game to make it 2-0 when Minnesota had a huck to an open Anthony Jirele pushed out by the wind, and the whirling Brown handler weave went to work. John Randolph, Dylan Villeneuve, and Jackson de Campos played what amounts to high intensity catch between themselves that ended with Randolph squeezing an inside backhand past his mark to Villeneuve for the score.
It was the same story on the next point, with AJ Larson making a spectacular catch on a huck that, for all its commendable effort, was out of bounds. And once Brown's D-line got their hands on the disc, there was only going to be one outcome: 3-0, Brown in the lead.
"I'm just trying to imagine it's practice out there," said de Campos, who was an integral part of Brown's stellar D-line conversation rate, after the game. "We've run that dominator set so many times the whole year at practice. It's incredible how bad it looked at the beginning of the year and how well it looks right now. When I'm picking the disc up, I'm just imagining I'm out there on our practice field running the same thing we run every day."
Brown's zone was clearly frustrating Minnesota, a shifting cup with roving wings and a deep deep calling the shots from their vantage point behind it all. Grey Duck were often able to work through it, but their success was hard won and required bringing superstar cutter Cole Jurek back around the disc instead of his preferred location in open space downfield.
"We have some really good zone defenders, obviously Dylan [Villenueve] is a wizard in the wing spot," said de Campos. "And when we looked at the forecast and saw it was going to be windy today, it definitely was going to be part of our plan."
"Their zone were offering up a hammer shot to sideline," said Minnesota coach Kristian Johnson after the game. "But our handlers weren't seeing that window, weren't comfortable with it. They had all these athletes they were able to throw at us who played a specific role in the zone well."
Brown extended their lead to 5-1, forcing Minnesota to call a timeout. That was the same score Grey Duck faced against NC State in pool play, a deficit they overcame in a raucous comeback that propelled them into the bracket. In that one, Minnesota's defense managed to effectively disconnect State's handlers from cutter continuation, isolating the players around the disc from the action downfield. But having handlers isolated around the disc is, well, not a problem for Brown.
John Randolph was moving with a power and precision that Grey Duck could not contain. He would somehow get open by five yards on a three yard cut. And even when Minnesota's defenders could stick to him, they couldn't get to the disc; on multiple occasions, the Grey Duck defenders literally bounced off of Randolph as he steered the Brown offense to pay dirt, totaling three goals and four assists.
Brown's offense wasn't perfect, but, as it has been all year, it was effective. Brown plays a game of margins, banking that they can complete such a high percentage of throws it doesn't matter how many throws they have to make. That they can cross just enough O-line players over to defense to get just enough breaks to win comfortably. And the margins in this one held true. They didn't blow Minnesota away on the scoreline, by their own admission trying to save some legs for semis, but they maintained a lead that meant the result was never in doubt.
Brown took half 8-3 and took their foot off the gas a bit in the second half, no need to run up the score when you've got your target margins to hit. Minnesota even managed to pull a break back in the second half, Brandon Macho getting a block on a huck to Talon Johnson and Joey Pickens shooting to a huck to Andrew Barnard that made the score 9-5. But on the next point, Jacques Nissen launched a 50 yard hammer for a quick hold, immediately extinguishing any chance at a comeback.
Brown was not to be denied today.