Colorado was able to grind down SLO and pull away.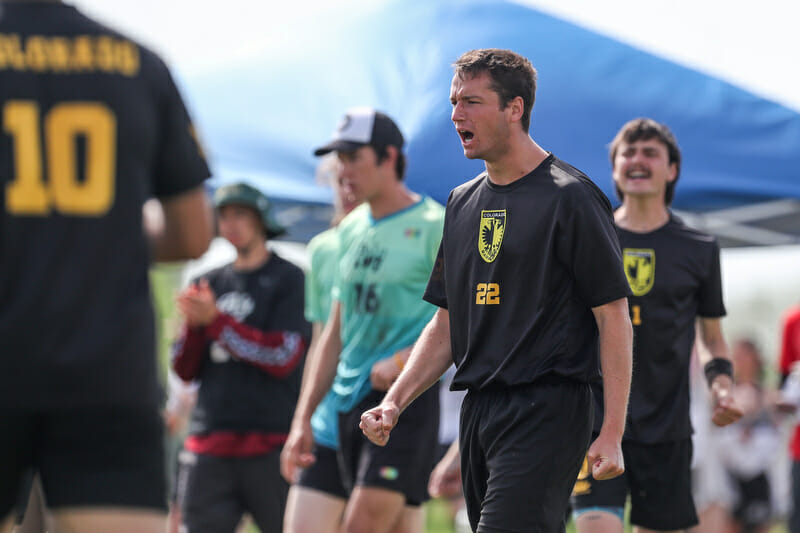 Our coverage of the 2022 College Series is presented by Spin Ultimate. Please support the brands that make Ultiworld possible and shop at Spin Ultimate!
MILWAUKEE, Wisc. — During a round in which all of the favorites won, Colorado Mamabird set the tone by riding a strong defensive effort to pull away in the second half and take down Cal Poly SLO 15-8 in the quarterfinal round. Mamabird led their game plan with a healthy dose of zone defense, allowing star Alex Atkins to patrol the deep space to deter SLO's hucks and to run the offense after a turnover.
SLO actually started the game on the front foot, holding their first three opportunities without a turnover. The first break opportunity of the game went SLO's way when Leo Lauritzen blocked a Mamabird throw that caught a gust of wind and flew over its intended target. It took break side layouts from KJ Koo and Kyle Lew, but SLO punched in the first break score of the game to take an early 4-2 lead.
Colorado answered right back, holding with urgency and taking advantage of SLO's tired legs to get the break back. SLO crossed over Koo, Matt Miller, Jake Thorne, and Seamus Robinson liberally, while Colorado was mostly able to run separate offensive and defensive lines, save for Atkins who crossed over to be the deep defender in Mamabird's zone. Saeed Semrin, who took on the Koo matchup, caught a SLO reset that hung in the wind and reeled in Atkins' huck that seemed to take the life out of the SLO sideline. The Mamabird defense stepped up its intensity and made SLO work for every inch they gained. Miller and Koo made some impressive throws against the high pressure defense, but the harder they needed to work on offense, the less energy they had to play defense and earn SLO their breaks back.
"I actually think we started out pretty slow in warmups," Colorado's Seth Wells said after the game. "One thing we do well is Alex Atkins and Saeed Semrin really bring up the energy. I think after the first few points we got broken once. We got one break back and that's when we really started to fire up."
The Mamabird offense performed confidently against SLO's switchy poaching sets. Playing with a steady crosswind, Colorado was able to chisel the disc to the high side of the field and gained yards on field-switching shots to cutters who found the holes in SLO's defense. Colorado then went up for good at 6-5 after a back and forth point. Alex Nelson misread a deep Koo huck, but Koo got the disc back, swatting an end zone reset intended for Semrin, who had just skied Koo on the goal line. SLO misplaced a reset as the wind picked up to give Mamabird a short field, and Conor Tabor hit Jace Pivonka, who found a lane against the SLO's poaches. Mamabird added another break a few points later when Semrin's mark tipped a Koo huck. Colorado, leading 7-6 at the time, carefully worked the disc upfield and Tabor found Walt Johnson in the endzone to take half.
Colorado picked up where they left off, holding out of halftime when SLO failed to switch and left Atkins wide open for a score. "I feel like historically we come out of half pretty hot," Wells said. "One of the things we talked about yesterday was starting games on D. We have a lot of trust in our D-line that we'll get a break and be up going in to half, so we start out of half and get rolling with that first hold."
With Semrin locking down Koo, SLO was forced to work through all seven players on their offense just to keep scoring holds. With most unders covered tightly, Anton Orme misfired a huck and Semrin once again was the star for Colorado's D-ine offense, laying out near the goal line and tossing an assist that gave Mamabird a four goal lead.
As the SLO stars tired out, Mamabird took advantage of their mistakes. Throws into poaches and simple drops gave Colorado break chances that they punched in to build a 13-7 lead, as SLO could do little to halt the Colorado momentum. On the last point of the game, Semrin launched himself to block a swing intended for Koo. With a short field to go, he found Atkins for the game winner and Colorado rushed the field in jubilation.
Colorado advances to face UNC later this evening in the semifinal round in a rematch of the 2021 quarterfinal that UNC won. Given the substantial roster turnover from that UNC title team, Mamabird is confident that it will put up a tougher fight than they could in that 15-10 loss.
For SLO, this game marks the end of their journey. While their season ended earlier the team likely wished it would, there is plenty to be proud about in the final season of Koo, Miller, Thorne, and coach Cody Mills' tenure with the team.
"I'm mostly proud of our young guys – freshman and sophomores – stepping up," Thorne said after the game. "They showed that they can contribute to a really strong roster that compete with any team in the country."
"I'm proud of the team–proud of the family we've made. I'm proud of the culture we've build and I'm proud of the young guys for sustaining that culture and buying in."