The Cal O-line never got into a rhythm.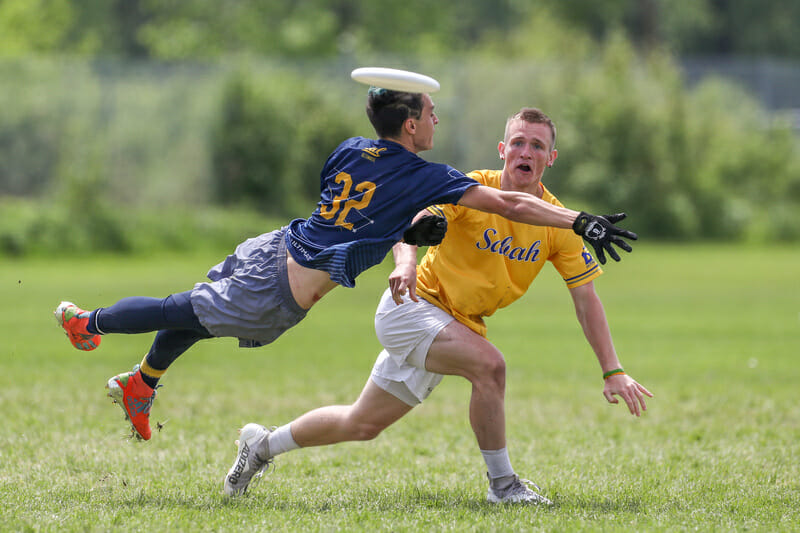 Our coverage of the 2022 College Series is presented by Spin Ultimate. Please support the brands that make Ultiworld possible and shop at Spin Ultimate!
MILWAUKEE, Wisc. — Leaving no doubt as to who was the deeper and more complete team, Pittsburgh En Sabah Nur eliminated Cal Ursa Major with a 15-7 beatdown in the quarterfinals. Pittsburgh won the game with crushing matchup defense and near perfect offense despite a steady crosswind that made anything beyond a 10 yard pass something to think about.
Henry Ing made his impact from the game's very first point. He crossed over to defense and elevated to take down an around backhand that had caught a drift of wind and floated over Cal's intended target. Will Hoffenkamp, Will Helenski, and Ing marched the disc into the end zone, and Pittsburgh had an early lead that would never be challenged. On the next point, an unforced Cal turnover gave Pittsburgh a chance: Tristan Yarter unloaded a huck to Hoffenkamp to set up another Pitt break.
As much as their defense stood out in this game, Pitt has separated themselves from other teams at this tournament with their offense. Cal was able to sit in a diamond zone against their previous opponents and wait out opposing offenses who were tempted to take baited shots or who failed to execute simple passes when forced to do so for over two minutes. Harry McNamara, Dan Nichols, Scott Heyman, and Ing were comfortable inching the disc up the field two or three yards at a time and were able to do so without getting frustrated or tired. By relentlessly taking the throws Cal was willing to give up, Pittsburgh was able to render Cal's zone largely ineffective.
"Our offense this whole weekend has been amazing," Yarter said after the game. "Very few turnovers–that whole line has been amazing…Everyone is playing to their potential."
On defense, Myles Cooper, Helenski, and Hoffenkamp shut down Cal's easy options. With Cal's Andrew Roy and Evan Magsig playing both ways, throwing fresh defenders at them really slowed down Cal's typically fast paced attack.
"We're always trying to put reset pressure on," Yarter said. "We're trying to constrict spaces as much as we can. We know we're not always gonna come up with big blocks, but making small windows for the other team is going to lead to our success." Pitt keyed in on key matchups with Roy, Magsig, and May and clearly had a deep game plan entering the game.
Cooper's point block gave Pitt a short field for their next break chance, and an ill-advised scoober that was blocked by Ing helped Pitt build a 5-1 lead. While Cal was able to settle down and managed to hold its next two possessions, the team was clearly rattled from just the first few points against the best defense they had seen to that point this season. Roy spent time between points discussing whether contact calls are contestable with the observer and called a timeout on an offensive possession after his team had already used both of theirs allotted for the first half. That timeout raised the stall by three counts and led to a rushed throw that gave Pittsburgh a chance to break for half. Yarter connected with Hoffenkamp and En Sabah Nur went into the break up 8-3.
Pitt didn't let up in the second half. A patient hold through the Cal zone extended the lead to six, but Pittsburgh was not ready to close up shop and ride out the game. On the next point, Myles Cooper had three blocks, the last of which was a Callahan that he tipped to himself as Pitt's lead ballooned to 10-3.
Feeling the game slip out of reach, Cal started to play with desperation. Ursa Major managed tough holds and put on a kill line to get their first break of the game. Trailing 12-6, Magsig blocked a speculative Pittsburgh huck, and he, Dexter Clyburn, and Roy inched the disc upfield. They needed a timeout to reset a stagnating flow, but Roy was able to find space in isolation and hit an over-the-top scoober to Clyburn. That was the first time the Pittsburgh starting offense had been broken all weekend, but it was too little too late for Cal's comeback hopes.
Feeling the effects of their worn down legs, after running Roy, Magsig, Gavin May, and Max Williams out on most points, Cal came down in a zone despite Pittsburgh's proven ability to beat it. As expected, Pittsburgh drained the life out of Cal with a slow, patient hold, bringing them to the doorstep of the semifinal. Hoffenkamp notched assists on the next two points to close out the game, the first of which was a stunning full field backhand huck to a streaking Cooper to double up the score 14-7. On the last point, Roy turned over a scoober. Hoffenkamp found a bidding Yarter at the front cone for his fifth assist of the game and the game winner. Cal wrapped up their season with an impressive performance led by Roy and Magsig.
While Pitt was happy to celebrate the win, they were thinking about their semifinal almost as soon as the game ended. "We're not satisfied with that," Yarter said. "We're not here to win quarters." Thinking specifically about the Brown matchup, Yarter added, "It's gonna be a hell of a game. Every time we play them it's a fight. They've had our number this year. I think we're very familiar with them though. We're going to be really confident with our scouting…it's going to be a battle either way."