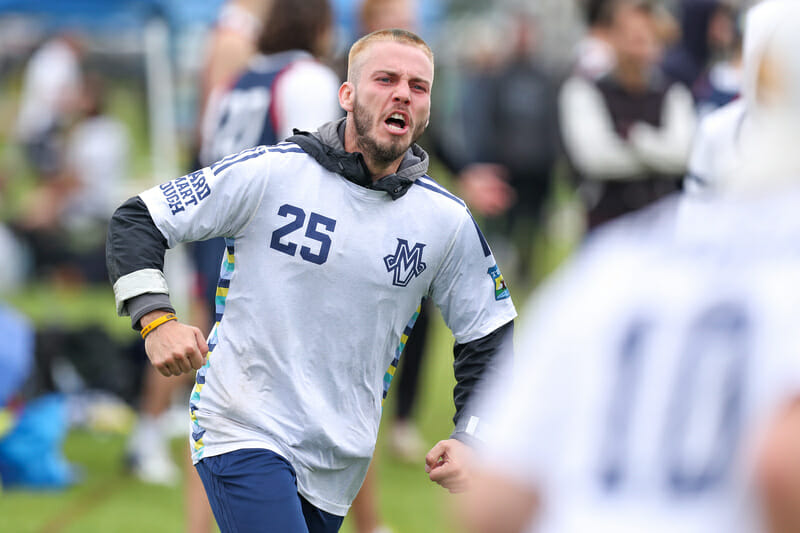 Our coverage of the 2022 College Series is presented by Spin Ultimate. Please support the brands that make Ultiworld possible and shop at Spin Ultimate!
Every year, as Saturday closes, 12 teams per division – more than half the field – feel the agony of elimination. It's a hurtful and confusing time. It can last hours or days or weeks. Your lowest moments, your worst mistakes linger as phantoms before you.
There is only one cure: vengeance. The calming thought that you will be back next year to right all of your wrongs. Every team has the opportunity to soothe themselves in this way, but some are better bets than others.
Here, then, are the 2022 Vengeance Rankings. It is an ordered list, from least likely to most likely, of the teams liable to mete out a helping of justice on their inner demons next year and beyond.
12. Auburn
True to the program's illustrious recent history, there was not an easier team to root for at 2022 Nationals than Auburn. Great energy on the sidelines, big plays between them – what more do you want? But let's be realistic. All of their best players are grad students and seniors. The roster they brought only had eighteen names on it to begin with, and they concentrated a lot of touches in the top half of that group. The end of the tournament means that most of those players now move on. It will take a long time before they can restock the cupboard with talent to match what they've lost. In a deep Southeast region, it will be a tall order even to make it back to Nationals.
D-I College Championships 2022: The Vengeance Rankings (Men's) is only available to Ultiworld Subscribers
Already have a subscription? Log in
Whether you visit Ultiworld for our reporting, our podcasts, or our video coverage, you can help us continue to provide high quality content with a subscription. By becoming a subscriber, not only do you receive benefits like exclusive articles and full article RSS feeds, you also help fund all of Ultiworld's coverage in general. We appreciate your support!