UCSB flipped a switch midway through the first half.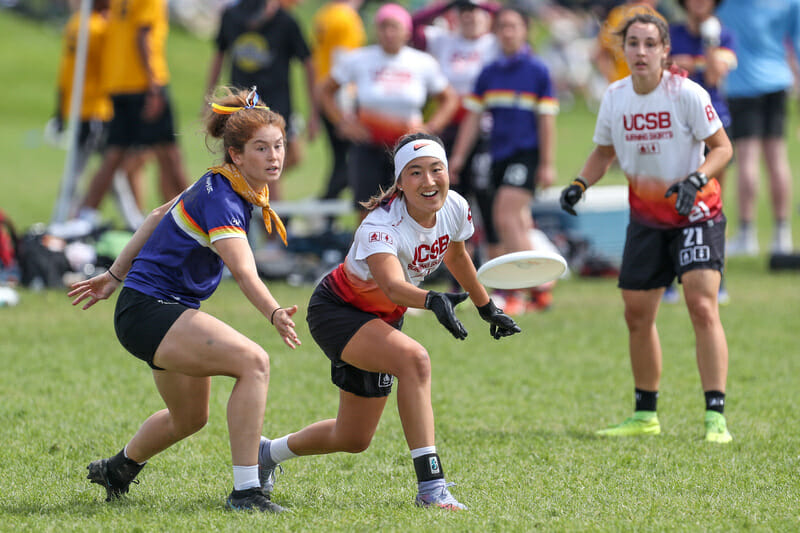 Our coverage of the 2022 College Series is presented by Spin Ultimate. Please support the brands that make Ultiworld possible and shop at Spin Ultimate!
MILWAUKEE, Wisc. — In the women's division, we're promised at least one or two all-time great games. This was one of them, mostly because of the effervescent UCSB defense. In fact, it was the defense of both teams that came to define the game. While both offenses proved worthy of the moment, defense put UCSB behind to start — then brought them right back into the spotlight right when it mattered most.
Ask any UCSB player and they'll tell you: the team takes a while to get going. Like a mech suit powering up, the Santa Barbara women need to take a few punches before the Power Rangers can morph into their Zord form. "We like to give ourselves a good scare," said UCSB star Elsa Winslow. "We've come out flat in the morning all tournament." UCSB might have known that their slow start was coming, but the stakes were a lot higher this time. Tufts was too good on the offensive end for UCSB to find their footing on the fly, and it cost Santa Barbara early on.
The source of their problems early on was twofold. First, Lia Schwartz was transcendent with her shots early on, and the Burning Skirts didn't have an answer for her. Secondly, Emily Kemp was unmovable when going up for a disc. She beat UCSB's cutters multiple times to get the disc, which helped dropped the Burning Skirts into a 3-0 hole.
"On defense, we just trust our teammates to make the plays needed. That's just how it works on our team," said Lia Schwartz.
If it was trust that put Tufts up 3-0, it was also what helped them keep going with downwind holds throughout the first half. While UCSB did manage to get on the board, nothing came easy. The combination of Tufts' strong D-line offense and their box-and-one zone that limited Yu Ishii was a difference maker. "We had never seen a team throw a zone to take away Yu," said Winslow. "That really gave us trouble going upwind. Yu's so important to our team."
Still, UCSB kept the game interesting with a few holds of their own, but their zone defense –a calling card of the team–did not have its desired effect. Tufts' handling corps of Leija Helling and Julia Lober were too efficient with the disc to give it away, and the combination of Goss & Ostrowksi made holds come naturally to Tufts. They were locked in at the beginning of the game, with very little from Santa Barbara making them flinch.
The teams traded holds until 6-3, where Tufts then got another break. UCSB shorted a pass at the endzone and let Lia Schwartz go to work. She gathered a pass in power position on the break side and lasered a huck to Emily Kemp.
"Even when we were down in that first half, we knew we were the better team," said Winslow. "We knew we were going to come back because we always play well when we believe we're the better team."
That confidence came to play immediately after the Tufts break. For the next 5 straight points, the game changed from a quarterfinals match to a UCSB clinic. The team made every right play and treasured the disc far better than Tufts. Whatever had plagued them early evaporated. They leaned into their reset patterns and stopped feeling pressure from Tufts handler defenders. More importantly, their cutters started winning their matchups downfield.
UCSB kept pounding the pavement, wearing down on Tufts until EWO had no energy left to play offense even when they got the disc back. The depth of Santa Barbara was too great, enabling them to get breaks with fresh legs after every point.
Blink and you'd miss it, but after trailing 7-3, UCSB scored five straight to take half 8-7. It's not as if there was any single standout for Santa Barbara on those points, either. They were the picture of a faceless army, sending out wave after wave of good defenders. If a player has to be picked as the star, it would be Julia Hasbrook, who ended the game with a 2G/7A statline.
UCSB may have taken half, but the game wasn't out of reach for Tufts. The time to rest had rekindled their fire, and they came out strong in the second half on offense. But the problem for the team had morphed to figuring out how to stop Santa Barbara's offensive unit, who had overcome their early game woes and were firing on all cylinders. "We just used our legs," said UCSB's Maria Sutherland. "That's what we've done all year as a team."
The teams would trade holds for most of the second half, getting to 12-10 in favor of UCSB without a break. The scoreline didn't tell the whole story, though. UCSB had continued their onslaught of defensive pressure on Tufts and made the Northeast team work for every hold. By 12-10, Tufts were out of energy, and UCSB was just getting going.
A marathon point ensued, ended only by a fantastic full-extension layout grab by Laura Blume that set up UCSB for an upwind break. At 13-10, cap went on, and Tufts had a mountain to climb.
Going upwind, Tufts didn't waste time securing a hold. Schwartz crossed over to the offense and just motored a flick upwind to Kemp, who skied two defenders to come down with it. That was a huge motivator for EWO, but they still had three breaks to go if they were going to get a win.
UCSB gave them a shot at it, too. An upwind shot to Devin Quinn was somehow denied by Kemp, setting up Tufts with a downwind break opportunity. A huck from Schwartz seemed like it was going to get them right to the doorstep, but it sailed just beyond the fingers of her intended receiver. After that, UCSB went to work.
Just like they had since midway through the first half, UCSB's cutters simply beat their matchups to the disc. Tufts didn't have an opportunity to get a stop, because the Burning Skirts ran through every disc and looked back to their handlers for resets often and early. This brought them to the front of the endzone, where a straight-line cut from Mika Leslie was just open enough for Hasbrook to float the disc out to her.
"The experience that our team now has, we were ready for the moment," said Winslow. "When it got close, we relied on our system and never got down on ourselves, which is what brought us back into it. I don't think there was ever a doubt in our minds that we were going to win it."
With that, UCSB set up the rematch of their 2021 Nationals exit, facing UNC in the semis. It'll be a grudge match for the team, and something they'er eagerly awaiting. As Winslow noted at the end of the quarterfinals game, "I think in past years we had this mentality that UNC was untouchable. We don't feel that way at all this year."