An irresistible performance from the #1 team in the country overwhelmed a well-prepared, worthy foe.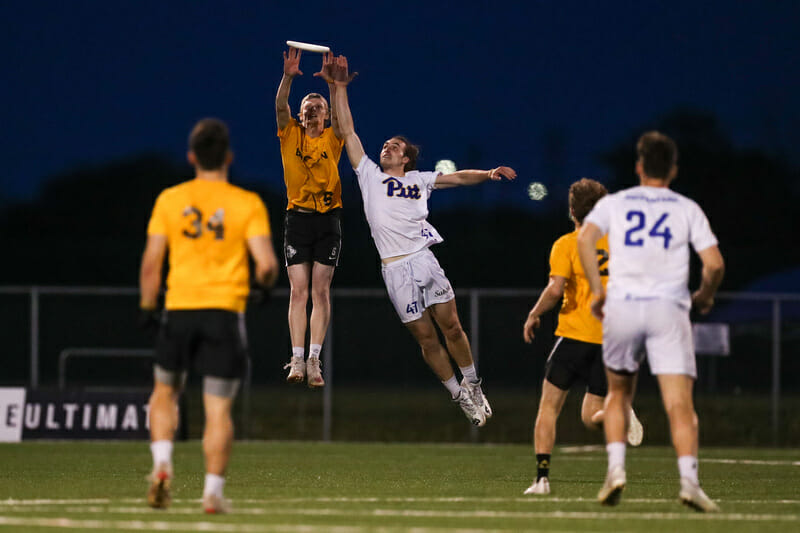 Our coverage of the 2022 College Series is presented by Spin Ultimate. Please support the brands that make Ultiworld possible and shop at Spin Ultimate!
MILWAUKEE, Wisc. — #1 Brown Brownian Motion advanced to the final after outgunning and outrunning an ambitious #5 Pittsburgh En Sabah Nur. The 15-9 final score only partially reflects the dominance Brown showed throughout the game. With the victory, they earned a berth in the Memorial Day final against North Carolina.
The difference might have been a switch in defensive looks. As expected, Brown ran their well-known zone scheme against Pittsburgh for their first two D-points. Pitt ground out a pair of patient, hard-earned holds by shooting through the cup quickly after crashes and trying to advance as far as possible before Brown's front wall caught up to the disc. "Zone was one of the main things we worked on since [Pitt's loss to Brown at] Easterns. We knew that it was a weak spot for us," said Pittsburgh's Harry McNamara, who was often the arrowhead that pierced the cup. Absent a strong wind and clearly prepared for the task, En Sabah Nur seemed poised to withstand Brown's signature defensive look for the duration.
A third Pitt hold came from an equally reliable source: superhuman play from senior Henry Ing, who has been one of the brightest stars of the tournament. He and sophomore Brown defender Cam Curney camped out under a high deep shot to play jumpball. Curney just got the tip before Ing could reach it, but as the disc dropped toward the ground, Ing landed and immediately went horizontal to catch it anyway. At that point, the game was on serve, and it looked to spectators and players alike that they would be treated to the tense, tight semifinal for which they had been hoping all day.
Then Brown did something a little different: they switched to a mostly honest matchup scheme. Rosenberg and Curney (who both finished with three blocks) draped themselves over handlers in the reset space. Rosenberg earned the game's first block when he jumped into the horizontal dump space to pick off a pass. His block set up a Brown break. "We've been having a lot of success with our zone this weekend, but we decided to switch it up and play a lot of person defense, and that ended up working out really well for us," said Rosenberg.
That first break set off an avalanche. Brown never looked back. They stayed in matchup, forcing tricky resets, long horizontal swings, and difficult downwind hucks to goad Pitt into more turnovers – and to give themselves a four-break advantage at 7-3. "The atmosphere in Milwaukee is crazy, watching teams jump for every ball going really hard to get these D's," said Rosenberg, setting up a contrast with B-Mo's D-line. "We're a team that doesn't, like top-to-bottom, lay out and go get the disc, but we think really hard about how to force tight windows."
Defense was not the only aspect of Brown's game to buck the scouting report. They had an offensive wrinkle to throw at Pittsburgh, too. Yes, they used a few of Jacques Nissen's brilliant stand-still shots to eat up big chunks of yards in a single throw. Yes, they charged downfield on many points using the brutal three-man weave that has become their hallmark. So, what changed? Superstar cutter – and newly minted 2022 Callahan Award winner – John Randolph took a turn in the spotlight as a shooter.
Typically, Randolph has been conservative with the disc. Those tendencies may have been obscuring a larger proficiency, however. "[John's] biggest flaw as a thrower is he doesn't think he's a good thrower, so I just have to tell him every now and then, 'You're a great thrower, John,'" said Rosenberg. Randolph went off for a performance that included two full-field upwind hucks, a handful of long hammers, and some quick-trigger scoobers. He finished with a team-leading five assists and 240 throwing yards ((Our yardage stats are close but notoriously difficult to track exactly during play. Jacques Nissen is listed as having 238 throwing yards, and it is entirely possible that in reality he finished with more than Randolph.)
You won't see it on the stat sheet, but Pittsburgh's D-line played fast, intelligent ultimate. Myles Cooper, Christopher Ng, and Tristan Yarter did everything they could to disrupt the dominator. Bids, bodies, switches – they threw it all at Brown. They just couldn't get the takeaway. "I promise we planned for their dominator," said McNamara, bewildered. "I promise we did something to be ready for that."
The second half opened with a Pittsburgh break, courtesy of a dropped pull. Hope flickered briefly into view. Then it disappeared for good. Brown took back the lost break a few points later, squeezing McNamara into a tiny reset window at high speed, one of several times they were able to coax an unforced error. They tacked on one more for good measure on the last point of the game. Oscar Low speedily made up ground for a chase-down block on a Pittsburgh huck attempt. Brown worked the disc a full seventy yards to set up Jackson de Campos on the goal line. He sent Rosenberg into the endzone on a short away blade for the win.
In spite of the deficit on the scoreboard, several offensive players stood out for En Sabah Nur in the game. Ing got over the taller Curney for a high-flying sky late in the second half to a soundtrack of thunderous applause. McNamara and Scott Heyman drove the offense with impressive pace. Aiden Landis finished with a splendid four-goal, one-assist line on the strength of several difficult catches in close quarters with the defense.
Aside from those notable individual performances, it's worth a moment to reflect on how well Pittsburgh approached and prepared for this matchup. They made an effective plan for Brown's vaunted zone – where to attack through the cup, which throws not to try. They demonstrated formidable, well-practiced three-on-three weave defense to put visible pressure on B-Mo's unstoppable offensive look. They scouted out Jacques Nissen's favored backbreaking throwing lanes and placed defenders in position to bait and contest them. And, more than any other team Brown have faced, Pittsburgh were generally fast, strong, and disciplined on offense. There has not been a better coached, better planned game against B-Mo this season.
And none of it mattered. Brown took over the game anyway. They won the strategy battles; they won the execution battles; they won the contest of sheer athleticism. They won at the top end, and they won with their depth. If En Sabah Nur could not get any traction against B-Mo tonight with the kind of effort they displayed, no one could.
Maybe something will change in the final against North Carolina. Maybe Darkside's defense will throw a look Brown haven't anticipated. Maybe they find a level of offensive execution even higher than Brown's. Maybe Brown have an off-game. But after a semifinal like that, it's hard to see how anyone can take the 2022 Championship away from them.