North Carolina has had UCSB's number for three Nationals in a row.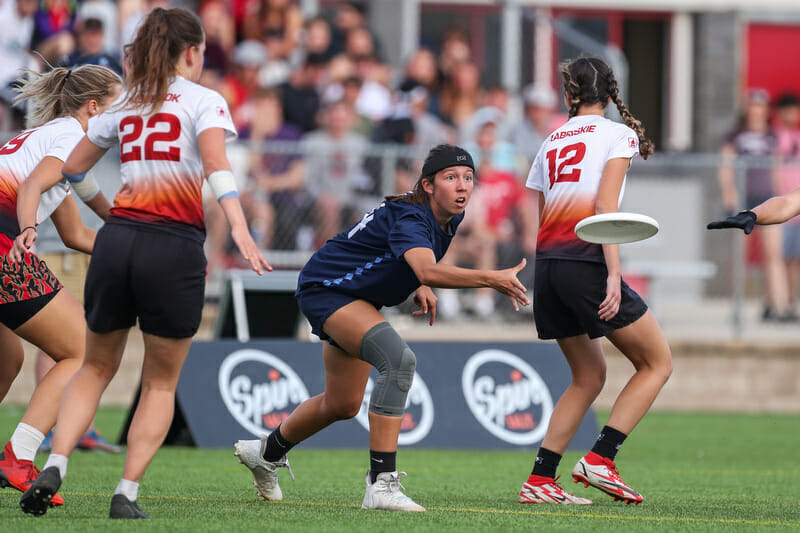 MILWAUKEE, Wisc. — Thanks to the countless styles of play that ultimate presents, many teams have an Achilles heel. There will be one iteration of a team or a particular scheme that unravels their system completely. For UC Santa Barbara, that team is North Carolina.
This is now the third consecutive Nationals that North Carolina has knocked Santa Barbara out of the bracket, doing so in dominant fashion each time. It's not that UCSB didn't deserve to make semis, or that they were a step below the competition; they literally ran into their version of the Bogeyman. Despite their best efforts, this version of Santa Barbara was not able to escape their impending doom and will head back to the drawing board as UNC advances to the final against Colorado.
To understand how UNC dismantled UCSB, one must first understand their contrasting styles. Much like the Revolver teams of yore, UNC is in pursuit of playing the perfect game. The team is very rehearsed and deliberate with their timing for both throwing and cutting. They play small ball as long as it takes to generate an opening downfield. UCSB, on the other hand, thrives on the mistakes of their opponents. Every turn, break, and OB throw serves to energize them. They build momentum by playing defense and have the athletes to compete with teams in long, drawn out matches that look more like a firing range than an ultimate field.
Naturally, UNC's style of calculated, precision-based ultimate is the one that will win out. When your focus is so fully on not making turns, it sure starts to sap away at the confidence of a team that accepts its own mistakes and feeds on those of their competitors.
Perhaps on a less windy day, UCSB's particular brand of ultimate would have made more trouble for Pleiades, but the windy conditions helped UNC squeeze the field, making it seem far smaller and more suffocating than any opponents Santa Barbara had faced previously. North Carolina did resort to using zone early in the game, but it was nothing that UCSB hadn't seen before; they just needed to be careful with the disc and not take rushed shots. But that's a taller ask of the team than it might be for others. UCSB thrives on the fast break. UNC's system prevented them, which never let UCSB get rolling. "We calibrate early on in games," said UCSB's Maria Sutherland. "Realistically, it takes a while for us to get going."
The wind also meant that breaks came in sets for UCSB. With the game being a gusty upwind/downwind match, every time Santa Barbara got broken going downwind, they then had to turn around and try to execute going upwind, something that they could not accomplish at all in the first half.
The team was 0/2 on upwind holds in the first half, allowing UNC to secure precious downwind breaks without much resistance. Since UCSB plays a very tight stack that allows for wide throws to cutters in the lanes, UNC's tight defense earned a number of turns both upwind and downwind that led to short-field break opportunities.
It didn't get any better for UCSB either. When they did get holds in the first half, they resorted to playing zone defense, which UNC didn't even seem to acknowledge. "We had three defensive sets designed to try and slow down their handler movement," said Sam Fontaine, a co-coach of UCSB. "We thought we could keep them on their heels but it just didn't work out. They were too patient."
No question. UNC's zone offense was on autopilot the entire time. Without any pressure on their throwers, UNC had plenty of time to walk the disc to the endzone, do a number of household chores, phone their loved ones, pay rent, and still convert without tensing once.
By half, UCSB had run out of answers. They were down 8-3, had forced only a single turn on UNC's offense, and had overplayed their star offensive line on too many possessions.
UNC, for their part, were 5-of-7 on break chances in the first half and had run out equal lines that featured all of their stars making one big play after another. Seeing Anne Worth back out on the field and catching goals elicited cheers from the stands that was otherwise almost entirely supporting UCSB. Even her own team was emotional about her return. "She is speed, she is grace, and she does everything she did before," said Kailyn Lowder. Allison Riley added later, "On the first point where we stepped on the line together, I told her we were lucky to have her, and she just replied that there was no place she'd rather be." This will also be Worth's first shot at a National title as a player, as she was injured in 2021.
While it was exciting to have Worth back, it was mostly the defense that saw the field, so her playing time was limited. Ella Juengst crossed over a little more and ended the game with five goals in total, but it was Theresa Yu who was having a particularly inspired game, coming up with three blocks and two assists in the first half alone. "Theresa wasn't even with us to train for Fall Nationals: she was in Copenhagen before the tournament," said Milena Jojic. "She walked into that tournament then and immediately was the one catching pulls for us. We trust her so much and she delivered in this game, three blocks including a crazy handblock!"
The second half saw the first flashes of UCSB's swagger, as the team earned an upwind break midway through thanks to good swinging throws from sideline to sideline and a little on-field brilliance from Laura Blume to get back within three at 9-6. It didn't last long, though, as UNC earned a break of their own soon after, turning the game back into a string of downwind holds.
"After we got that break, we put our best handler defenders on their backfield. It worked and we get a stall nine punt, but that's when Dawn Culton laid out and got it. We wanted that, we gameplanned for that, but we just couldn't get there enough," said Fontaine.
UCSB simply could not bring down their execution errors to an acceptable rate that would cause UNC to second-guess their own style of play, and it led to another set of breaks that would effectively end the game for them, putting the team down 14-7.
Blume and Elsa Winslow continued to lead the fight for UCSB well after the game seemed all but wrapped up, and yet, this was always going to be the UNC show. With a taste of the finals on the tip of their tongues, Pleiades sent out a kill line to get the job done. All they needed was a downwind hold.
Maya Powell, Sydney Rehder, Theresa Yu, Anne Worth, Grace Connerly, Izi Myers-Miller, and Ella Juengst stepped out on the line.
Maya Powell collected the pull. She centered to Sydney Rehder. None other than Theresa Yu struck deep on her UCSB defender. Rehder understood what was required and launched the flick. Yu bid. Yu scored. Ballgame.
UNC will face Colorado next in the final, a game they're very much looking forward to playing. "They're athletic, they're talented, we're expecting intensity. We played a good game against Colorado at Northwest Challenge earlier in the year," noted Jojic. "We're excited for the rematch."