The deepest high school tournament in the country!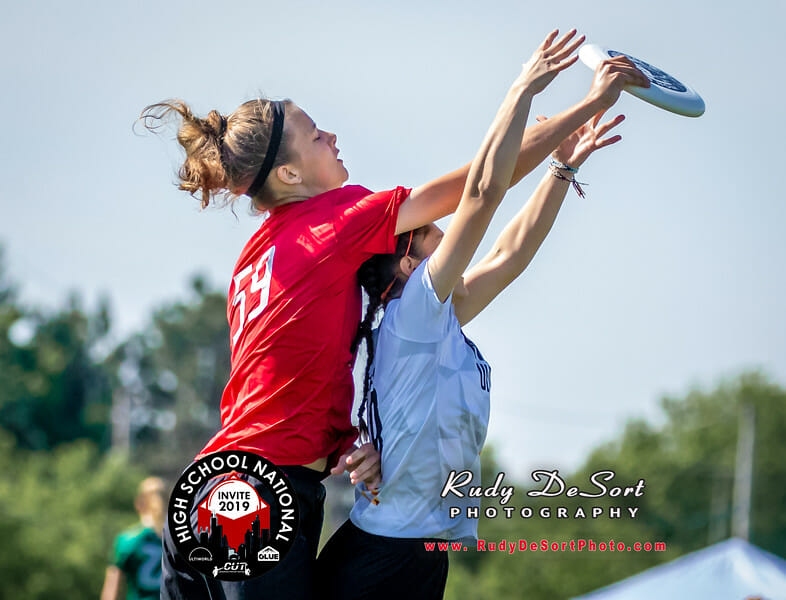 After a two year hiatus, the High School National Invite is back for the fourth time! This is the largest and strongest field in the tournament's history, featuring 15 top 10 teams across the two divisions and 30 teams ranked in the top 25. After the COVID-19 pandemic caused the tournament to be canceled in 2020 and 2021, it is an extra special return to the field for the nation's best high school ultimate programs.
This year, there will be more media than ever, with 16 filmed games and another four livestreamed on Ultiworld. UltiPhotos will have three photographers capturing the excitement. Stay tuned to Ultiworld and our social media platforms for continuing coverage of the thrilling conclusion to the 2022 high school season!
Tournament Profile
Location: Richmond, VA
Dates: June 10-11, 2022
Weather: Warm and sunny on Friday, highs in the mid 80s; AM showers on Sunday followed by sun, temps in mid 70s
Top 25 Teams: 30
Filming Schedule
All times Eastern. All games are recorded for VOD unless otherwise specified. Most VOD games will be made available next week.
Friday, June 10th
Jordan v. Washington-Liberty (Boys)
Edina v. Lexington (Boys)
Nathan Hale v. St. Louis Park (Boys)
Lincoln v. Wissahickon (Boys)
Lone Peak v. Eastside Prep (Boys)
Lexington Pi v. Chapel Hill (Boys)
Madison v. Lexington (Girls)
Garfield v. Washington-Liberty (Girls)
Roosevelt v. West Windsor (Girls)
Lone Peak v. Jackson-Reed (Girls)
Lexington v. Radnor (Girls)
Ingraham v. HB Woodlawn (Girls)
Saturday, June 11th
Girls Prequarter
Boys Prequarter
Girls Quarterfinal
Boys Quarterfinal
1 PM: Girls Semifinal – LIVE!
3 PM: Boys Semifinal – LIVE!
5 PM: Girls Final – LIVE!
7 PM: Boys Final – LIVE!
Boys Division
Top ranked Nathan Hale/Waldorf (WA) come into the tournament with a lot of external expectations. Hale's last appearance at the 2018 event concluded in the final, a deep run for an impressive squad; Waldorf, formerly a separate club, placed seventh in 2019. The Hale team won a Washington State championship in 2021 and Spring Reign's mixed division this past April. That state title came over #6 Eastside Prep, who is also in the field after a comfortable 9-0 through their own conference play in 2021, led by Alexander Belfiore. Declan Miller might be the biggest name in high school ultimate currently, a U20 US National team selection who has been making waves with a fantastic start to his AUDL season with the Seattle Cascades. Joining Miller on both the Cascades and the US National team is Tucker Kalmus. Veteran Ocean Hines will also be central for the Whales, which is pretty fitting when you think about it.
#2 Lone Peak has also had some past success at HSNI, narrowly losing in the 2019 semifinals to Edina. Everett Saunders was one of the younger members of that squad, albeit already flashing his talents, and he returns as one of the fixtures in 2022, another player selected for the US side at WJUC. Max Dehlin, a National team tryout invitee who has been getting good run in the AUDL for the Salt Lake Shred, is likely to be one of the tournament's most impactful individuals. They have gone undefeated in the strong Utah scene, and there's real potential they could continue the run in Virginia.
No scene is more well-represented than the vaunted state of North Carolina, with four teams in the field. #3 Jordan has been very strong this year, winning YULA Invite and in state competition, but they have played some close matches with East Chapel Hill and Carolina Friends. They avenged a loss to ECH with a narrow bracket win in their following matchup. Junior Tobias Brooks is one of the most exciting young players out there: the US National teamer is part of a deep team.
Pool A Preview
Hale/Waldorf will be the favorites, but don't look past the other three teams in this pool. East Chapel Hill got some key wins against in-state competition late in the season to earn a bid to HSNI, St. Louis Park nearly toppled a very good Edina team in the Minnesota state championships, and HB Woodlawn has wins over Washington-Liberty and Chapel Hill, though they came up short in the Virginia State Championships to W-L.
As is always the case at HSNI, the relative level of team skill from west coast to central to east coast is a bit uncertain. How good will the Minnesota teams prove to be? St. Louis Park will be a tough out. Can East Chapel Hill live up to their late season success or prove to be overseeded? Can Woodlawn dig out of the bottom seed in a very tough pool?
Pool B Preview
Is this the pool of death? Jordan is the undisputed best team in North Carolina. Edina is the undisputed best team in Minnesota. Washington-Liberty proved their mettle at Virginia States. And Lexington is one of the toughest teams in the Northeast, falling in a close match to Amherst in the finals of Massachusetts states. There are going to be some real fireworks in this pool — Washington-Liberty and Lexington played a one point game back at YULA Invite in March.
Jordan will be the favorite, certainly, but they haven't been so overwhelmingly dominant that they should be seen as a lock to win this pool. Edina was one of the best teams at HSNI in 2019, and they bounced back from a surprise loss to Hopkins at Conferences to take down the Minnesota state title.
Pool C Preview
Two powerhouse West Coast teams. Two powerhouse East Coast teams. This should be fun.
Lone Peak has done nothing but dominate high school ultimate around the country. They traveled out to Georgia and thoroughly dismantled #23 Midtown (formerly Grady) 13-3, a team that hung tough with many top east coast teams including #3 Jordan. The Utah school made a semifinals appearance at the last HSNI in 2019 and clearly looked like one of the best teams at the tournament. They will face a tough test in Eastside Prep, one of the most dominant Seattle teams in the fall season.
Is everyone ready for USA U20 Girls selection Lula Dutille to shred her matchups all weekend? She was impressive three years ago at HSNI; now she's a senior and going to rip it up for Lexington Pi. Rounding out this pool is Chapel Hill, who bagged a win over Jordan but went winless against CFS this spring. A key win over RECA helped them earn a spot in the tournament.
Don't be surprised if this pool goes to seed, but Lexington Pi has a chance to shake things up.
Pool D Preview
If Pool B isn't your pool of death, then Pool D has to be. Lincoln is the second-highest seeded Seattle team, but they could have their hands full with Wissahickon, who absolutely smoked the competition in Pennsylvania this season, drubbing a good Pennsbury team in the state championship game. Adam Grossberg is the player to watch for Wissahickon, a USA U20 selection and a member of the Philadelphia Phoenix. He also just made the Philadelphia AMP roster. He could be one of the breakout stars of the tournament.
Wissahickon landed big wins over CHUF, Washington-Liberty, and HB Woodlawn at YULA, but they dropped a game to Carolina Friends, who they draw again in pool play at HSNI. CFS has been the premier North Carolina high school program for many years, though they've been a step behind Jordan for much of this year.
Rounding out the pool is South Eugene, the best team in Oregon. How will they stack up? They dropped games to the top California teams at Spaghetti Westerns earlier this spring, but there's not much else by which to measure them. The West Coast teams showed out in 2019, so South Eugene could well blow past their bottom seeding.
Girls Division
The Northwest portion of the country comes into the event looking very strong, with five of the top six ranked teams hailing from Oregon or Washington state. That includes #1 South Eugene (OR), attending their first HSNI. They've been sitting atop our Youth Power Rankings since besting a group of top Seattle youth plays at 7 Hills Invite, and they won Seattle Invite as well. They've been getting local press, and deservedly so, with talented players like Elsa Weybright, Alice Wayte, Acacia Hahn, Opal Burruss — all four U20 National team tryouts, with Hahn and Weybright getting the nod.
The Seattle group of Roosevelt, Ingraham, Lincoln, and Garfield will all be formidable. Their community has been represented in every HSNI Invite in the Girls Division to date, including victories for Roosevelt in 2019 and Nathan Hale in 2018. Roosevelt were the Washington State Champions this year, despite a young roster with more freshman (6) than seniors (5). Getting ready to hear about Chloe Hakimi a lot, after making the US's WJUC roster at the tender age of 15; junior Chagall Gelfand will also represent the school nationally. They are two of the team's five tryout invitees. The Lincoln team, featuring USA U20 selection and Seattle Riot cutter Lauren Goddu, was the most impressive Washington side at Seattle Invite earlier this year, proving they are going to be competitive, and Garfield was not far behind. Led by U20 selection Maggie Brown, Ingraham also showed well this season in the highly competitive area.
Edina (MN) is the only top 10 team from outside of that region in the field. They were awesome on their way to a Minnesota State title, with thrilling 10th grader Amelia Zdechik taking home All-Star honors. Their opponents are averaging just a handful of goals per game, and if they can do that against the quality of competition they'll face in Virginia, they will show everyone who has been slipping that they need to stop hitting snooze.
Pool A Preview
Top-seeded South Eugene will be the heavy favorite in Pool A (and, truthfully, to win the entire tournament). They'll have to face off against a trio of strong East Coast contenders, including the Virginia state champs Madison, Amherst Invite champs Lexington, and Pennsylvania's Radnor, who got off to a great start to the season but have slipped a bit late in the year. The real battle in this pool may be for the prequarters spots. Madison beat Lexington 5-4 back at YULA, a result that feels wonky enough to throw out and say that a rematch feels like a tossup.
Radnor won't be a pushover, either. They nearly defeated the eventual PA state champ Masterman in pool play and had some strong performances against out-of-state teams earlier in the year.
Pool B Preview
Reigning HSNI champion Roosevelt is back to defend their title — they'll have their work cut out for them in pool play. Lone Peak took a shock loss to Green Canyon in the Utah state championships but has been one of the strongest girls programs in the country for years. They defeated all the teams they faced at Paideia Cup, but they didn't play Decatur, and it was a down year for some of the other girls teams in Georgia. Will the loss to Green Canyon just prove how good the Utah youth scene is right now, or is it a harbinger of a weaker roster this season?
New Jersey champions West Windsor Plainsboro were one of the best east coast teams this season, though they did drop close games to Madison, Washington-Liberty, and HB Woodlawn. Jackson-Reed rounds out the pool. They lost soundly to HB Woodlawn at Virginia States but split games with Washington-Liberty.
The pool seems poised to go to seed, but, once again, the uncertainty of the relative regional strengths makes for an interesting dynamic heading into day one.
Pool C Preview
Pool of death?
Lincoln and Garfield have been excellent in Seattle league play this season. Washington-Liberty lost by just a goal to the eventual Virginia state champions Madison. Four Rivers won the Massachusetts state championships last weekend and now looks dangerously underseeded.
Lincoln reached the semifinals of the Washington State Championships, whereas Garfield didn't even get into the bracket — that shows you just how deep the scene is. For a while this year, Lincoln held down the #1 spot in the Washington state sub-rankings, but Roosevelt recaptured that spot later in the year. Garfield has shown some success against the top Seattle teams in a tournament setting, though, suggesting that they could outperform this weekend.
Can Washington-Liberty hold off Four Rivers? Could Four Rivers get an upset over one of the top Seattle sides? This should be a key pool to watch.
Pool D Preview
With 15 teams in the tournament, Pool D teams get the luxury of all qualifying for the bracket. Still, fighting for the bye into quarters will be a priority, and Edina and Ingraham look poised to duke it out for that spot.
HB Woodlawn made the final of Virginia States, where they lost 8-5 to Madison. They have lots of potential, though, which they flashed in a tournament win at Spring Fling, where they got wins over West Windsor, Washington-Liberty, and Jackson-Reed.
Edina cruised to a Minnesota state title, so they'll have to raise their level of play to match much tougher competition at HSNI. Ingraham was solidly the third team in Seattle for much of the season, though they took some surprise losses later in the year (some players had to miss key games for school work and tests) and ended up being the fifth and final Seattle Public School team in the 8-team Washington States bracket. They could be one of the best teams at HSNI, though.
Stay tuned to Ultiworld and UltiPhotos for ongoing coverage of the 2022 High School National Invite!