The stars and stories from HSNI 2022.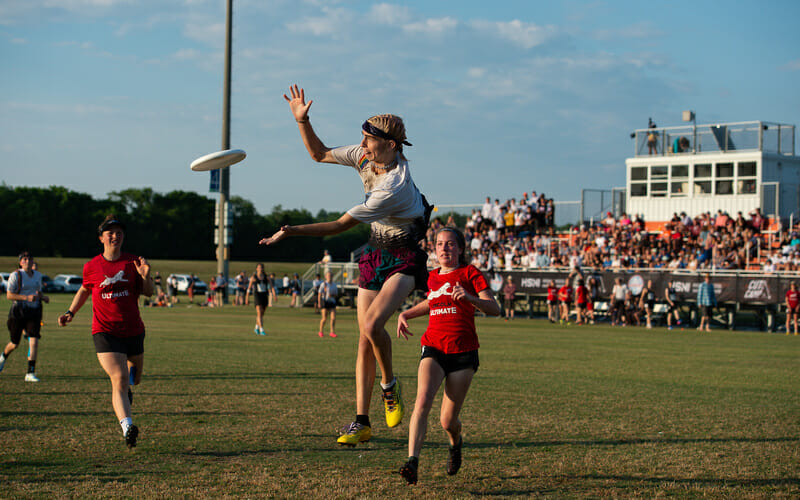 This article was co-authored by Tyler Byrum.
RICHMOND — In a wonderful celebration of young players and high school teams in ultimate, high school players took to the fields to test themselves at the 2022 High School National Invite. The top teams put on a show in the bracket, while top players displayed some of the fantastic talent up and coming in ultimate with Like-worthy highlights. Let's dive in to the stories for every team.
South Eugene Reigns Supreme
Coming into the 2022 High School National Invite, South Eugene (OR) was anticipated to be the heavy favorite to win the championship. There was no doubt by the tournament's end as the gender-diverse squad put together the greatest performance in the tournament's history.
Not only did South Eugene win every contest on their path to a 6-0 weekend, but it was also utter domination. Their final point differential for the tournament was +71, averaging an 11+ point margin of victory. In every game, South Eugene was able to reach 15 goals, even in conditions that generally limited the field from getting to the final number before the cap. That sheer will and undeniable force were on full display when they cruised to a 15-4 win in the championship over Lincoln (WA).
Teams knew the tall task ahead of them when facing South Eugene. Even in the incredibly deep field of teams in the Pacific Northwest, four players on this roster — Acacia Hahn, Alice Wayte, Opal Burruss, and Elsa Weybright — tried out for the US U20 National Team, with Hahn and Weybright getting selected. It's rare to see so much talent accumulated on one singular team but, frankly, it was the complete depth from top to bottom that was the difference.
As they rolled through the competition, there was a bevy of talented stars that contributed to their championship. Sophomore Dane Kokkeler had quite the introduction to the national scene over the course of the tournament. Kokkeler scored five goals in the final to go with two blocks. They had an incredible closing speed on the disc and were one of the fastest players on the field in every contest.
Weybright was an offensive focal point as South Eugene was rarely put in situation too difficult for them to get out of. Hahn, Mara Hindery-Glasinovic, and Elodie Donohue also had great weekends as well.
The team allowed a combined four total points in pool play on Friday. Sometimes, seeding in national high school tournaments is tricky with the lack of crossover in competition. But seeing these teams for the first time, South Eugene beat the Virginia state champion Madison 15-1 and Amherst Invite champion Lexington (MA) 15-2.
Needless to say, South Eugene's debut appearance at HSNI was one for the record books.
West Coast, Best Coast
Those were the chants from the packed stands during the boys' and the girls' championship games on Saturday evening, a confident rallying cry for the well-represented region deep in bracket play.
All four semifinalists – South Eugene, Roosevelt (WA), Lincoln, and Ingraham (WA) – call the West Coast home. More specifically, all four of those teams are from Washington and Oregon. That's pretty phenomenal. All teams were familiar with each other and in some cases played multiple times throughout the year. Additionally, it was South Eugene's, Lincoln's, and Ingraham's first appearance at the High School National Invite.
They were four of the five teams from DiscNW to make the trip to Richmond, along with Garfield (WA). Each of those four also won their pools handily and received byes to the quarterfinals.
The Roosevelt and Lincoln semifinal was the showcase game of the round and both teams delivered in a thriller. Neither team led by more than two points. Only once did either side concede consecutive breaks, and that was when Lincoln broke the final two points to clinch the 14-12 victory.
Lincoln's downfield game was precise in this contest with sophomore Anna Ammann (five goals) providing a steady stream of downfield cuts for scores. When Roosevelt would apply pressure in their zone defense, Ammann was always streaking deep and winning the vertical matchup time and time again. She was Ella Widmyer's and Lauren Goddu's favorite downfield target.
Goddu, a junior, as well as Roosevelt freshman Chloe Hakimi, showed why both received U20 National Team invites in this matchup. Goddu is a force downfield, while Hakimi's all-around game is advanced well beyond her years.
Ingraham had largely a quiet tournament the way the schedule broke out. They were no.5 seed, placed in the three-team Pool D, and won with ease over Edina (MN) and HB Woodlawn (VA). Four Rivers (MA) gave them a test in their quarterfinals, but Ingraham punched their ticket to the semis, where they eventually lost to the behemoth of South Eugene.
Four Rivers' Surprises with Spirited Run
Four Rivers entered the tournament at no.15 and contributed greatly to Pool C being labeled the "pool of death." Once they won the Massachusetts state championship the week prior, and after the seedings were released, it was clear that not only was Four Rivers were underseeded but that they had a chance to perhaps crash the all-Pacific Northwest party.
Four Rivers' first statement of the tournament came in their opening game against eventual runner-up Lincoln. Four Rivers' zone gave teams fits all weekend long and even the zone-busting Lincoln offense had its difficulties. That zone was extremely active and moving extraordinary well as a single unit. While Lincoln held on for the win, Four Rivers had the closest result of the girls division against the pool winners when they lost 11-8.
With Garfield struggling as the second Seattle-area team in the pool, Four Rivers was there to rise to the occasion. Senior Ashley Schlinger led the way with her defense and downfield hucks, leading to several breaks in their upset 14-9 win over Garfield. Afri Flynn and Eve Macek were strong in the deep space on defense, with Macek firing hucks once on offense and Flynn often tracking them down. A win over Washington-Liberty (VA), including one four-block point from Macek, secured second place in the pool.
Their chance to break into the semis was squashed by Ingraham. It was a hotly contested game in the first half as teams traded points from beginning to end. But with Ingraham sandwiching the half with breaks, and the last one coming on a grueling long point with Ingraham's Lili Werner dropping a dime in the back corner of the end zone, it was a backbreaker.
A lot, though, for this Four Rivers team to be proud of and with seven juniors on the roster, they'll certainly have a chance to run it back next year.
Getting in the Zone
It was discussed after seeing action on Friday, but the zone defense sets continued into Saturday, even when conditions were ideal.
Slated for the later rounds on Friday's pool play, the wind and rain never really materialized up until the semifinals and final. That didn't stop nearly every team from attempting zone defenses throughout games and never breaking out of it even while backtracking to the end zone.
Teams that went farther in the tournament — mainly the Washington and Oregon schools who often have to face zone due to their weather — surely knew how to manage that type of defense. The last two rounds of the bracket saw it extensively throughout.
With the abundance of zone, there appears to be a philosophy shift amongst coaches at the highest levels of high school ultimate. Beyond forcing teams to throw constantly and pressuring handlers, there are several benefits that a zone defense provides. Non-cup defenders often get to preserve their legs. That's a huge advantage for shorter rosters on the girls side. If done, it's easy for coaches to disguise defensive schemes in a zone and give opponents a variety of different looks so they never get comfortable.
It's clear now: if you want to compete at the HSNI, knowing how to run a zone offense better be in your skillset.
Around the Tournament
This was an outstanding tournament for all teams involved. There was a big focus on the top four semifinalists but there was great ultimate played all weekend long that should be appropriately highlighted.
– West Windsor Plainsboro (NJ) didn't have two full lines, at times playing with just 11 players. You wouldn't have known it with the way they played. The Jersey runner-ups broke seed with a lot of gritty play, and particularly notable leadership and consistency from Ashley Talwar, who patrolled the deep space, took on tough matchups, and handled a lot of the team's plentiful zone touches.
– Senior MJ Muskovitz and junior Abby Freund were a real fun duo to watch for Washington-Liberty. Both took command of their offense leading them through the tournament, especially in the round one upset of Garfield that was one of the tournament's most surprising outcomes.
– Lone Peak (UT) had a very strong showing, with their only two losses in non-consolation games coming to the champion South Eugene and semifinalist Roosevelt. Abbie Davis was, of course, a force downfield, and Sheyenne Flanary provided firepower. They were the only team in the field to score more than four points against the champs in their 15-7 loss. Perhaps a more favorable seed would have given them a better chance.
– HB Woodlawn (VA) Pandamonium brought the fun and pandas this weekend. With panda headbands and multiple stuffed panda bears on the sideline, they were one of the most spirited teams down in Richmond.
– Learning was a big theme of the weekend for Jackson-Reed (DC). While they struggled results-wise, there was a lot of development from the beginning of the tournament to their final action in consolation play. It should be a valuable experience for the junior-led team, especially with Margot Nissen's creative throwing back in the fold.
– Edina (MN) expended a lot of energy in their opening win against HB Woodlawn to start the tournament. For only having two pool games, that contest surely made up for it. Sophomore Amelia Zdechlik cleaned up a lot of points, racking up several goals on the weekend.
– The Lexington game against Radnor was one of the most exciting on Friday, closing pool play with a battle for the second spot in Pool B. After going down 9-5, Lexington roared back with a series of hard fought points. Some clutch plays by Kyla Davidson, including a diving save, helped force a capped universe. They didn't pull that one out, but it showed off the team's grittiness and ability to count on multiple players to step up.
– With much of the talk about the Northwest's strength, Garfield's 0-3 Friday was a big surprise. The team was playing shorthanded, without some of their key contributors, but still had one of the most skilled teams in Richmond. Mia Andreeva, Jessica Luu, Mira Schneeweis-LaRene, and Coco Blakemore all showed great disc control. Alexa Jeantette-Coca was perhaps their most dominant individual, and of them all, only Luu is a senior.
– After pool play, Ingraham was sitting at a sterling +23, led by a stout group of defenders and the offensive play of Lili Werner, whose throwing talents were put to good use. They got challenged by a strong Four Rivers team in quarterfinals, but again their defense held firm. That stands as their signature victory from the weekend, and there's no doubt that they were on the level of the top teams after South Eugene.
– Madison's small roster made it an uphill climb for them on Friday, especially in the heat. Emma Smith lived up to the billing and was one of the best individual players in the event. But even with a well-coached team that seemed to be learning and growing to build on their strong fundamentals, overcoming the physical toll of the level of the competition and environment was a tall task. It was all the more impressive, but not surprising, for them to bounce back in consolation with a pair of Saturday victories.
Radnor was one of the most athletic teams at the tournament, with the duo of Diana Huang and Rona Liu-Zhong causing tons of problems for opponents. Sophia Dillon was effective as a deep deterrent, with Isabelle Deputy filling in a do-it-all role admirably. After dropping some extremely close games at New Jersey States, they were glad to get some extra shots in that environment, and even pull out the win over Lexington.
Ultiworld Subscribers: read on for the All-Tournament Line and Honorable Mentions!
Bonus Content for High School National Invite 2022: Tournament Recap (Girls) is only available to Ultiworld Subscribers
Already have a subscription? Log in
Whether you visit Ultiworld for our reporting, our podcasts, or our video coverage, you can help us continue to provide high quality content with a subscription. By becoming a subscriber, not only do you receive benefits like bonus content and full article RSS feeds, you also help fund all of Ultiworld's coverage in general. We appreciate your support!