Two North American and two European clubs, all brimming with hope.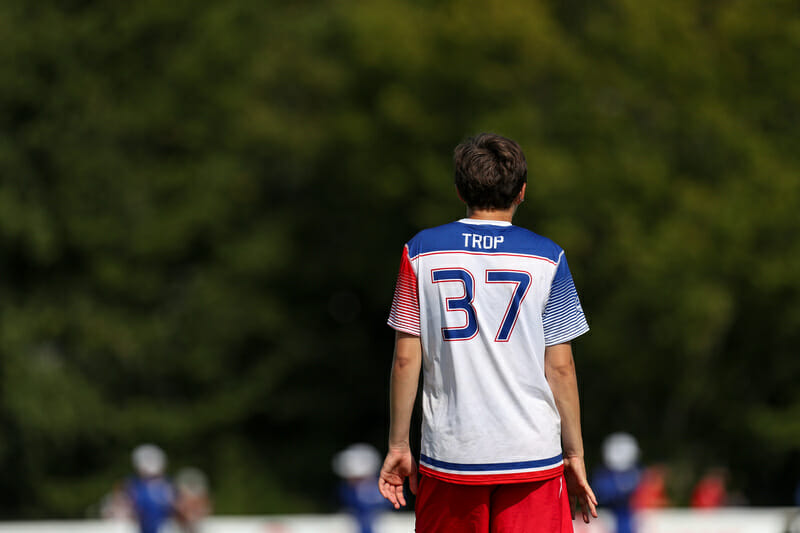 Ultiworld's written coverage of the 2022 World Games is presented by Spin Ultimate; all opinions are those of the author(s). Find out how Spin can get you, and your team, looking your best this season.
Pool A features a pair of North American heavyweights who will both have an eye to enter the bracket unscathed. They are the favorites to move one, but don't overlook a pair of European clubs who will both look to make their mark on the World Games after long absences from the tournament.
United States
World Games Appearances: 6
Best Result: Gold (2005, 2009, 2013, 2017)
The United States won the gold medal at the last World Games tournament in 2017. Four years before that, they won gold in Cali, Colombia. They won gold  in Kaohsiung, Taiwan in 2009; and they won gold in Duisberg, Germany in 2005. You have to go back to 2001 – the first time Flying Disc was included as a discipline in the World Games – to find a World Games result that was anything less than gold.1
So you can imagine what the expectation is for the host nation in 2022. "It would be a disappointment if we didn't win," said Jimmy Mickle, one of the most well-known of Team USA's stars. "But what makes it fun is that it is a challenge," he said.
That is a very high standard, indeed, even if it is supported by the ample precious metal they've accumulated at this tournament. But there is a reason Team USA are the favorites that has nothing to do with the past: the depth of top talent in this country has yet to meet its match on the international stage. One could make the argument that a second (or even a third) US side could enter this event with the same prospect for success without provoking too many raised eyebrows.
Still, it is one thing to expect gold and quite another to win it. With the rest of the international scene gaining ground from a talent standpoint, the path to victory becomes more difficult every cycle. "We have to be pretty precise," said head coach Matty Tsang. "Everyone is going to play their one game of the day, and if you want to control your own destiny you'd better be pretty sharp, no matter who you're playing. It's going to be imperative to have that focus." Although it was early and they were clearly working on building chemistry and basic systems, their loss to Canada in a friendly last month at Poultry Days illustrated the fine margins of this tournament.
With such an experienced coaching staff – Tsang is flanked by the decorated duo Patrick Sherlock and Miranda Knowles – it is hard to imagine USA having the sort of off-game that could spell an early end to their campaign. It is far more likely that they'll simply hit their marks. While we don't exactly know how it will shake out, it's quite easy to imagine Mickle and fellow World Games veteran Carolyn Finney taking turns leading the offense to a half dozen quick scores a game. They'll find easy targets (not to mention creative throwers) downfield often enough in Carolyn Normile, Dylan Freechild, and Claire Chastain. Or they could skip the initial pass all together with a quick strike to Sarah Meckstroth or Jack Williams in the end zone.
Though there have been some notable departures – Georgia Bosscher, Claire Desmond, and (of course) Beau Kittredge – from the last iteration of the team, the new blood should be more than capable of filling in for them. Claire Trop is one of the youngest players at the tournament and could end up being one of the best. Meanwhile, Mickle singled out Khalif El-Salaam among those he's most excited to play with. "It's my first chance playing with [Khalif]," said Mickle. "People see a lot of big highlight plays, but I've found his sense of timing and spacing on the field to be quite impressive… He's moving with pace at all the right times and finding the right lanes and setting up deep cuts really effectively."
It remains to be seen how the new players on the roster adjust to this huge stage once competition begins. And it will be interesting to find out who among this team of superstars take the mantle of in-game leaders. But no matter how you slice it, the United States are the team to beat.
Canada
World Games Appearances: 6
Best Result: Gold (2001)
Only one non-US team have won gold at this event: their northern neighbors, Canada. The Canadians have been in the medal mix at every World Games, but with a largely retooled roster that has been the beneficiary of reinvigorated youth programs across the country, 2022 may represent their best shot at the crown in more than two decades.
At least one of the names will be very familiar to the international stage, though. Longtime Vancouver Traffic leader Catherine Menzies2 will compete in her third World Games – the first two earned her a pair of bronze medals. Look for her to set the tone not only with her well-documented do-it-all dynamism between the lines, but also in terms of preparing many of Canada's newer members for the prestige and intensity of this tournament.
Between Menzies and the team's captains – veteran World Games player Kevin Underhill and World Games rookie Hannah Dawson – Canada have an exemplary leadership core in place. The challenge will not only be to compete with the other top teams at the tournament, it will be to bring disparate elements from an enormous land area into a new and cohesive team system. "When we're together we make the absolute most out of it, and we try to stay connected in the interim," said Underhill.
He also cited the value of each player's regular training with their local clubs as a way to stay sharp, even while acknowledging the fact that individual club training can only go so far. Canada know they can't just rely on the plays from their top single-gender club teams, even if Traffic and Furious George (Vancouver) or 6ixers and GOAT (Toronto) are among the best units in the world. "I wouldn't say [our strategy] leans too close to any of the club teams," said Underhill. "The focus has been… connecting this group, and not necessarily relying on club infrastructure.. It doesn't really feel like we're only running a GOAT system or only running a Furious system or only running Traffic resets."
The blending of that talent and those systems adds to the unique nature of the World Games experience. "To be able to hit the fields together… It's definitely been a different dynamic, but one that's been very rewarding," said Menzies.
Provided they manage to coalesce as planned, Canada look like they have all the tools to compete with the Americans or Colombians or anyone else standing in their way. Tim Tsang was playing with the most impressive pace of anyone on the field in filmed scrimmages against Team USA last month. Newcomers Britt Dos Santos and Malik Auger-Semmar were both more than handfuls for the best American defenders downfield. As well as they played, there may even be other World Games rookies who make a greater impact. Lauren Kimura has shown exceptional poise (not to mention exceptional fulcrum throwing) at the highest levels of club play for 6ixers. Meanwhile, Mike Mackenzie, Ty Barbieri, and Sara Jacobsohn will rank among the most athletic players at the tournament.
The road will not be easy for Canada, but you have to think that (as long as they can get past the two European teams in the pool) they will appreciate the chance to go toe-to-toe with the US in pool play. Win or lose, that game will provide an invaluable measuring stick for how hard they will need to push in potential semis matchups against one of the equally ambitious contenders from Pool B in order to secure their place in a first gold-medal game since 2001.
Great Britain
World Games Appearances: 3
Best Result: 5th (2009)
Great Britain are in an interesting position heading into Birmingham, perhaps even a bit of an inflection point. They have earned the distinction of being among the best ultimate-playing countries in the world for the better part of two decades. However, that sustained success has not quite risen to the level of being competitive at the World Games, where in appearances in 2009 and 2013 they have a total of two victories, both over the 2009 host nation Taiwan. It has been nearly ten years since their last World Games appearance: will they elevate their play and truly challenge some of the principal contenders, or will it be another back-of-the-pack performance for GB?
According to Justin Foord, one of the team's only holdovers from their last tour of the World Games in 2013, the 2022 team has a much more positive vibe. "I remember eight [sic] years ago our training sessions were filled with tantrums and disagreements," he said. That contentious scene has been supplanted by (in Foord's words) "an emotionally stable and emotionally intelligent team" and "a lot of very agreeable people," a melange he attributes to the thoughtful selection process of coaches Lucy Barnes and Sam Vile. His new teammate Carla Link was even more to the point. "It's the most enjoyable team we've [all] played on," she said.
Positive on-field dynamics are an excellent foundation, but one does not win a tournament on vibes alone. It will take quite a bit of talent and preparation for Great Britain to seriously challenge either the US or Canada and make it out of Pool A, and Germany (see below) look fit for fighting, as well. Foord, as well as fellow 2013 returners Ollie Gordon and Tom Abrams, have taken star turns at international events for the last decade with the dominant Clapham club. No doubt they will be leaders for the team. The same can be said of Fiona Kwan, stalwart leader for the successful women's side Iceni.
But, you ask, aren't they all getting a bit long in the tooth? The point is well-taken: how will the younger GB players stack up against the best in the world? Ellie Taylor has made a name for herself in the cutting lanes as a reliable and athletic continuation target. Will Rowledge was all set to bring his athletic brand of defense stateside before an injury sidelined him, and as a result we won't see much youth out of the men's half of the roster. The truth is that it's hard to say where these players will shake against their peers until the start of the tournament.
The level of preparation, on the other hand, leaves no uncertainty. Great Britain's coaches have taken the opportunity seriously, even cerebrally. They have taken extraordinary measures to ensure the team can compete well within the tournament's unusual parameters. "In general, Lucy [Barnes] and Sam [Vile] have picked a team of players that can play a shorter line form of ultimate," said captain Ashley Yeo. "We have a lot of two-way players and a lot of players who, in the past, have been on power lines and had to play two, three, four points in a row when it's been important." More than just selecting players most likely to thrive in World Games conditions, Great Britain's leadership have sought to simulate it throughout their ramp up to the competition, holding scrimmages and even traveling for friendlies against Germany and France with only 14 players, rather than bringing along a larger roster.
All of that should put them in a good position to play their best ultimate. Will it be enough to make some sort of a splash in Birmingham?
Germany
World Games Appearances: 3
Best Result: 5th (2005)
Germany, like Great Britain, return to the World Games field after an absence. Their last appearance was at the 2005 Duisburg World Games, where, as hosts, they finished fifth after splitting two games against fellow bottom-dwellers Finland. There is no direct link between the 2005 side and the 2022 one: the German group we will see in Birmingham can be described as a fresh entity. You can bet they'll be eager to restart the National program in style.
One thing the Germans have had on their side during the lead-in to the World Games is time. They have been training as a National team since October. That's as much as a six month head start on some of the teams they'll be competing against. They will have firm systems in place, as well as a great store of team chemistry. "The level of preparation is un-comparable to whatever has been done in the German scene," said captain Nico Müller.
Much of the German team practice time happened before they cut the roster to the final 14 players, so the 20+ attending played with an edge. "Competition within the team was super intense," said Levke Walczak. If the Germans show that they can be as ruthless and resilient as the Canadians or the Americans on the field, part of the reason will certainly be the mettle required by that extended training time that doubled as a painfully long tryout period.
But the most intriguing thing about these 14 World Games newcomers is that they could make up one of the better rosters at the tournament. Müller has been a world-class player for a few years now. So has Samuel Beuttenmüller, who has been a force at all the major European events – although losing his brother Holger to injury before the tournament is a blow. Anna Gerner toured the United States with the extremely successful Eurostars team in 2019, staying solid around the disc against the best American clubs. 
Levke Walczak, meanwhile, is nothing short of a superstar who has not even scraped the limit of her talent. Picking up with Medellín RevoPro for a weekend of Premier Ultimate League play last August, she fit right in with the vaunted Colombians. There's a strong argument to be made that she was the best player on the team during those three games.
Earning wins at this tournament, though, will be an uphill battle. Germany will face an immediate gut-check with an opener against Canada. The weight of that particular match does not appear to be bothering them yet. "We try to not think too much about our opponents," said Müller. "That doesn't really matter to us."
How many wins the team earn in a tricky pool may not matter at the end of the day, either. What will matter is translating the many months of training into an on-field product that represents the best of German ultimate now, and perhaps even a glimpse of a much greater future.
---
And even then only just: it was silver in Akita, Japan. ↩

nee Hui ↩