Three well-known global ultimate powers in the same pool.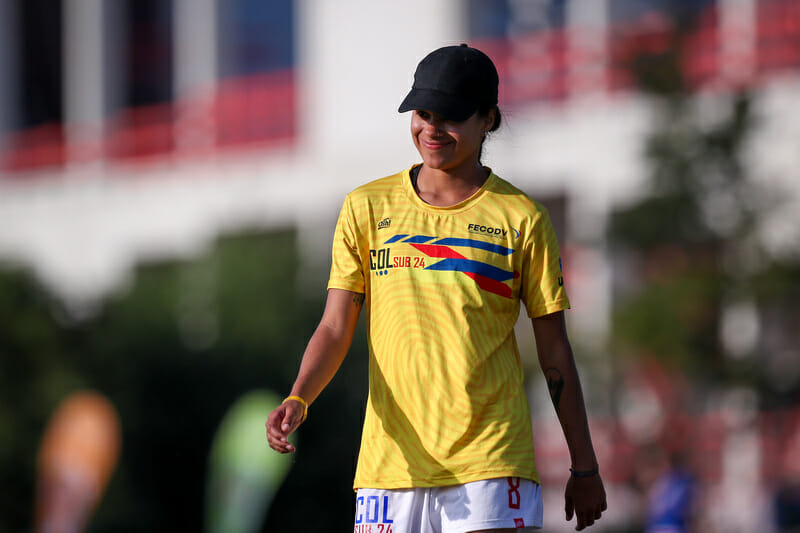 Ultiworld's written coverage of the 2022 World Games is presented by Spin Ultimate; all opinions are those of the author(s). Find out how Spin can get you, and your team, looking your best this season.
Pool B features each of the last three sides to earn silver medals. All of them have high hopes heading into Birmingham, but only two will even advance out of the pool, setting up several high-stakes matchups. Rounding out the field: a European newcomer looking to blaze a trail for the country's future.
Colombia
World Games Appearances: 3
Best Result: Silver (2017)
The rise of Colombia to prominence has been the biggest development in the international ultimate landscape in the last decade. They shocked the ultimate world with wins over both the United States and Canada at the 2017 World Games on their way to a silver. This year they'll want to match or exceed that performance. The good news is that their success wasn't lightning in a bottle: there has been a huge investment of time, money, and energy into the sport for more than ten years, and we are seeing the fruit of it. But replicating those high level results will be much more difficult now that the rest of the world is ready for the idea of Colombia as an elite team.
It's worth going back to Wrocław in 2017 to remind ourselves how they managed to take down a pair of titans. They ran reset patterns and looked for spaces on the field that were unconventional by established ultimate standards. More importantly, they played with a belief in each player and their collective skills. Trust in each other and fearlessness in the face of their opponents set the table for Elizabeth Mosquera going shoulder-to-shoulder with Sandy Jorgensen to take away a deep throw, Alex Ford combat rolling to save a wide pass near the sideline, and Manu Cárdenas holding on to the disc for dear life in spite of Mark Lloyd's best effort at a poach block. It was a winner's mindset from the word go, and it paid off in a bounty of precious metal.
Coach Mauricio Moore has continued to build on that central mentality for the 2022 cycle. "We built a super big thing in the past World Games about the 'I trust you' process," said Moore. Each player should feel comfortable relying on the other 13. A lot of that trust has already been built in the past because, notably, Moore is trying to instill it in an extremely similar cast of people. Six of the seven women who played in Poland are back1. Some of their names are now household in most ultimate-playing corners of the world: Mosquera, Cárdenas (x2), Cartagena. On the men's side, Felipe Ramirez and Julio Duque will lace up their cleats alongside the ageless Ford. Together with the five World Games rookies, they have two flexible, adaptable lines of playmakers.
In spite of the similarities to their previous World Games roster, Colombia will surely have some tricks up their sleeve. In the first place, Valeria and Manu Cárdenas have gone from the age of 17 to 22 in the interval. Those are typically major developmental years in an athlete's career, and it will be fascinating to see what new heights they can reach. Ramirez and Mosquera are only a little older. In addition to the growth of so many top players, Colombia may at times inject a new mix of tactics. Hex offense evangelist Felix Shardlow has been doing some consulting with the team lately, and it seems like a good match of a team who thrives on slight changes of attack angle with small reset throws and an offensive plan that places such movement front and center. All of it points to what Moore sees as the central on-field goal for Birmingham: "You gotta be better than five years ago."
The sheer volume of high-level reps that Colombia have already had in 2022 is perhaps their biggest competitive edge. It has been a non-stop year for many of the Colombians, with TEP, Colombian Nationals, and multiple trips to the United States to play professionally in the Premier Ultimate League. "It's a risky thing, you know. We can have injuries, as we had [with Ospina]… But I think at the end of the day it's an advantage for every single player — and me, as a coach — to train at a top, top level," said Moore. "That's what we want: a pro level. Being ready to go, ready to play, every two weeks having an intense final. That's a really powerful process."
Colombia clearly have a lot going for them. But will they win? While some might look ahead to potential rematches against the US and Canada, earlier tests will come against tournament mainstays Australia and Japan. As good as they are, there's no guarantee they make it out of Pool B. But it feels like Colombia are on the cusp of something big.
Australia
World Games Appearances: 5
Best Result: Silver (2005, 2013)
Two years of Covid restrictions and a winter of hard training through the dark hours have left Australia champing at the bit for some international competition. The Crocs will step into the balmy Alabama summer after a week's worth of time zone and hemisphere adjustment with an eye on reaching their former great heights.
The two-time silver medalists return five players from their 2017 campaign, a few of whom have  long international records. Cat Phillips was one of the standout players at that tournament, or anywhere an Australian national or club team travels. She was also one of the keys to Toronto 6ixers run of success during their most recent USAU season. Her older sister Mish has played everywhere, including the United States, Japan, and Colombia. And Tom Tulett played for a season alongside Jimmy Mickle with Denver Johnny Bravo in 2016, not to mention led Melbourne Colony (now called Sunder) to a silver medal at WUCC in 2018.
But lest we get too hung up on the accomplishments of the World Games veterans, a reminder from Tulett: "The people coming in for their first World Games carry a lot of experience with them." Alex Ladomatos, whose D-line handling helped power New York PoNY to a gold medal run at the USAU Club Championships in 2018, is only the most visible of these. Caro Ma and Liv Carr have been at the top of their age group in U24 and U20 competitions; the only difference is that now there will be more eyes on them that they've graduated to the sport's premier showcase.
Every player on the roster has been a part of the rich Australian National team landscape, and many of them have grown into their current playing mindsets under the influence, directly or indirectly, of Crocs head coach Anna Rogacki. She teaches that for a team of complete athletes to perform at the highest level they must give equal weight to physical, mental, and cultural aspects of training. To that end, the Crocs have been reaching into team history to gain insights into their strengths.
"We've done a lot of connection back to previous campaigns. We've had previous Crocs representatives come in and share their experiences, going all the way back to [their first World Games cycle in] 2005." Rogacki calls these sessions 'Croc Talks.' Should they advance past other contenders to a gold-medal game, their collective cultural work will be a big part of the reason.
But in more concrete terms, the mixed, short-roster format suits Australia well. "Australia has always represented really well at the mixed level because of the strength of the women. Not to say that the men aren't strong, but I think it's absolutely our advantage, the athleticism of the women," said Rogacki. How they fare against Colombia, who have the same advantage against most teams, will make for a fascinating matchup that could decide the pool, and indeed the entire course of the tournament.
Japan
World Games Appearances: 6
Best Result: Silver (2009)
Unfortunately for Australia and Colombia, a third major contender lurks in their pool. Japan have built one of the most successful national programs in the history of international ultimate. The Japanese women famously defeated the US to take gold at the 2012 WUGC, and the performance of their men's team in the final of the same tournament in 2016 – one that is often cited on the short list of the best games the sport has ever seen – against Team USA put everyone observing the international scene on notice.
That run of success did not translate to a very good outing at the 2017 World Games, however, where they finished fifth, just ahead of winless host nation Poland. Those poor results might be explained by the fact that their long-time top club Buzz Bullets were banned from competition for two years earlier that year. That circumstance left Japan to scramble to replace several player on their roster at the last minute.
Fortunately for the fans (both of team Japan and of spectacular ultimate in general) Masahiro Matsuno (who is the only player at this year's event to have competed in either the 2005 or 2009 World Games), Taiyo Arakawa, and the rest of Buzz Bullets' best are back with the team, with the expectation that this year's Japanese side will return to a full-force attack along with them. Joining them for their first World Games tours will be several up-and-comers. Mayuka Takada is one of only two players in Birmingham born since the turn of the millennium. She is joined by more seasoned stars Akifumi Muraoka and Kaede Yoshida, both of whom have had everything going for them to play at a World Games level for the last few years except for the most necessary ingredient: a World Games tournament.
This year's iteration will look to put a twist on the old Japanese winning formulas. Muraoka (GOAT) and Yoshida (Riot) have both played seasons with North American clubs. That influence that seems to be finding its way back home to the National squad. "We play a traditional Japanese style, plus this team have been trying to do more big plays. We try to flip it so we do more hucks… with a little bit of American style," said Yoshida. Their opponents will likely set up defenses to account for Japan's trademark quick cross-field deep looks, and you can be sure that we will continue to see plenty of throws like that. But those counters are something Japan might be able to exploit by switching at times to a more straightforward power game.
The hallmark of Japanese defensive schemes over the last decade has been blobby zone looks (with or without a set mark) that allow an endless sequence of swing passes but scant few clean looks downfield. Playing against short rosters will increase the potency of such gameplans because mental fatigue is sure to set in after a few long points against it.
But whether or not Japan resort to those tactics is beside the point, because it was always a deeper talent on the team for coordination and communication that made the various zones successful. Those qualities will serve them well in any defensive scheme against any opponent.
Their first games are against Colombia and Australia. They'll enter both as underdogs, but both are well within their reach.
France
World Games Appearances: 1
Best Result: n/a
The last seed in Pool B, France, have never before attended the World Games. The extension of the field from six to eight teams created an opportunity for them two or three cycles ahead of when they might have been included under the old format. The mood among the French? "It's full-on excitement," said Gaël Ancelin. 
The players of team France emphasized the difficult nature of the long selection process – as well as the massive payoff when the final fourteen begin to gel. "We are feeling the collective energy level up," said Aline Mondiot. One of the most fascinating things to watch at this tournament outside of the path to the gold medal will be how the French respond to their first turn on the sport's biggest stage. Will the sort of chemistry develop between veterans like Mondiot, Ancelin, and Mathiew Bosser and their younger teammates – sisters Eva and Lison Bornot come to mind – that could launch them into an unexpectedly tight contest in pool play? Will they learn on their feet quickly enough to do some damage in the placement rounds?
"We are ready for the big batters of other nations," said a confident Mondiot. And France have some heavy hitters of their own. The ambidextrous Quentin Roger has played at the highest levels of European ultimate in a leading role with his club Tchac. Meanwhile, captain Céline Antoine's athleticism may not have an equal in France. "Honestly, she's just a machine," said Ancelin. "You can expect a fiery temperament on the field. She's an athletic beast."
Even with those advantages, it would signal a dramatic shift in the landscape if France were to win a game in Pool B. The ceiling for the 2022 World Games is probably more along the lines of fifth place, and then only if the team get their bearings quickly enough to surge in the consolation bracket. Make no mistake, Team France have put in untold hours of preparation to win games at this event. But they can make a success of their time in Alabama without a single victory. The real key will be how they use their participation this year to galvanize club teams and youth play across France to put themselves in a position to earn a place at the World Games for many years to come.
---
it would have been all seven had it not been for an injury to Laura Ospina ↩