Canada rebound to keep their semifinal hopes alive.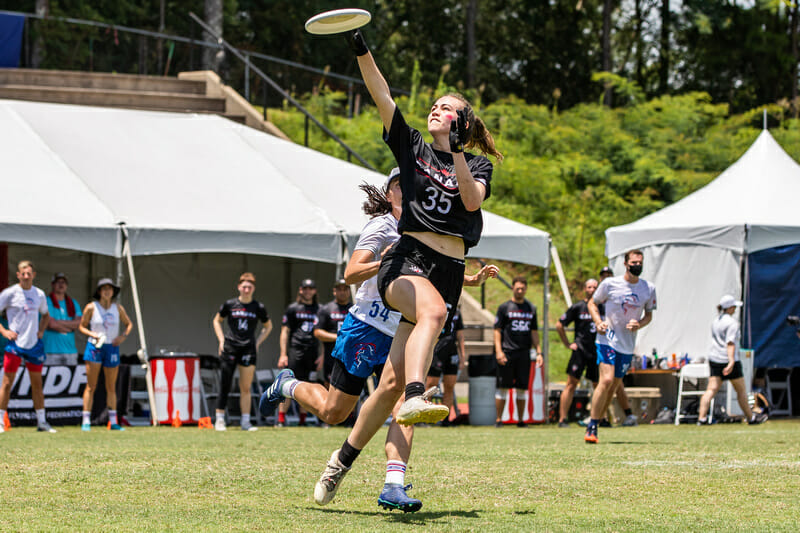 Ultiworld's written coverage of the 2022 World Games is presented by Spin Ultimate; all opinions are those of the author(s). Find out how Spin can get you, and your team, looking your best this season.
The second game of the morning session on Day 2 largely followed the pattern of the first. Canada capitalized on a Great Britain turnover on the first point of the game, and then just managed to keep them at arm's length as the two teams traded holds until the end. The 13-11 victory keeps the reigning bronze medalists in contention for a semifinal berth and eliminates the Britons.
Right from the start, it was clear that today's version of Team Canada was a night and day transition from the way the 14 players performed yesterday. "Let's be honest. After yesterday's performance we had a lot of thinking and processing to do about how to approach these games. There were no delusions that this was going to be easy," said captain Kevin Underhill.
"Primarily it was a mindset thing," said Catherine Menzies. "The pace of play is so fast. So today we came in with a mindset of fearlessness and cutting decisively. I think you could see that on the field on our offensive points."
Canada applied that lesson across the roster, but no one on the team was more decisive today than Brittney Dos Santos. She played several steps ahead of her matchups for the entire game, venturing close to being impossible to guard. She finished with a stunning stat line (4G, 3A), helping pave the way for her teammates to shine, as well. Lauren Kimura, Andrew Carroll, and Tim Tsang had plenty of open space to work with in Dos Santos' wake, and their own impressive stat lines reflect it.
Great Britain showed up with a makeover of a different kind: the return of Ashley Yeo and Molly Wedge to the line up.1 "It's huge. They're our two best players… They're a fundamental part of our systems and our lines and our plays," said Justin Foord. Yeo made his presence felt immediately. Like Muraoka in the early game and Dos Santos on the opposite team, he consistently reached a level of play that few on the field could match. The biggest highlight was a chase-down layout catch block to ruin a Canadian away look. But it was his steadier, more run-of-the-mill handling that seemed to free Great Britain up to play much better than they had in their Day 1 match against the US.
With considerably more security around their catches, throws, and reset schemes than against the United States, Great Britain were able to let their stars show their full range of ability. Wedge, Bex Palmer, and Rachel Naden made fantastic throws in the second half after earning the disc in isolation. Alex Lakes picked his spots to make away cuts. It was a much more complete performance than yesterday's man-to-man hucking pattern.
But as well as Great Britain played, they could not overcome that initial break. Like the earlier contest between Australia and Japan, this game illustrated the subtle margins at play in the World Games. "That's the World Games level. You have to start games well," said Foord. "Coming back against any of the countries here from a one- or two-point deficit is very, very hard."
Canada will be encouraged with the team's improved comportment heading into a final pool play game tomorrow against the United States, which is must-win for them no matter what happens between the US and Germany in the afternoon session. Not only was today's offense much closer to what they expect, the defense kept the pressure high. Turnovers were plenty even as breaks were scarce. Mike Mackenzie was the standout defender this morning. "Smothering. It was intense," said Catherine Menzies of her teammate's defense. "This kid is an absolute horse," said Underhill. They'll need more of that kind of play to overcome the Americans tomorrow.
---
Both Yeo and Wedge were ill on Day 1. ↩