Breaking down the most surprising result of the World Games.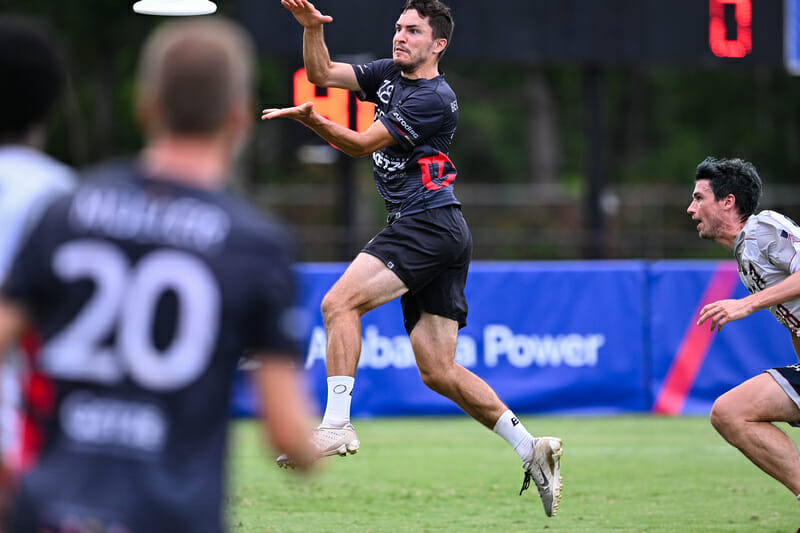 Ultiworld's written coverage of the 2022 World Games is presented by Spin Ultimate; all opinions are those of the author(s). Find out how Spin can get you, and your team, looking your best this season.
Germany's stunning upset victory over Canada on the first day of the 2022 World Games immediately threw Pool A into chaos, showing a brand of clean offence that set a new benchmark for quality ultimate, with Germany turning the disc over just six times in the whole game, scoring seven from 13 break attempts, and their offense error free. In the other Pool A clash on day 1, USA beat Great Britain in a scrappy game where three of GB's seven goals were breaks, USA lost possession 10 times, and seemed to squander plenty of opportunities, leaving people wondering if Germany's efficient offence would carry them to victory, or whether a disjointed USA would get their act together and bring their "A Game" when it mattered.
The game lived up to expectations in some respects, resulting in an emphatic German victory and leaving USA scratching their heads. However, in other ways it was not similar at all to the prior day's results.
World Games 2022: How Germany Shocked the United States is only available to Ultiworld Subscribers
Already have a subscription? Log in
Whether you visit Ultiworld for our reporting, our podcasts, or our video coverage, you can help us continue to provide high quality content with a subscription. By becoming a subscriber, not only do you receive benefits like exclusive articles and full article RSS feeds, you also help fund all of Ultiworld's coverage in general. We appreciate your support!