My best guess at USAU's seeding.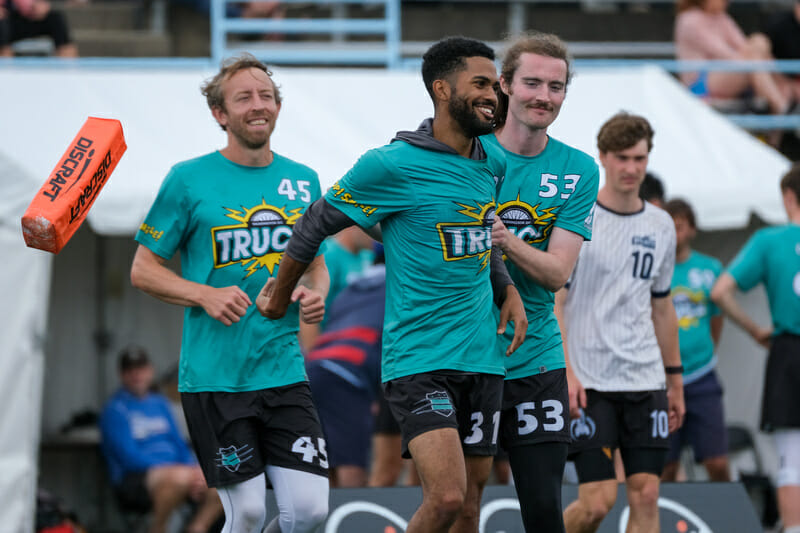 Ultiworld's club men's postseason coverage is presented by Spin Ultimate; all opinions are those of the author. Gear up for your big games, your tournament parties, and everything in between at Spin Ultimate!
Now that Regionals are wrapped up, it's time to turn our attention to the National Championships. It's now been three years since we had a normal regular season with rankings — we're going back to the algorithm for seeding, folks! The language around seeding is the same as it was in 2019: it's primarily about regular season performance and rankings, and "the order of finish at Regionals will be strongly considered in determining seeding for nationals, but will not be binding."
I do my best to follow USA Ultimate's guidelines for my seeding predictions: USAU's post-Regionals rankings are very heavily weighted, head-to-head wins matter at the margin, and historic success is considered. We do not explicitly try to avoid regional matchups.
Let's kick things off right away with the pools generated by my predicted seeding.
| POOL A | POOL B | POOL C | POOL D |
| --- | --- | --- | --- |
| Truck Stop (1) | Ring of Fire (2) | Machine (3) | PoNY (4) |
| Doublewide (8) | Rhino Slam! (7) | Chain Lightning (6) | Sockeye (5) |
| Revolver (12) | Omen (11) | Temper (10) | Johnny Bravo (9) |
| GOAT (13) | Vault (14) | Mad Men (15) | Condors (16) |
1. Washington DC Truck Stop
The no-doubt #1 seed. #1 in the rankings, 2-0 vs. Ring of Fire. Won both the US Open and Pro Championships.
2. Raleigh Ring of Fire
Yes, I know they lost to Chain in the Southeast regional final. But their only other losses are to Truck. They're #2 in the rankings. They are the defending champs and a good example of why USAU stopped binding Regionals results to seeding order.
3. Chicago Machine
For all the weird Sunday losses, Machine still had a very strong year and ended up #4 in the rankings. They have a H2H win over PoNY that should get them the #3 spot.
4. New York PoNY
#3 in the rankings. H2H loss to Machine. Didn't play Sockeye.
5. Seattle Sockeye
#5 in the rankings.
6. Atlanta Chain Lightning
#6 in the rankings.
7. Portland Rhino Slam!
OK, here's where things get interesting. The ranking order is Bravo/Rhino/Doublewide. But Rhino is only a few points behind Bravo and has a H2H win, so they should get the #7 seed. Easy enough but…
8. Austin Doublewide
…what do you do with Doublewide and Bravo? Now that we are directly comparing the two of them for the next two slots, it seems hard to justify putting Bravo ahead of Doublewide after the Regionals upset. DW is about 70 points behind Bravo in the post-Regionals algo. I'm not sure what will happen here. If Bravo had a H2H win over Rhino, they probably would have ended up in the #7 slot with Rhino at #8 and Doublewide at #9. But as it stands, I think Bravo dropping to the #9 makes the most sense.
9. Denver Johnny Bravo
See above. They could go at #8.
10. Pittsburgh Temper
Next up in the rankings.
11. Cincinnati Omen
After Regionals, Omen is up to the #12 spot in the rankings and has a H2H win over GOAT.
12. San Francisco Revolver
Next in the rankings.
13. Toronto GOAT
Next in the rankings. H2H win over Vault.
14. Virginia Vault
Next in the rankings
15. Madison Mad Men
H2H loss to Vault.
16. SoCal Condors
Rankings have Condors lower than Mad Men. Condors only has one win against the field. Mad Men has zero. I wouldn't be shocked if USAU decided to put Mad Men last (it feels right), but the rankings are the rankings.