My best guess at USAU's seeding.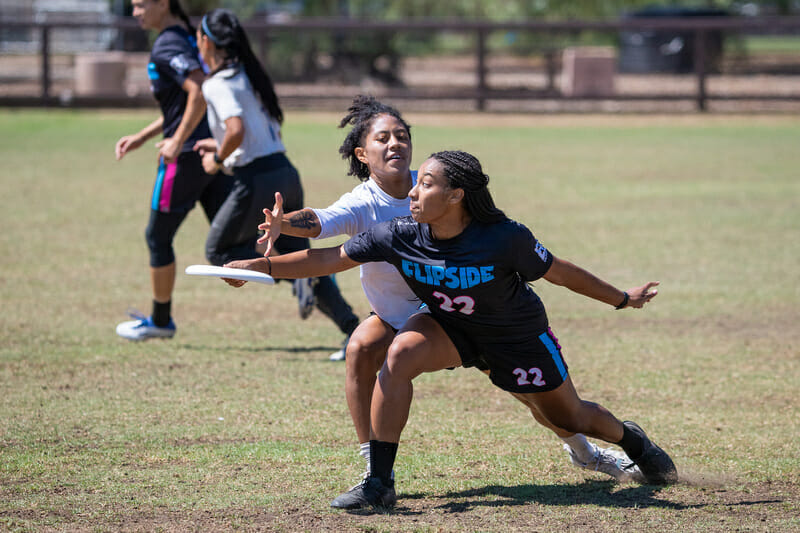 Ultiworld's club women's postseason coverage is presented by Spin Ultimate; all opinions are those of the author. Gear up for your big games, your tournament parties, and everything in between at Spin Ultimate!
Now that Regionals are wrapped up, it's time to turn our attention to the National Championships. It's now been three years since we had a normal regular season with rankings — we're going back to the algorithm for seeding, folks! The language around seeding is the same as it was in 2019: it's primarily about regular season performance and rankings, and "the order of finish at Regionals will be strongly considered in determining seeding for nationals, but will not be binding."
I do my best to follow USA Ultimate's guidelines for my seeding predictions: USAU's post-Regionals rankings are very heavily weighted, head-to-head wins matter at the margin, and historic success is considered. We do not explicitly try to avoid regional matchups.
Let's kick things off right away with the pools generated by my predicted seeding.
| POOL A | POOL B | POOL C | POOL D |
| --- | --- | --- | --- |
| Fury (1) | Flipside (2) | Molly Brown (3) | Phoenix (4) |
| Traffic (8) | 6ixers (7) | Brute Squad (6) | Scandal (5) |
| Nightlock (12) | Grit (11) | Riot (10) | Schwa (9) |
| Parcha (13) | Nemesis (14) | Ozone (15) | Pop (16) |
1. San Francisco Fury
Fury once again is at the top of the rankings and has not lost a game. They have wins over Flipside and Molly Brown. The unquestionable #1 seed.
2. San Diego Flipside
The brand new program is already looking like a powerhouse. Although they are fairly far behind Molly Brown in rankings points, their only losses this season have come to Fury — and they beat Molly 15-12 in their only meeting. USAU has traditionally leaned more on H2H for top seeds.
3. Denver Molly Brown
Losses to Fury and Flipside. A win over Phoenix. Easy call at the #3 seed.
4. Raleigh Phoenix
Phoenix is #4 in the rankings and crushed Scandal in their most recent meeting. They also have a H2H loss to Molly.
5. Washington DC Scandal
#5 in the rankings. 1-1 vs. Brute Squad. 1-0 vs 6ixers. Clear #5 seed.
6. Boston Brute Squad
Yes, the 6ixers are ranked ahead of Brute. And Brute lost to 6ixers at Pro Champs. But a Regionals win has to mean something when the teams are this close together. Brute should get the #6 seed for winning the Northeast.
7. Toronto 6ixers
Very clearly will go at either #6 or #7.
8. Vancouver Traffic
#8 in the rankings, more than 100 points below 6ixers. Northwest champs. Clear #8 seed.
9. Portland Schwa
2nd place in the Northwest. They are a few points behind Riot in the algorithm, but they are 2-0 against Riot with both wins coming at Regionals. They will definitely get seeded ahead of Seattle.
10. Seattle Riot
#9 in the rankings, well ahead of Grit in points.
11. Washington DC Grit
No reason to deviate from the rankings here.
12. San Francisco Nightlock
#12 in the rankings.
13. Pittsburgh Parcha
Just behind Nemesis in the rankings but owns a H2H win over them.
14. Chicago Nemesis
Just following the rankings here.
15. Atlanta Ozone
Ranked 5 spots ahead of Pop.
16. Minneapolis Pop
The clear bottom seed.