Plus the USAU Club Player Survey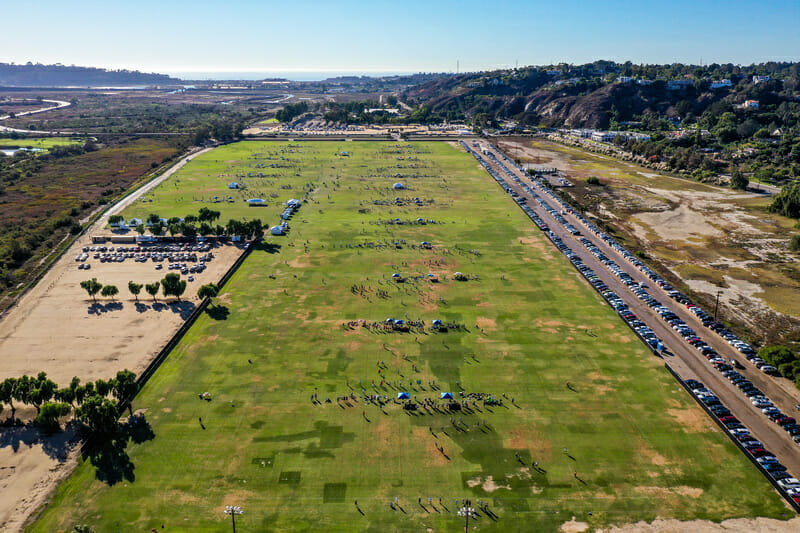 Opening Pull is Ultiworld's weekly wrap-up of the previous week in ultimate, available both here on the site and as an email newsletter. We've gathered the news you need to know and highlights you need to see. Check back weekly or subscribe now to receive Opening Pull in your inbox along with a rundown of the previous week's content on Ultiworld.
USA Ultimate Club Nationals Pools & Seeding Released
Here we go! Nine days until the National Championships begin. We've got the pools that will define the opening day of competition and the path through the bracket:



The full competition schedule is available on the USA Ultimate website, and our qualifying thread has more details on each team's pathway to San Diego.
What's the deathiest pool of death? I'm going with Mixed Pool D, which contains three of last year's national semifinalists.
WFDF 2023 Event Schedule Announced
After years of international tournament cancellations and delays due to the COVID-19 pandemic, the full slate of World Flying Disc Federation events is back on the table starting in 2023.
The biannual Under-24 World Championships will return in 2023 after getting canceled in 2021, and the twice-postponed World Beach Ultimate Championships are slated to take place next October. Additionally, continental events are returning to action.
Here is the full schedule:
| Tournament | Dates | Location | Bid Form |
| --- | --- | --- | --- |
| World Under-24 Ultimate Championships | July 1-8, 2023 | Southern UK | Bid Form |
| Asia-Oceanic Ultimate and Guts Championships | October 3-7, 2023 | Manila, Phillippines | Bid Form |
| All-African Ultimate Championships | October 3-7, 2023 | Kisumu, Kenya | Bid Form |
| World Beach Ultimate Championships | Oct. 28 - Nov. 4, 2023 | Los Angeles, USA | Bid Form |
| Pan-American Ultimate Championships | Nov. 28 - Dec. 2, 2023 | Punta Cana, Dominican Republic | Bid Form |
208 Players Invited to USA U24 Tryouts
Speaking of U24 Worlds, USA Ultimate is set to host a pair of tryouts for the U24 National Team next month in Atlanta and San Diego. 208 players were invited to the tryouts.
The USA will look to defend its gold medals in all three divisions.
New Details on the 2022 AUDL All-Star Game
The American Ultimate Disc League is hosting its 2022 All-Star Game on November 12th in Portland, and we've got new details about the event.
The event will feature 30 players, one representative from each of the 25 teams plus four additional players selected through four separate "Fan Vote" categories. Details on the fan vote will be released later this week.
The All-Star Game will also be played with four experimental rules "to serve as a trial for potential league-wide updates in the future" —
Five second stall count
Backcourt violations at the 50-yard line after crossing it (completions must be made with the 50-yard line as effectively a new out-of-bounds line)
Pulls from 10 yards in front of the endzone
2 point line! Teams will score two if the disc is released from behind (but not touching) the brick mark line.
USAU Club Player Survey
Do you play, coach, or otherwise involve yourself in the club game in the US? There's a new survey out looking for feedback from stakeholders on the future of USAU club ultimate. Questions range from thoughts on the Triple Crown Tour to roster limits to rule changes. Fill it out to have your voice heard.
AUDL Hires Two New Executives
The AUDL announced that it has hired Alexia Walker as the new Senior Director of Marketing & Partnerships and Ryan Pierce as the new Senior Director of Product Marketing & Communications.
Walker came from Trackhouse Racing, where she was the Senior Director of Marketing Strategy. She worked many years at the sports marketing agency MKTG, where she worked on projects for NASCAR, the Olympics/Paralympics, NFL, and Churchill Downs.
Pierce also comes from the world of professional sports, where he's worked the NBA's Orlando Magic, Pebble Beach Resorts, and the PGA TOUR. He founded a marketing and public relations agency, Smuthy, which works in content marketing, marketing strategy, and social media strategy.
Coming Up
Club Nationals streaming information will be available tomorrow! Make sure to bookmark Ultiworld.com/live to keep up with all our coverage throughout the tournament.
Nationals preview content, #TheGame, and more will be going up on the website over the coming week and a half!