Catchup on all the action from Day One of Nationals in the women's division.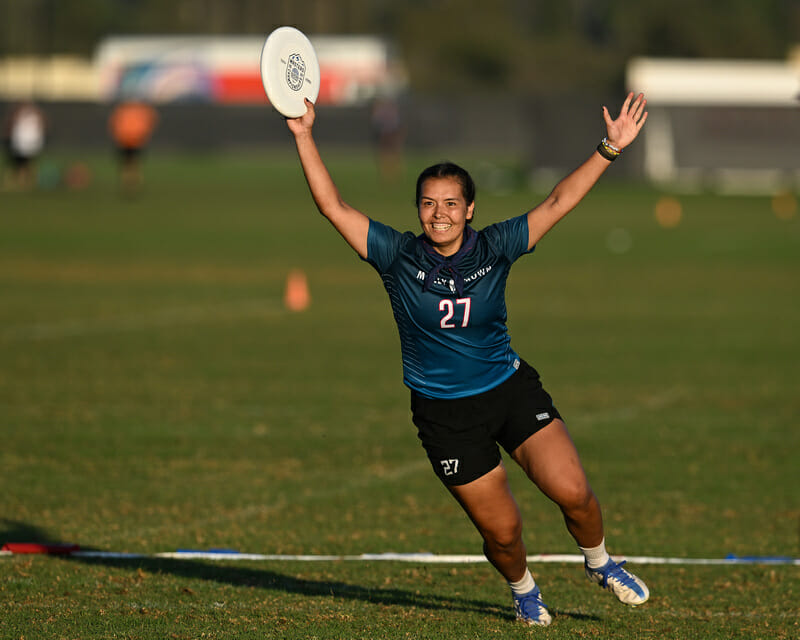 Ultiworld's coverage of the 2022 Club National Championships is presented by Spin Ultimate; all opinions are those of the author(s). Find out how Spin can get you, and your team, looking your best this season.
Despite almost every pool going to seed, there was plenty of action to be had on Day One of Nationals in the women's division. In two thrilling universe point finishes, 6ixers provided the lone upset of the day against new-kids-on-the-block Flipside while Molly Brown managed to stave off a Brute Squad team that always comes to play at Nationals.
We've rounded up coverage from our Day One live blog. Stay tuned into ultiworld.com/live for updates, as well as streaming links for all live games!
Women's Pool B
San Diego Flipside 15 – 7 Washington DC Grit
The final score might not indicate it, but Washington DC Grit gave quite a scare to the no.2 seed at Nationals — at least in the first half. Flipside took a while to get their "first Nationals" jitters out the way, but by the second half, they were firmly locked in and ran away with the game.
When it comes to level playing fields, the wind is a great equalizer. With a slight upwind-downwind that was closer to a crosswind at times, there wasn't any advantage gained by either team, especially when it came to hucks. San Diego's cheat code, the downfield combo of Kaela Helton and Dena Elimelech, weren't completely neutralized, but they also couldn't threaten with the deep space as convincingly as they otherwise might have. Still, San Diego grinded through their under cuts and their offense did not get broken all throughout the first half.
Grit were right there with them, though. Sarah Lord looked more spry than anyone's given her credit for in years, and the contributions from Khin Kyaw and Anna Lieberman put DC in a good spot. The team wasn't playing conventional horizontal offense, which allowed them to surprise the San Diego defense more than once. "In the first half, we expected the wind to give us more Ds than we should have," said game MVP Rebeca Ellis of Flipside. "Once we changed that, we stopped their unders and converted a lot better after the turn."
That was the story of the second half. While Grit had stayed close all throughout the first and ended with a respectable 8-6 scoreline, the second half belonged to Flipside.
San Diego's offense saw the field twice all half, as their defense kept finding stop after stop. Without a release valve downfield, Grit's handlers had a lot more pressure, and they couldn't find openings, causing them to rush throws or loft 50/50 hucks. Those almost all fell in Flipside's favor, helping them earn six breaks in a relatively short space of time.
Without too much bluster or bravado, Flipside brought the score to 14-7, and with their D-line on the field, they unleashed Dena Elimelech, who struck deep for a quick goal, ending the game with the same type of play that we've seen from her since college.
Grit have a lot to be proud of, but San Diego showed why they're ranked where they are.
Toronto 6ixers 15 – 6 San Francisco Nightlock
The last time we saw Toronto at Nationals, they were in the final. If this game is anything to go by, they're well on their way to returning. Despite the blustering wind, Toronto looked clinical. They did not deviate from their system and kept the disc moving before Nightlock's defenders could set themselves, helping the team secure a win in a game that was decided in the first six points.
Nightlock looked good out the gate. The team's cutting corps was clicking with their cuts, and they looked good in the deep space. Mei Bruist, Malina Wiebe, and Kara Hammer all had their moments. The problem came for the team when they got closer to the end zone. Without the threat of a deep shot, Nightlock's cutters were forced to grind out unders, and 6ixers simply put on the clamps, forcing the Nightlock handlers into mistakes.
At 1-1, Toronto broke to take the lead. Then they did it again, and again. Nightlock started putting up a fight after that, but they had too far an uphill battle. Even when the Toronto offense did make mistakes, which weren't infrequent, they had great defense and got back the disc every time. Nightlock couldn't get a break, and ended the half down 8-3.
One thing was obvious in the first half: the 6ixers benefitted from their international pickups. Molly Wedge, Inka Wessman, and Sarah Jacobsohn all had a massive impact on the game, helping lead the team in touches and goals scored. Jacobsohn was particularly effective, as Nightlock didn't have a matchup for her on defense. She ended the game with three goals, and really could have had more.
In the second half, the two teams put as much effort as they could into elongating each point. That's embellishing a little, but strong defensive effort meant that neither team had a quick hold for quite some time, wearing down on each line that took the field. Toronto were the more stubborn and disciplined of the two, which gave them most of the points, but it was a battle both ways.
Britt Dos Santos and Lauren Kimura were the keys to Toronto's success as the game wore on. They didn't get weary or start to make sloppy mistakes, they were just consistent presences that could get open when the team needed it most.
The game ended 15-6, but it had been over far before then. Nightlock are underseeded as a fourth seed in a pool, but the 6ixers are potentially underseeded, too. There's plenty more that both teams have to give.
Women's Pool C
Denver Molly Brown 15 – 8 Seattle Riot
One of the marks of a great team is how they deal with lesser competition. In the case of Molly Brown, they started slow, but quickly picked up steam in their win over Seattle Riot, dealing with their PNW opponents efficiently, especially in the second half. Riot stood their ground as long as they could, but Molly Brown chewed up the earth underneath them, with every break causing a tremor until eventually, they clinched it.
The game didn't start in Molly Brown's favor. Despite starting on offense, Molly Brown could find no traction against a disciplined Riot defense that played honest person defense in the center of the field and transitioned to a quasi-junk look with the disc on the sideline. This did enough to confuse Molly Brown's cutters into stagnation, which in turn led to an easy break to give Riot the lead.
It didn't last long, though. Denver has a NOS-fueled line that featured Valeria and Manuela Cardenas, along with Rena Kawabata, Kristen Reed, and Lisa Pitcaithley. It was this line that did most of the dirty work for Molly Brown in the early game, punching in a hold followed by a break only a few points later. Every time this line took the field in the first half, they scored.
The ability of Molly Brown was apparent as the game went on. Riot weren't giving them free turns, the defense was taking it. Major efforts from Alyssa Perez, Rachel Wilmoth, and Melissa Devlin all led to turns that Riot would not have made against lesser defenders. Riot looked good all throughout the first half, Molly Brown just looked better.
By the time Kendra Mitchell caught a goal for the hold to take Molly Brown into half, the cracks were already starting to show.
It wasn't all doom and gloom for Riot, though. Jamie Eriksson looked nigh unstoppable when she went deep, and Ikran Elmi, Abby Hecko, and Jean Russell are a young core of handlers the team can really build around. Also, Julia Snyder still very much has "it".
Seattle Riot were not out of the game by any means heading into the second half, and proved it with a quick hold, but after that, the wheels came off. It helped that Molly Brown could always turn to their Death Star line and let Manu and Valeria go to work. They remained unconquerable right up until the final point of the game.
Riot struggled to put together a few more points, but athletic plays from Molly Brown's defense won them break after break.
Ronnie Eder technically won the game for Molly Brown with a zinger of a pass to Rachel Wilmoth, but the Denver squad had actually won it far earlier. Riot are a dangerous team with a lot to offer, but they're still a step below Denver.
Denver Molly Brown 15 – 14 Boston Brute Squad
This was it. This was the game we wanted folks. It had everything we wanted: all the highlights, no overly sketchy calls, no iffy goals. Instead, Molly Brown exorcised all the ghosts that had stuck with them from every previous Nationals that Brute Squad had beat them. Despite this being a pool play game, it really felt like it was a bracket game, and the players celebrated like it was, too.
The stakes of the game are well known at this point. Both teams swept through their other pool opponents without much issue and knew the game that mattered was the one they were playing.
It started out as one would hope. Both teams got breaks, both teams got holds. The way they accomplished both was quasi-historic. Molly Brown's defense came out with a junk set that shut down Boston completely, allowing Saioa Lostra to get a run-through block. It wasn't long after that that Rena Kawabata got open off a Valeria Cardenas pass for the goal, the first break of many.
It's important to note that while there were a fair amount of breaks in this game, they didn't come in sets. In fact, there were not multiple breaks in a row for either team. Any time a break occurred, the offense who got scored on reoriented, went back on the field, and punched it in.
That's exactly what Boston did the next point. There were a few too many turns from both teams, but eventually Lien Hoffmann got open, setting up an assist from Jessie Grignon Thomas.
Lien Hoffmann would go on to score almost half of Brute Squad's points. On the other side, Kristen Reed was trying to match her, as both of them scored with abandon. By the end of the game, Hoffman had five goals for Brute Squad and Kristen Reed had six goals for Molly Brown, just one of many, many stats that could show how equal these two teams were.
After trading holds and breaks alike, the teams met at 7-7, with the next point going to half. Boston had the disc, on serve, and opted to launch a deep shot to Sophie Knowles, who was not very open. Somehow, some way, Knowles skied both defenders to get the disc, allowing Brute Squad's Samiya Ismail to find Kelly Hyland a few moments later.
That was half, but it also does little to extrapolate on just how many stellar plays were made across the first half. It was madness in the best way.
In the second half, both teams buckled down… and played more of the same great ultimate. Everything we saw from the first half, including layout blocks, skying grabs, and bombastic hucks, was also present in the second. It's as if neither team had lost a step despite the game wearing on.
Molly Brown broke to go up 11-10 after a Claire Chastain layout block got her team the disc and a skying grab from Nhi Nguyen kept their break chance alive. Just as soon as they took the lead, they lost it to a beautiful break that was capped off by an around flick from Angela Zhu to Levke Walczak, which led to a 12-11 lead for Brute.
They would hold onto the lead until 13-13, where Zhu shorted a huck, allowing Rachel Wilmoth to poach a lane and take it down. Without much delay, Alika Johnston and Valeria Cardenas played keep-away with the disc until they made it to the end zone for the goal.
Now leading 14-13, Molly Brown did their best to win it with a break, but a Walczak block then turned into a Walczak goal after a substitution brought her into the game. Just like that, the score was tied 14-14. Universe Point.
Molly Brown, rather than trying to stack their line, sent out their offensive unit untouched, which was basically a kill line in and of itself. After some very disciplined play, Lostra slipped her defender to get open upline, allowing Manu Cardenas a free pass to her for the game.
No recap could do justice to how exciting the game was. It had everything that one could want, packaged into an hour and a half. Normally we wait for bracket play to declare games as "instant classics", but this was too good to ignore. If you caught it live, you saw the best game of the tournament…so far.
Women's Pool D
Raleigh Phoenix 15 – 9 Oregon Schwa
In Pool D, the 4-5-9 matchups are always enticing, especially when the no.9 seed already has a win on the season against the no.4 seed, as was the case with Raleigh Phoenix and Oregon Schwa this year. Schwa's win over Phoenix came at Pro Champs in Raleigh and by a score of 14-13. Despite coming after Phoenix had already wrapped up the pool, the loss still stung for the Southeast champs. When the two teams were drawn together for pool play, Phoenix relished the opportunity to respond, and did so handedly with a 15-9 victory to open up pool play. "We were definitely excited for a bit of a revenge tour for this game," said Raleigh's Audrey Lyman after Phoenix's win.
With that extra motivation fueling them, Phoenix started the game strong, picking up a hold-break pairing to open the game as Mary Rippe laid out for a huge block and then got the score too for the early 2-0 Raleigh lead. Schwa were able to get their first point of the game on the following point, Nicola Bruce catching the goal, but Phoenix went back-to-back once again as Sarah Meckstroth cleanly snuffed out an Oregon huck. This lead to a second Phoenix break courtesy of Dawn Culton for a quick 4-1 advantage.
It wasn't all one-way traffic, though, as Schwa were able to battle back to limit the damage in the first half as they trailed Phoenix 8-5 at the break. Crystal Davis picked up a couple of goals for Oregon over the course of the game, while Claudia Tajima, Eva Popp (making her first tournament appearance for Schwa this season), and Angelica Chambers worked well in the handler space for Schwa.
In response to the often explosive Schwa offense, Phoenix made some specific defensive adjustments after that Pro Champs loss, and it paid off in this game. Raleigh ran both a poach defense on the Oregon handlers and a more standard zone, and it made Schwa have to work for every yard. "They played out of their minds in that game and won all the 50-50 balls, so we had to be more shut down for the chances at 50-50 balls," said Lyman. "So we came in with a more specific plan for playing against them…we had matchups and specific defenses for this game to help us prepare after the Pro Champs loss."
While Schwa were able to get a break back in the second half, Phoenix simply had too much in the end and were too clinical for Oregon to keep up with. Julia Zwierzynski was a constant deep threat, and Austin Prucha got up for a pair of goals over tight Schwa defense. Oregon certainly weren't outmatched, but several second-half end zone drops didn't help their case. "I think that we match up physically pretty well with them," said Schwa's Natalie Hancock. "I think that in both of these matchups it never really felt like it was uneven, it felt like we had a chance at every disc that was in the air." Still, it finished all going Phoenix's way, as Raleigh scored the final three points with Lyla Stanland getting the final goal, and last year's semifinalists start off this year's Nationals on the right foot.
Raleigh Phoenix 15 – 13 DC Scandal
For yet another year, the no.4 and no.5 seeds battled it out in an instant classic as Raleigh Phoenix staged a second half comeback to take down DC Scandal 15-13 after being behind 8-6 at halftime. It took a whole team performance for Phoenix to make their push and pick up two pairs of breaks in the second half and hold off a Scandal team determined not to have to work through the prequarters round once again. As for DC, while Claire Trop continued to do her best to carry Scandal to the upset win, they simply couldn't hold on as Raleigh turned up the defensive intensity in the second half.
If there's one person that epitomizes Phoenix's defensive grit, it's Amanda "Beans" Murphy. A grinder who gets blocks with an energy and ferocity near unmatched, Murphy came up with two key run-through blocks for Raleigh in the second half, including one on the last point of the game. That block gave Phoenix the disc maybe twenty yards outside of the end zone and it didn't take long for the disc to end up in the hands of Lyla Stanland to give Phoenix the heart-stopping victory.
Despite the loss, Scandal performed well throughout the game, and especially in that first half as they built leads of 3-1 and 6-3 before Phoenix earned a break back to bring the score to 7-6. Maddy Boyle was instrumental to DC's success through the game, and they could frequently be found popping in and out of the handler space as they helped dictate the Scandal offense alongside Trop, Kat Ritzmann, and Hannah Boone.
Both teams spoke afterwards about how a change to Phoenix's defensive plan helped slow down Scandal and force turns, and indeed zone looks from Raleigh gave them some quick and easy break opportunities in the second half. Even in a game of runs and some breaks, though, Scandal's inability to break the Phoenix offensive line proved problematic. Once Phoenix had established the break advantage in the second half, Scandal couldn't break through for the win, relegating DC to have to play in prequarters tomorrow morning against Chicago Nemesis while Raleigh takes the bye to quarters
DC Scandal 14 – Oregon Schwa 12
In a game of runs in windy conditions, DC Scandal held off Oregon Schwa in a matchup of the no.5 and no.9 seeds in the division. Schwa took an initial 6-3 lead only for Scandal to roll off four straight breaks to take a 8-6 lead into half. From there the game seesawed back and forth, both teams picking up breaks, before Claire Trop sealed it with the final goal on an assist from Jessica Sourbeer for the 14-12 Scandal win.
Schwa's early lead was helped by the windy conditions and they picked up the game's first upwind break as they built that early lead. "I think both of our defenses, especially in a game with this kind of shape, this kind of wind, we both think our defenses are gonna lead the way for us, which happened to us first," said Schwa coach Bobby Gough. "You know that first upwind break is just such a momentum shifter, it fires you up so hard and it pushes you down so hard on the other end, so we got that one first and that built a little run."
While Scandal were reeling initially, their stable of standout players picked them up as part of their first half break train. Trop was absolutely everywhere for Scandal as she picked up an assist and a goal on the last two points of the half, connecting with Laurel Oldershaw and Jackie Wang respectively. "Claire is pretty obviously awesome," said Scandal co-coach Ty Aderhold after the game. "Claire on the turn especially this year is showing a lot more around the disc availability. She's throwing as many goals as she's actually going and scoring, maybe even throwing more goals, and that's an evolution of her game that she is continuing to work on and we're super excited about as well."
Coming out of the halftime break, Schwa was able to get a break back after one of Scandal's reset throws hit the grass and Angelica Chambers, who was slinging it for Oregon all game, angled a pass to Crystal Davis. From there the two teams exchanged holds before Trop once again stepped up with another goal/assist combination as her connection with Oldershaw came through. The score hit 12-8, advantage to Scandal, and Schwa were on the ropes before Julia Sherwood took the game into her own hands. Sherwood—who had drawn the Sarah Meckstroth matchup in Schwa's game against Phoenix and the Trop matchup against Scandal— threw a deep huck on the following point, got the reset pass, and then went and caught the goal to take it to 12-9, a sequence that was emblematic of just how impactful of a player she is for this Schwa team.
Scandal scored an easy hold in response as the soft cap horn sounded, making it a game to 14 as they were up 13-9. After a quick Schwa hold, Oregon needed breaks and pulled out a four-person cup defensive look they hadn't used since the opening exchanges. It worked wonders and enabled Schwa to score back-to-back breaks to bring the game within one at 13-12, but in the end it wasn't enough. A near layout block from Jaycee Jones came up empty and in the end it ended with Trop. Scandal escaped while Schwa remained winless despite a pair of solid games against Pool D's top two teams.
Oregon Schwa 13 – 12 Minneapolis Pop
In Pool D's other game, Minneapolis Pop took it to Oregon Schwa in a battle for a spot in the bracket and the no.16 seed nearly pulled it off. Schwa held the advantage for most of the game but Pop never fully went away, and the North Central champs even had the disc on offense on double game point with the chance to break to win. Claudia Tajima denied them though, as she laid out for a catch block and then popped up to throw a cross-end zone blade for the win. Schwa survive and will face off against Northwest rivals Vancouver Traffic in prequarters while Pop will have consolation play to look forward to in the coming days.