It's Nationals weekend for Ultimate Twitter as well. Who is stepping up their game?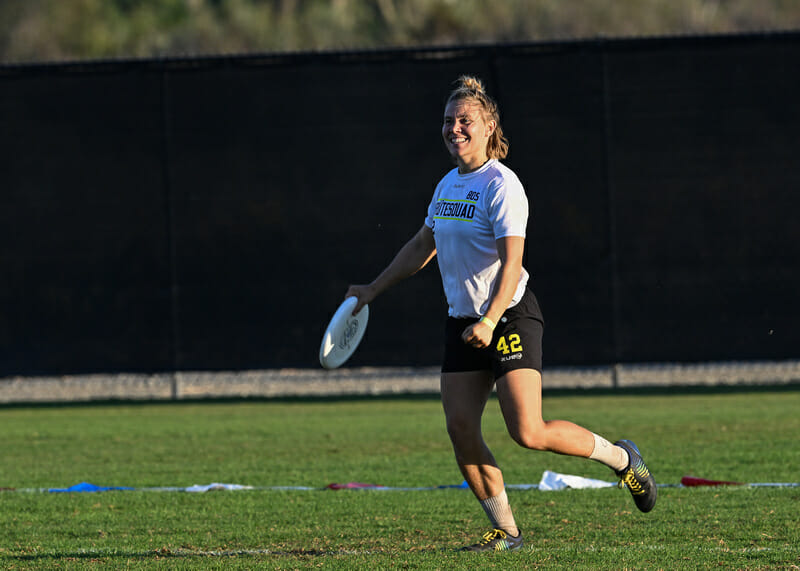 Ultiworld's coverage of the 2022 Club National Championships is presented by Spin Ultimate; all opinions are those of the author(s). Find out how Spin can get you, and your team, looking your best this season.
For those who have not been to Nationals in person, there are few events in our community that can match the camaraderie and celebration seen in San Diego. For everyone following along at home, there is only so much that can be seen on the Ultiworld livestreams, and many viewers supplement their Nationals-following experience with a scroll through Twitter. Tweeters all over the country were staying connected to the action and each other through our favorite social media app. Here are our favorite tweets from Day One:
Being_ulti is an account that switches hands each week between members of the ultimate community. This week, Lenna Wolffe penned a beautiful poem highlighting the exciting moments of the week ahead.
We've seen some pretty creative roster releases this season, but Washington DC Truck stop giving the metro treatment to their athletes warms the heart of public transit enthusiasts everywhere.
Laura Bitterman is a former Brute Squad and Schwa player — and an absolute must-follow on twitter dot com.
Delrico Johnson plays for Baltimore Fleet, a team that finished 6th at Mid-Atlantic Regionals this season and definitely could go 0-3 at Nationals should they be lucky enough to get there.
Meanwhile, Luke Ryan is also watching this Nationals from home, but the two-time mixed division champion with Philadelphia AMP has some thoughts about his potential performance on the field this weekend.
7 Express is a former Nationals-level mixed team out of New York. Who knows? Maybe they'll be resurrected by 2052.
The bull fell defeated against the flag, but props to the crew from Durham for its creativity with the brief pre-game preview.
Virginia Vault crashed through their "likely ceiling" by winning a game — against Revolver no less — to advance to bracket play. Perhaps that pool preview author (authors note: it wasn't me!) expected the ceiling to be vaulted.
Amherst TireBizFriz is a men's division team that plays in the Northeast, but they shared their thoughts on one of the Southwest's brightest young stars.
Fort Collins shame. appears to be moving on from their days of drinking White Claw on the sideline. However, they aren't too focused to skip their evening drinks, and made sure Ultiworld CEO Charlie Eisenhood knew about it after he called out the team on a recent Deep Look Podcast.
Our own reporter Jenna Weiner was staring at a slate of chalky results as the mixed division settled into its usual chaos by the middle of the day. Her malaise was easily rectified in the last round of the day in her own coverage division.