How one round showed us that the women's division is more competitive than we've ever seen it.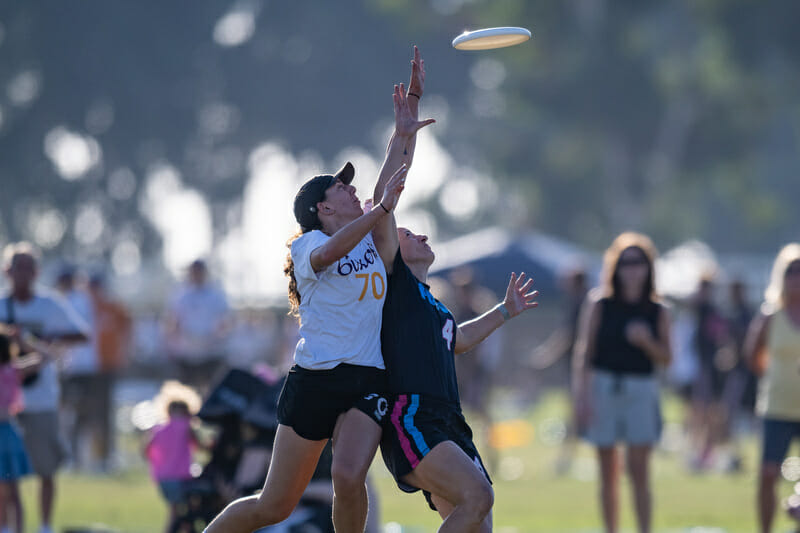 Ultiworld's coverage of the 2022 Club National Championships is presented by Spin Ultimate; all opinions are those of the author(s). Find out how Spin can get you, and your team, looking your best this season.
For decades now, one fact has held true: the women's division is top-heavy. Entire eras were owned by single teams who claimed near unquestioned dominion at the top: Lady Condors, Godiva, Fury. It's been a 'rich get richer' situation as the best teams in the nation have had players change cities, jobs, and even move countries to play with them. Even in the decade since the duality of the Fury-Riot rivalry defined the division, the narrative for semis has centered on only five or so top teams who stood a chance of making the final. In the rare instances where one of these teams got eliminated before semis, so much of the narrative was around their loss, rather than the other team's ascendancy. Too often than not, a semis appearance from a team outside of this top tier was a flash in the pan, rather than a sign of true parity.
But.
What we just witnessed in the women's division on Day One at the 2022 Club National Championships was something different. Different might even be underselling it. It wasn't a "you did something different with your hair" different, it was a, "I just saw a meteor shower for the first time in my life and it was different." And, it was a, "I think we might be at the start of something special" different.
As recently as 2018, pool top seeds in the women's division were winning games by an average of eight points. To make the obvious more obvious, that meant their average game scores were 15-7. Not close. We saw the odd upset in these years in bracket play, but unless there's a rare 4-5 "upset," pool play is almost always chalk.
This year's pool play was not chalk.
Ok, maybe it was a little bit chalky. At the end of the day, it was still only Pool B where we saw a top seed lose a game, but that's underselling what we actually saw in the final round of pool play. Of the six games played that round, four went to double game point. Five were decided by two points or less. In the three games between a pool's top two seeds, only Raleigh Phoenix vs. DC Scandal didn't go to double game point, and the final score of that game was 15-13!
In the past, day one was confirmation that the best teams remain the best in the division. It provided obvious answers with definitive conclusions. Instead, day one this year left us with legitimate questions about what is possible in the bracket. After all, the variance in play styles, defensive schemes, and player skillsets varies so much from team to team that predictions on which teams might win in quarters will hinge as much on individual matchups as on history, especially after teams looked so evenly matched in pool play.
Boston Brute Squad and Denver Molly Brown traded throughout the game, never going up more than a single break over each other right up until the final point. It's not overly surprising to see these two recent semifinal locks are evenly matched teams, but how do they stack up against the likes of resurgent Washington DC Scandal or ascending Raleigh Phoenix? Despite losing, Scandal looked like the better team in the first half of their game against the North Carolinians, and Claire Trop, DC's star, looked like the best two-way player on the planet. Phoenix's defense heated up and eventually pulled their team through to a victory, but will they be able to do that against the Toronto 6ixers or San Diego Flipside? The 6ixers have one of the most disciplined offensive units in the game and are happy to win a game by grinding out unders. They still almost lost it to the newfangled hometown heroes who relied on a tight core of amazing athletes to make stellar plays with the disc, which worked right up until the final point of the Pool B contest between the two teams.
There were really this many tight matchups in pool play?!
So what's brought about this parity? Why does it feel as if so many teams have closed the gap to semifinals viability so quickly?
In truth, it hasn't been all that abrupt. The results we're seeing this season are from seeds that were planted years ago, half a decade in some cases. The first glimpse we got of this was with the 6ixers back in 2019 — a breakthrough to the national final which was a product of the work the team had put in after the Capitals folded a few years before. After the pandemic, Phoenix emerged as a new model of player development, with a crop of young stars that reached the highest level of competition already primed with years of experience in the same system thanks to coordination throughout the region's college scene. Flipside very much followed that same model; despite being a new team in 2022, they're predominantly made up of recent college teammates that spent years at their respective college programs honing in on a system that would translate to the club division. Both UCSD and UCSB have had success in recent years in the college division, and its from these schools that Flipside has drawn the bulk of their talent. That player development work at the college level positioned these teams on an accelerated pathway to matching the level of the Brute Squads and Molly Browns of the division, teams that have been known for player development inside their own club programs.
It isn't just player development that's created this cornucopia of talented teams, it's also the rising tide of throwing talent and offensive execution in the women's division as a whole. In recent years there have been incredible strides taken in institutional knowledge for building low-risk throws that work within elite systems. Not only that, cutting patterns have become far more defined for these teams, allowing them to execute at a higher level. The open secret of the women's division in the past few years is how often simple offensive execution was the key to the success of the elite teams — they didn't have to work hard to force turns, they just had to execute on offense when the turn happened. That's no longer the case in 2022. Well-structured offenses with clinical reset patterns are giving players easy outlets to avoid being put in high-risk situations, leading to fewer unforced errors. With the wider availability of game footage and elite players, the distribution of offensive IQ has dispersed far wider than it had even five years ago.
One final element that cannot be overlooked in how we've arrived at a more equitable women's division is the ever-increasing depth of talent. None of the teams in the top eight are overly reliant on a few key players to handle the majority of the work. We're moving past the days where one or two players had to dominate a game in order for their team to win. Instead, it's death by a thousand cutters (and handlers). It's not just the 1-through-10 of a roster that can hang with Fury or Brute Squad, it's the entirety of them. As already noted, more and more talented players have flocked to colleges like UCSD, UNC, and UC Boulder, helping bolster rosters and giving top players a chance to rest without worrying that the team won't cope without them. That's how Claire Chastain can be on the sideline for Molly Brown in the final point of their game against Brute Squad. That's how Phoenix can lose the 2021 POTY and still be a top seed in 2022.
So what does this mean for the bracket? Simply this: there are no assurances for any team, no 'easy' games to get to semis.
San Francisco Fury played about as complete a Day One as any team could have, handily dispatching all the teams in pool A, including their two seed, Vancouver Traffic. Their reward? Playing San Diego Flipside,1 a team they went to double game point with twice in the regular season.
Molly Brown finally overcame Brute Squad, the team that had kicked them out of Nationals every time they had played in the past since the team's inception! Their reward? Likely playing Scandal, a team with the best player in the world according to club and media consensus, a team who have only been getting better since the two teams met last at Pro Champs in the regular season.
Phoenix had to make an unreal second-half comeback to beat that same Scandal squad. Their reward? Seeing Brute Squad in quarters, a team that hasn't lost a Nationals bracket game short of the final since the Obama administration and just took Molly Brown to universe point in the best game of ultimate at the tournament on Day One.
Are we supposed to believe that all the pool winners are obvious favorites to make quarters? Conceivably, yes. Theoretically, yes. Probabalistically? Erm… yes?
Thursday's last round of games proved that there's a plausible expectation from every team that they can make it to semis. Even the 6ixers matchup isn't set in stone, as they'll play the winners of Schwa vs. Traffic, two teams that have a puncher's chance against each other, and the Toronto squad. Considering how predetermined the semifinals have felt in the past, the variance of paths to semis now presented is dizzying.
If we're to predict a single winner based off a Day One, it's us, the fans. We've won. The what-ifs and maybes that the women's division has been sorely lacking are now here, happening in real time. Pick a favorite from the top eight. It's not out of the question that they'll make it to the championship game. The teams are just that deep, the division is just that deep.
Or maybe Fury will just roll into the final again and win it all without much trouble like they did last year. There's always that.
---
Barring a miraculous effort from Seattle Riot ↩