Catch up on all the prequarterfinals action from the women's division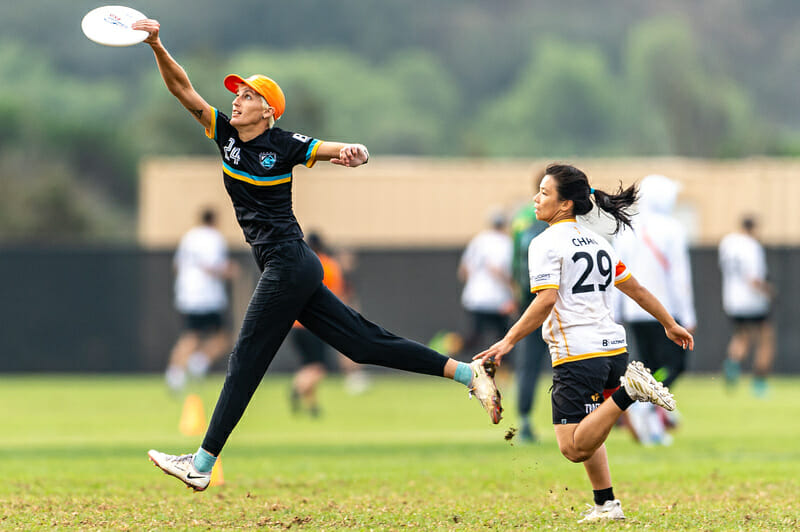 Ultiworld's coverage of the 2022 Club National Championships is presented by Spin Ultimate; all opinions are those of the author(s). Find out how Spin can get you, and your team, looking your best this season.
We've rounded up coverage from our Day 2 live blog. Stay tuned into ultiworld.com/live for updates, as well as streaming links for all live games!
San Diego Flipside 15 – 9 Seattle Riot
The young stars came to play for San Diego Flipside this morning against Seattle Riot as the hometown favorites won 15-9 to advance to a quarterfinal matchup against southwest rivals San Francisco Fury. The likes of Kaitlyn Weaver, Dena Elimelech, and Ava Hanna helped Flipside pull away from Riot in the second half as the Southern Californians turned up the defensive pressure and didn't yield a single break to Seattle the entire game.
Flipside and Riot exchanged holds in the early going before San Diego drew first blood with the game's opening break. Gina Schumacher effectively earned it all on her own, as she got a block in the reset space before bursting deep for the goal, which gave Flipside a 4-2 lead. San Diego's lead soon grew to 6-3 as Ava Hanna put it deep to Maggie O'Connor, who was instrumental for Flipside all game, for a hold after Riot had the disc on the end zone line in position to score only for Elimelech to intercept a floaty pass. Seattle's inability to finish off their chances plagued them throughout, and made the second-half comeback bid all the more difficult.
While Riot had the opportunity to start the second half on offense, they once again couldn't convert mere yards away from scoring, and back the other way Stephanie Pritchard took off deep before catching the goal from Avery Jones. From there, Jasmine Childress got up for a huge grab for a second straight Flipside break out of half before Riot stabilized momentarily with a much needed hold. "I think defensive intensity really took the next level up in the second half," said San Diego's Weaver after the game. "We were playing more as a unit versus individual players and started playing into the systems that we were calling for D-line."
Weaver came up big down the stretch for Flipside as they closed Riot out. She combined with Elimelech and O'Connor in a slick sequence that finished off a quick and easy hold for a 12-7 San Diego lead, and got the final two assists on passes to Elimelech and Hanna as Flipside cruised in the closing stages. Up next for Flipside are Fury, their Southwest rivals, a team Kaela Helton in particular knows quite well. "I'm super stoked, I mean I have more motivation to beat Fury than anyone," she said. "I know that team really well, they all know me, love them to death, and I'm going to go to their family dinner tonight no matter what happens in this game."
Portland Schwa 15 – 9 Vancouver Traffic
Of all the matchups in the prequarters round, this one was predicted to be the closest, but also the most predetermined. Traffic and Schwa played each other three times throughout the course of the regular and postseason. In all three instances, Traffic took the game. Somehow, though, despite the air of inevitability, Schwa flipped the script in a contest that was never really that close, and won the only game that mattered in the end.
From the outset, it was clear that Schwa was in 'Big Game Hunting' mode. The team had loaded up with buckshot and Traffic weren't prepared for the vehemence by which Portland took the field. In the first five points, Schwa took a dominant 4-1 lead, something they wouldn't relinquish the entire game.
Most of their success can be attributed to their defense on the mark. Traffic's throwers weren't able to hit their first option, or really even their second. While the downfield defense contributed to this, it really seemed as if Schwa's marks were ten times the size of the traffic players. This led to rushed shots or poor reset passes which Schwa happily picked off.
More impressively for Schwa, though, was their offense. Their O-line didn't take the field much, but their defensive unit's offense was just as capable. Emery Otopalik and Natalie Hancock both had their moments, but it was Angelica Chambers who was the cornerstone that they built their defensive line's offense upon. Geli was exactly what they needed, marshaling the team after the turn, and it paid off more often than not.
For Traffic, with Catherine Menzies only playing limited minutes, they had to rely a lot on young cutters like Sarah Norton and Andrea Moir, which helped at times but wasn't enough to carry them past a prepared Portland unit.
Schwa's leadership noted that they had been very aware of the potential of playing Traffic at Nationals, and spent most of the postseason working on how they would beat their northern rivals. "We know they force backhand more often than most teams and like to poach based off that, so we always try to take the time to settle and identify who's open," noted Chambers. This worked for them on offense, but it was mostly their defense that won them the game, and they attributed their success on that side of the disc to forcing Traffic's cutters into making big plays and pressuring their handlers into playing off-disc.
By halftime, Schwa was up 8-4, and it was clear that something drastic had to change for Traffic to catch up to them.
Unfortunately, that difference never materialized. While Traffic did manage to get a break in the second half after letting their young players take over, they couldn't turn it into anything more. To make matters worse, Schwa found another break of their own, helping keep the buffer between teams as wide as it had been in the first.
Schwa's defense was definitely their strength, but they got to see the field so often because of the solid offense from their O-line. There wasn't a weak link on the field when Schwa had to go out on offense. Kimber Coles was her indomitable self, Eva Popp was the fastest player on the field, and Morgan Zajonc was so physically imposing that Traffic couldn't find an answer to any of the downfield offense that Schwa produced. Any one of those players could lay claim to being the best on the team, but so could the likes of Dani Runzo and Aly Steinfeld. There was just too much talent on Schwa for Vancouver to find an opening.
The final point of the game was as emblematic of Schwa's offense as any point before. Zajonc got open under but it wasn't even necessary. The team found Claudia Tajima on the open side, who spotted Brenna Bailey deep, and hucked a perfect pass to her that was well beyond any defender's ability to prevent. That was game, and there was almost nothing Traffic could have done to stop it.
Schwa's return to the bracket is reminiscent of their 2019 run. The team finished 1-2 in Pool D back then, too, and made it all the way to semis. With Toronto in their sights, they just might be able to pull it off again!