Molly Brown book their place in semis with clinical offense against a solid Scandal.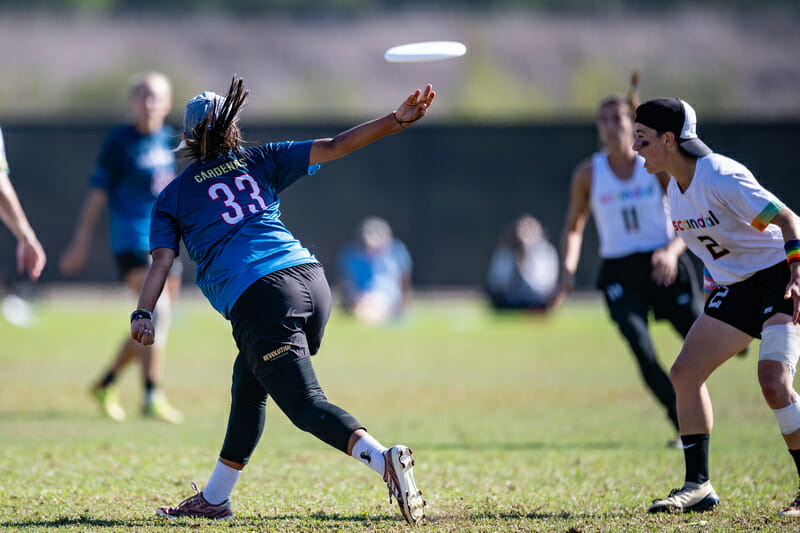 Ultiworld's coverage of the 2022 Club National Championships is presented by Spin Ultimate; all opinions are those of the author(s). Find out how Spin can get you, and your team, looking your best this season.
An even first half affair turned into a clear Denver Molly Brown win as the South Central champs claimed their place in the semifinals with a 15-11 victory against DC Scandal, their offensive line giving up only a single break all game. The Cardenas twins played up to their usual exceptional level for Denver, while Claire Trop did what she could to lead DC to a second-half comeback despite dealing with a lingering illness that limited her in the closing stages of the game. It was another strong performance from a Molly Brown team that seems as ready as ever to break through to the championship final, while Scandal should at least feel content with a strong return campaign after two seasons away.
With some of the best throwers in the game suiting up for both teams, this game promised fireworks and it delivered from the outset. A deep throw from Trop found Lisi Lohre for Scandal's first point and the opening goal of the game, while Valeria Cardenas put an incredible throw out over a DC downfield zone look to Ronnie Eder, who then got the assist to Rachel Wilmoth to draw the game level at 2-2. "The wind definitely made it a little tricky, but I mean we have some great throwers on this team," said Sam Peletier after the game in what may be the understatement of the century for a team with Claire Chastain and both Valeria and Manuela Cardenas.
In the first half, it was Valeria who had more of the highlights of the Colombian sisters, although both got in on the action throughout the game. She got an emphatic handblock to give Molly Brown a short field with the game level at 2-2, and although Denver weren't able to convert right away, they did get the game's first break later that point as Robin Fassett-Carman found Megan Cousins cutting deep for the goal. A few points later and Valeria connected with Kristen Reed, who scored a team-high four goals during this game, for a Molly Brown hold, and it was V. Cardenas-M. Cardenas-Reed for the score to take it to a 7-6 Denver lead. One swift Lohre huck to Verena Woloson for Scandal made it 7-7 with Molly Brown on offense to take half, and who else would step up but Valeria once again. She unleashed a 50-some yard stand-still flick huck to Rena Kawabata at the back of the end zone, and just like that Molly Brown had taken half up a break and they were on their way.
To Scandal's credit, even as Valeria Cardenas was making herself a first-half highlight reel, they made play after play to keep the game tight. Maddy Boyle made what surely was the catch of the game to bring the score to 5-4, as they laid out at the back of the end zone to snag a disc not remotely intended for them and managed to just barely get their toe down inbounds. DC followed that up with a quick strike break as an overthrow from Denver set Trop up to put it deep to Allison Wallace who reeled it in for the first, and only, Scandal break of the game.
The connections that Scandal has been able to foster in their first season since 2019 have been nothing short of spectacular, especially with the contributions across the board for a team having to rebuild and reset their culture after so much time away. "I think we all feel a lot of ownership and like we were all gonna get it done and I think we all did," said Trop after the game. "I think if you look past the stat line you'll see a lot of people who are out here grinding, doing all the little things right and putting the work in to carry us. No one player gets a team to a quarterfinals of Nationals by any means and I feel really proud of us."
Despite Trop's rightful highlighting of Scandal's full team performance, she was still the star of this DC team. In this game that meant drawing the Claire Chastain matchup as the two World Games players went at it in a Claire-on-Claire battle. As one might expect, it was an absolute slugfest, but in both the result and the individual matchup, Chastain came out ahead this time around. Not only did Molly Brown get the win, but Chastain also came up with an enormous layout block on Trop with Denver holding an 11-9 lead. "I haven't been layout-d'd like that in a while, that was a sweet play," admitted Trop afterwards. "I was like 'Oo I'm gonna be hearing about that one on the sideline later', from Claire, just good-natured." Molly Brown would go on to score that point to get another break on Scandal, even as Chastain had to take a breather after landing heavily after the block.
Outside of the two Claires going at it, Denver's offensive line continued their exceptional efficiency as they denied DC a foothold back into the game. Manu was everywhere, creating space where none existed on up-the-line cuts for goals, putting out zippy inside throws for assists, and generally being an all-around problem for Scandal to deal with. She finished with a tidy 2G/3A/1B while Valeria put up 1G/4A/2B, the twins making the impact everyone knew they would in their first season together with Molly Brown.
Scandal's eventual undoing was their inability to finish off points, as multiple times in the second half they had the disc in a position to score but couldn't connect on the final pass. That, combined with Molly Brown's stingy offensive line, spelled doom for DC and the final margin landed at four as Manu found Kristen Reed for the goal and Denver's ticket to the semifinals. There they'll face a very capable Toronto 6ixers team that took down Oregon Schwa 15-9 after topping Pool B, but with the performance that Denver put up in this game they should be favorites to make their first ever final.
Although DC's return season ends here, there's plenty to build on for this twice title-winning program, especially after this quarterfinal performance against possibly one of the top two teams in the country. "I think this is a pretty damn good start," said Trop. "We have some really talented young people, and a lot of interest in DC for the team."
"I think coming on not a COVID year, we're gonna put in the work in the off season and put in the work in the season and see where that takes us and I'm pretty excited," she continued. "I think, hopefully, watch out isn't jinxing anything, but watch out."