For the fourth time in five years, Mixtape is back in the semifinals at Nationals.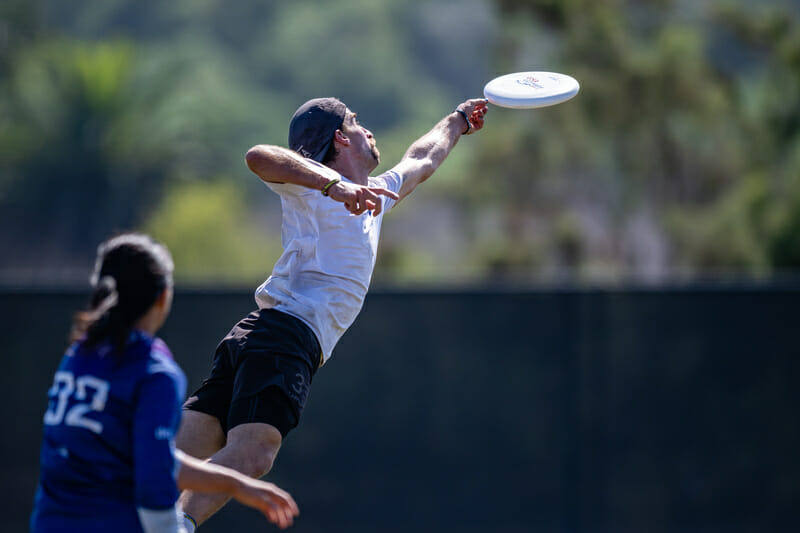 Ultiworld's coverage of the 2022 Club National Championships is presented by Spin Ultimate; all opinions are those of the author(s). Find out how Spin can get you, and your team, looking your best this season.
After a slow start to their domestic schedule, Seattle Mixtape has become the most consistent force in the Mixed division this year. Early season struggles look far removed from the fields of San Diego as Seattle goes from strength to strength. When matching up in the quarterfinals of the Club Championships against Denver Love Tractor — who were fresh off an invigorating win over no.3 seed Philadelphia AMP in the prequarters — Seattle were quick to establish their presence and put up a substantial lead that would carry them through a closer-fought second half and into the semifinals 15-10.
'Smash mouth' is a generous way to describe the opening stages of this game. Daylight robbery is closer to the truth. Mixtape came out with immense match-up pressure through Evan Klien, Dominic Cavalero, and Denise Blohowiak.
"That's been our focus, to put a lot of pressure on in the first couple of games to three and work on making sure that we have people talking from both sidelines so that we're all together on the defensive sets," revealed Mixtape captain Bert Cherry. "We know exactly what we're trying to do [and] who we're trying to contain on the primary threats."
A key target for Seattle all game long was Jack McShane.
Mark Muñoz was the main defender tasked with this responsibility and he started off strong, limiting McShane's impact and capitalizing on the pressure his teammates were producing elsewhere. This aggressive defensive tactic was epitomized when Muñoz spectacularly picked off a dump swing high in the air and hit Alex Nelson in stride to put Seattle up 5-1.
The teams traded for the remainder of the half as Love Tractor started to find their way into the match-up. Akane Kleinkopf was crucial for Denver as she helped instill a level of security they were searching for, working well with McShane, Jesse Roehm, and Henry Konker.
Once Seattle put their O-line onto the pitch consistently, we got to enjoy an insight into the structure. Their vertical stack is crisp, with the system demanding the front of stack fill the gap in the handler space whether they want to or not, a demand the Mixtape players largely abide by. Kelly 'Vegas' Johnson remains her orchestrating self, with aggressive cuts and fearsome break throws, frequently combining with Khalif El-Salaam and Billy Katz in devastating fashion. The former proved particularly effective in a side stack leading to a horizontal sweep and freeing up an under on the break side and subsequent flow down the pitch while the defense attempted to catch-up.
Catching up may have been out of the question by the time Seattle took half 8-3, but Denver were far from throwing in the towel.
"Our approach was just to play our game," explained Love Tractor Coach Wes Williams. "I think we've established over the course of this tournament the right way our O plays, the right way our D plays, and we wanted to go in and do that. I think in the first half they gave us difficulty with that. And I think we had a little bit of the yips. I think the game settled down a little bit. One of the nice things about the second half was being able to sort of open up the lines and get some players who have had fewer points or opportunities, and we got some blocks out of them."
One of these young standouts who helped Love Tractor find themselves and trade out the second half was Liana Bradley. Bradley looked fearless making some incredible plays, including a monster defensive block in the end zone.1
Britta Bergstrom was also impressive, connecting with Zachary Nager for one of Tractor's rare breaks in the game and closing the lead to four points at 13-9.
Unfortunately for Denver, this late surge lacked the power to peg back Mixtape.
"We've talked a lot about that this weekend," explained Cherry. "First off, keeping our energy high and investment from the sideline in games where we go up and trying to keep any comeback tamped down. But knowing that there's a little bit of ease that we have from our D-line and getting some of that pressure built up already. So it's fine to get broken, as we can still keep stretching the field and looking for all of these different options. But what we've talked about anytime a team starts coming back on us is that we are the best when we play our game. So what are the things that we can do to recommit to playing our game right now?"
This focus ensured that even with some impressive plays from Tractor, Mixtape remained firmly in the drivers seat. Flex player Kahyee Fong appeared on both sides of the disc for Seattle and made impressive contributions marking key Tractor players as well as contributing to the offensive flow when needed.
More experienced players Heather Kraft and Wil St. Charles were able to produce some impressive plays for Denver, Kraft cutting tirelessly and St Charles putting up some big shots down field. On the defensive end, Michelle Yang fought through an injury to go to battle with Kelly Johnson. Vegas is never an easy assignment, and Yang put about as much pressure on her as we've seen this weekend, forcing the Seattle veteran into a handful of difficult situations and generating turns for Tractor.
However, in the end, Seattle were much too much for Denver to fight back against sincerely. Cam Bailey brought the match to a close at 15-10 with a picturesque huck to El-Salaam that relegated the well-positioned Eric Hubbard to irrelevancy.
As Seattle celebrated their win, a call of 'More sleep' echoed around the pitch. A late start time for the mixed semis on Saturday is a well-won reward from the past two days, and Mixtape'll need all the rest they can get before taking on the only other undefeated team left in the division, New York XIST. It will be very interesting to see how the battle between the two most consistent teams in this division this weekend will play out, and we'll see you at 5:30 Saturday evening for what promises to be a quality showdown.
---
Admittedly El-Salaam would get it back on the other end and burn deep to score the point. ↩