Rounding out the 14 best players of the 2022 club season.
Ultiworld's 2022 Club Awards are presented by Breakmark; all opinions are those of the author. They have given away almost 1000 reversibles this year and want to get to 2500 and beyond. Find out how you can help and get yours at Breakmark.com!
Ultiworld is pleased to announce our annual Club Awards, continuing with our All-Club Second Team in each division. While we consider both regular season and postseason performance, because of the nature of the Club Division, we weight success in the Series and at Nationals above all else. The Club Awards are voted on by Ultiworld reporters, contributors, and editors.
Our All-Club teams recognize the top performers across the division. While previously we have closed our Awards with our First Team and Second Team, displaying the top seven and next seven players who had the best seasons, they have been moved up in the schedule. As our voting process is ordered, the top vote-getters for All-Club honors function as the ordered list in our Player of the Year voting — our highest individual award.
Player of the Year Award
All-Club First Team
All-Club Second Team
Offensive Player of the Year Award
Defensive Player of the Year Award
Breakout Player of the Year Award
Coach of the Year Award
Club Awards Voting Breakdown
---
2022 Women's All-Club Second Team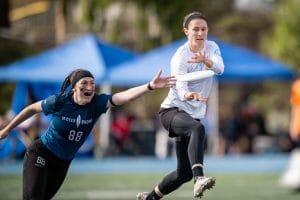 Claire Desmond (San Francisco Fury)
There's a chronic problem when trying to talk about the excellence of Fury—figuring out who their best player is in any given season. This year, it was Claire Desmond stepping up to the plate for San Francisco, both incredibly dependable and remarkably clutch throughout Fury's long season. At times it was subtle work from Desmond, making the necessary clearing cuts and short-range passes to help drive the Fury offense forward. In other instances she made breaks happen nearly all on her own when given the chance on defense, with huge and important blocks.
Take Fury's double game point win over Brute Squad in the semifinal. In that game, not only did Desmond contribute two goals, two assists, and a block, but in the first half she got up over Angela Zhu for a short-field block and then scored the quick strike goal to give Fury an early 5-2 lead. Those sorts of big plays seem to come easy to Desmond as she cruises across the field hunting mismatches and open spaces, all the while tallying at least a goal and an assist in each and every game Fury played in San Diego. That combination of highlight reel-play and offensive consistency will make you a standout even on Fury's roster, and Desmond did just that this year.
–Jenna Weiner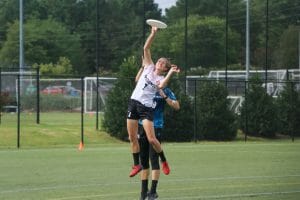 Kami Groom (Raleigh Phoenix)
Across all sports, one of the defining features of the greats is their longevity. It's not just brilliance, it's sustained brilliance. By now, it's safe to say Kami Groom has met that criteria. For almost a decade, Groom has had the Zoom. It's not just that she can out-speed her opponents, either. This season's Groom was the savvy veteran on a young team that clearly benefitted from her presence. More than just an individual talent, she made her team better simply by being on the field with them. As a steadying force, Groom made the right cut at the right time, followed by the right throw at the right time, which preceded a goal more often than not.
By now, so much has been written about Groom that it's hard to touch upon something that isn't already well known. Granted, her game has matured over the years, but she's every bit the game-altering talent that she was on Brute Squad. It might no longer be a slam dunk whenever she takes the field, but it's still a tactful layup. After all, a bucket is a bucket at the end of the day, and Groom remains a walking bucket.
–Graham Gerhart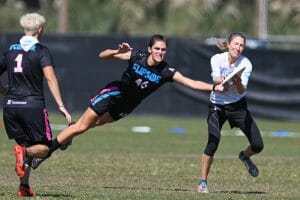 Dena Elimelech (San Diego Flipside)
For those worried that the future of our sport will be dominated by international imports, Dena Elimelech's season should quell those fears. The SoCal star continues to be one of the brightest lights in the division, making even the most stellar plays seem commonplace. Flipside played a lot of tight games throughout the year, often against the best teams in the nation. In almost every one of them, you can point back to Elimelech as the cause for their success. Her athleticism extends beyond just running and jumping to her marking, her pivoting, and her lengthy release points.
Hikers will try to tell you Mt. Whitney has the highest elevation in California but ask any ultimate player and they'll tell you the real truth: Elimelech can go higher. No shot is a 50/50 if she's under the disc. Her rare combination of height and hops causes defenders to break out in sweats at night. No amount of positioning can overcome Elimelech when she wants the disc. As is the case with all great players, you can't shut her down, you can only contain her.
–Graham Gerhart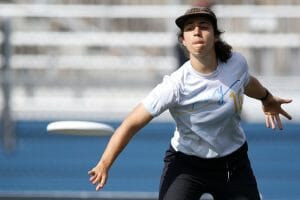 Anna Thompson (San Francisco Fury)
Fury has a long legacy of superstar handlers leading their lines, with Alex Snyder, Carolyn Finney, and Anna Nazarov arguably the three biggest names in that group in recent Fury history. However, it may be time to think about adding another name to that list—Anna Thompson. Thompson followed up a 2021 POTY runner-up season with another outstanding year, this time leading Fury with 13 assists at Nationals as she paced San Francisco's offense game after game.
Against Flipside in the quarterfinal, Thompson put up five assists, four of which came in the first half as Fury took an 8-4 lead, the former UPenn star deadly with her deep throws. Thompson plays fearlessly on offense and defense, able to throw key assists for Fury even through miniscule windows and is more than willing to go get the block back when San Francisco turns it over, as evidenced by her amazing layout block to deny a first half Molly Brown goal in the final. Bringing together phenomenal throwing skill with tenacious defense is a clear recipe for success, and at just 25 years old Thompson looks the part of yet another current, and almost assuredly future, Fury superstar handler.
–Jenna Weiner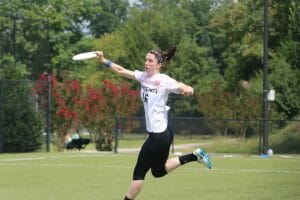 Sarah Meckstroth (Raleigh Phoenix)
Overheard on the sidelines at Nationals: "I knew Sarah Meckstroth was a great player in mixed, but I didn't realize she'd be this good in women's." Yes, even in this year of 2022, people are still just finding out that Team USA's three-time national champion formerly of the mixed division is very good at this whole "playing ultimate" thing, and she proved it yet again this season with Raleigh Phoenix.
And really, why wouldn't Meckstroth's exceptional all-around capabilities translate to the women's division? A defensive powerhouse, Meckstroth is more than capable of shutting down her opponent's best players, while between her length and her clockwork cut-timing she is a matchup nightmare for whoever has the unenviable job of trying to guard her. Add in a healthy dose of pinpoint deep throws (Meckstroth had as many assists as blocks on the weekend with seven apiece) and a wealth of veteran savvy for a still young Phoenix team, and Meckstroth continues to show that no matter whether it's in a mixed or women's division setting, she's still a dominant force on the field.
–Jenna Weiner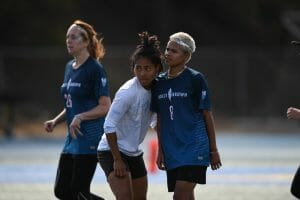 Opi Payne (San Francisco Fury)
We've now reached the point in 2022 where the best players in the world are known for their two-way ability. Well, that might be the standard now, but Opi Payne is model on which that standard has been built. If you're ever wondering what Payne can do on an ultimate field, the answer is: whatever it takes to make her team better. Payne can be your best defender, cutter, or thrower if that's what you need from her, no questions asked.
Fury continues to be flush with talent compared to almost every other team in the division, but when the rubber hits the road, it's players like Payne that get them to finals and keep them fighting until the last point. There wasn't much left for Payne to prove coming into this season, and yet she refuses to put the car in neutral. She could ride off into the sunset at any point, and instead is still in maximum overdrive, playing in sixth gear with the brakes cut off. She's not slowing down, and why should she? The entire division's still trying to be just like Opi.
–Graham Gerhart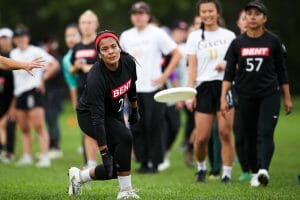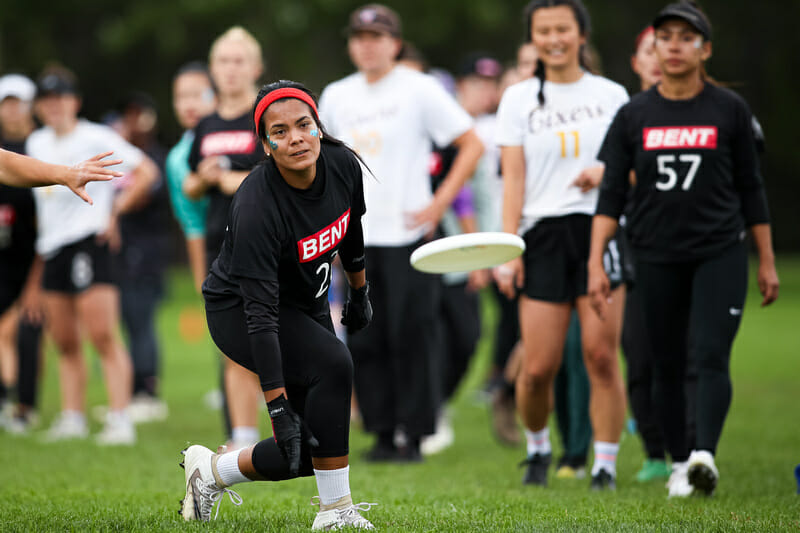 Yina Cartagena (New York BENT)
It's rare that a player is so talented, so supernatural, that they can make an All Club list without making it to Nationals. Even for those that didn't have a chance to see her play in-season, Cartagena's reputation speaks for itself. Or rather, it shouts for itself. It roars with the dominance of a T-Rex in Jurassic Park.
Well, if her reputation is that strong, I guarantee you that her in-person ability is even better. Cartagena is the type of person who belongs with the disc in hand. She's so exceedingly comfortable with the disc that it looks like an extension of her when she's gripping it, and a deadly projectile once she's thrown it. Despite missing much of the regular season for her team by playing at World Games and WUCC, Cartagena showed up for her team when it mattered. BENT was locked in a star-studded region, but Cartagena still played like she was the best player on the field when she was active. Her confidence is well-founded, too. There are few players that can shoulder the responsibility Cartagena accepts when playing, and no one can make pressure look commonplace like the Colombian.
–Graham Gerhart