The Colombian becomes the first non-American to win a Club POTY award in any division.
Ultiworld's 2022 Club Awards are presented by Breakmark; all opinions are those of the author. They have given away almost 1000 reversibles this year and want to get to 2500 and beyond. Find out how you can help and get yours at Breakmark.com!
Ultiworld is pleased to announce our annual Club Awards, starting with the Club Player of the Year in each division. While we consider both regular season and postseason performance, because of the nature of the Club Division, we weight success in the Series and at Nationals above all else. The Club Awards are voted on by Ultiworld reporters, contributors, and editors.
Our Player of the Year winner is the best overall performer of the 2022 Club season and is our highest individual award. The winner is not eligible for consideration in any of our other individual awards. The runners-up will be identified as the second and third vote-getters when the All-Club Teams are revealed in the coming days.
Player of the Year Award
All-Club First Team
All-Club Second Team
Offensive Player of the Year Award
Defensive Player of the Year Award
Breakout Player of the Year Award
Coach of the Year Award
Club Awards Voting Breakdown
2022 Women's Club Player Of The Year
Valeria Cardenas (Denver Molly Brown)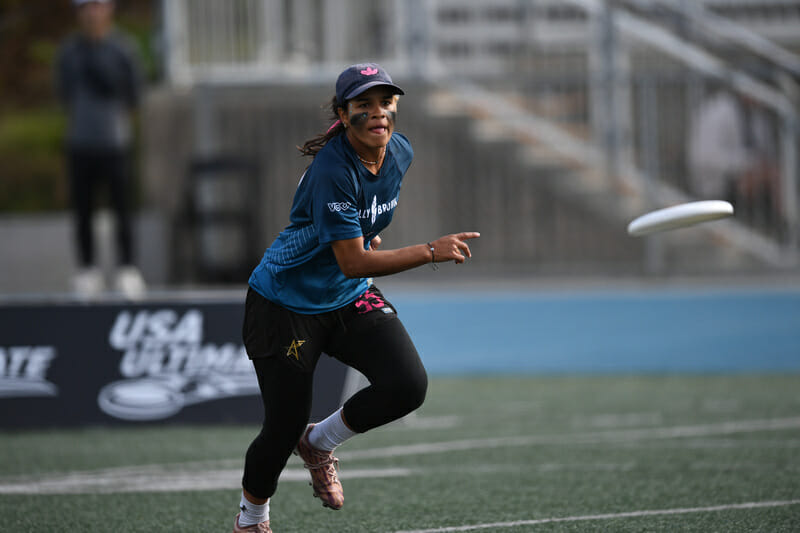 Valeria Cardenas: Best thrower on her team. Best thrower in the division. Best thrower…on the planet?
For almost anyone else that statement would feel like an obnoxiously hyperbolic claim, but seeing Valeria Cardenas pick apart defenses with ease brings to mind a bird of prey, which moves with such speed and precision as to question the very reality of physics itself. Much the same can be said about Cardenas' throwing prowess, her ability to sling a disc across the field just as effortlessly as an eagle in flight and just as pure. This season she helped fly Molly Brown to the mountaintop for the first time in program history and at just 23 years old she may well do it for years to come too.
Given her throwing capabilities, it's no surprise that Molly Brown not only installed Cardenas as their primary center handler this season, but built their offensive motion around her. Recognizing her ability to play and move in space, Denver typically had Cardenas catch the pull and then do a give-and-go with another Molly Brown handler in order to get the disc back in Cardenas' hands in flow with the defense backpedaling. That strategy worked like a charm and Molly Brown often started their offensive possessions with the disc near half-field, Cardenas poised to slice through the opposing defense, which she did to the tune of an incredible 27 assists over the course of Nationals weekend.
Such was the gravity of Cardenas on the field that even championship final opponents Fury — well-known for their capacity to win with their system regardless of their opposition — changed what they were doing in response to Cardenas' dominance in the first half of the title game. San Francisco switched their matchup on Cardenas from Carolyn Finney to Julianna Werffeli and instead had Finney poaching in the lane in front of the Colombian dynamo as she played off new matchup Saioa Lostra.
"We wanted to try and get it out of [Valeria's] hands, and so the goal was to support [her] mark, which turned out to be [Werffeli], and then get it out of her hands," explained Fury coach Matty Tsang after the game. "Give us another game and we can get better at it for sure, we were making a lot of adjustments even at the end in those last couple of points."
While the shift did lead to Cardenas picking up one fewer assist in the second half than in the first, it didn't really help Fury get back into the game as Cardenas responded by taking what the new defensive look was giving her and putting her team in a position to capitalize on the excess attention she drew.
Cardenas was by no means a one-dimensional player either, her well-honed ultimate IQ helped her find pockets of space to receive the disc on offense and shut down her opponents' offensive possessions on the few instances that Denver's "Purple Line" did turn it over. With years of elite experience despite her relative youth, Cardenas played fearlessly and ruthlessly and came up with big plays for Molly Brown both with and without the disc in her hands time and again.
Take the point in the final against Fury that would give Molly Brown a decisive 8-5 lead into the half. Off the pull, Cardenas ran her typical give-go motion with Lostra and in a flash Denver were at half-field, Valeria tossing the disc back to her sister Manuela as she wheeled away with Fury veteran Finney in pursuit. It wasn't long before she had the disc back, though, this time off of a quick shoulder shimmy to upline jump-cut that left Finney trailing on a low throw from Lisa Pitcaithley. However, it was no problem for Cardenas, as she smoothly laid out on the sideline for the catch, popped up, and rifled off a low-release flick to Megan Cousins for the goal, somehow getting the throw off cleanly and at pace even as the back of her hand skimmed the turf. That was one of seven assists Cardenas threw in the final as she powered Molly Brown to victory and the peak of the women's division.
The scary thing, of course, is that this was only Cardenas' first full year playing with Denver and alongside her sister Manuela, backfield partner Lostra, and favored target Kristen Reed, Molly Brown has as great a young core as any in the division. And with Valeria bound to be at the center of it all once again for Molly Brown's title defense, who knows to what heights this team might fly with her at the helm.
– Jenna Weiner