The most vital defenders in the club division this season.
Ultiworld's 2022 Club Awards are presented by Breakmark; all opinions are those of the author. They have given away almost 1000 reversibles this year and want to get to 2500 and beyond. Find out how you can help and get yours at Breakmark.com!
Ultiworld is pleased to announce our annual Club Awards. While we consider both regular season and postseason performance, because of the nature of the Club Division, we weight success in the Series and at Nationals above all else. The Club Awards are voted on by Ultiworld reporters, contributors, and editors.
Our awards continue with the Defensive Player of the Year, recognizing the individual, and two runners-up, who we felt were the top defensive performers this spring. Whether through generating blocks, shutting down options, helping out teammates, or all of the above, these defenders stood out doing the tough work that too often go unrecognized.
Player of the Year Award
All-Club First Team
All-Club Second Team
Offensive Player of the Year Award
Defensive Player of the Year Award
Breakout Player of the Year Award
Coach of the Year Award
Club Awards Voting Breakdown
---
2022 Defensive Player of the Year
Manuela Cardenas (Denver Molly Brown)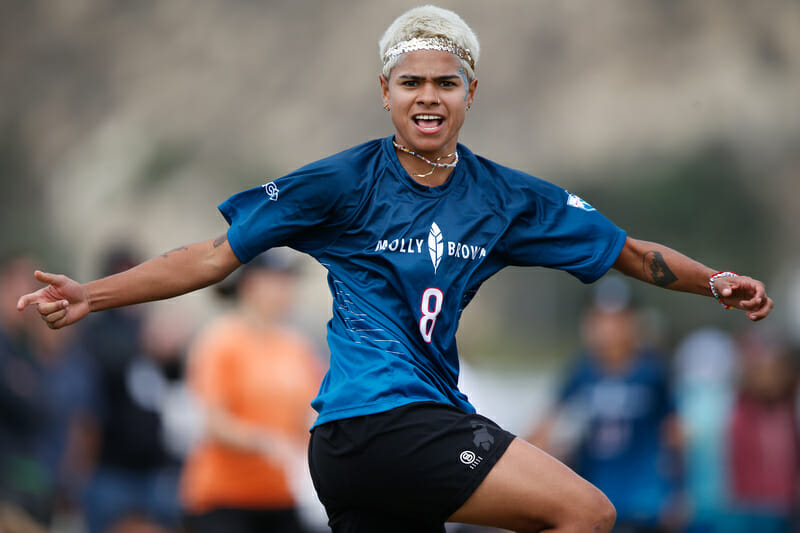 A recipe for making the perfect defender in ultimate:
2 cups of elite shut-down defense (for both underneath and deep spaces),
1 box of rich field awareness and ultimate IQ mixture (for a team defense impact),
1 tablespoon of high-flying block potential (for highlight-reel hype plays),
1 pinch of under-pressure clutch factor (for getting through those late-game moments), and
1 helping of pure energy and enthusiasm (because defense and ultimate is fun, damn it!).
Makes: 1 person-sized serving of Manuela Cardenas, ready to wreak havoc on opposition offensives for Denver Molly Brown.
Start with the two cups of elite shutdown defense, which Cardenas has in abundance regardless of who she matches up against. A squirrely handler who likes to play in small spaces and tight angles? No problem for Cardenas, her outstanding footwork and agility helping her keep tight to the hip of her opponent. How about an explosive deep cutter, ready and willing to turn on the jets at any moment? Not an issue for the 23 year old Colombian star, as she effortlessly keeps pace with even the speediest players.
Mix in a box of phenomenal field awareness and ultimate IQ, which Cardenas has honed over years of playing despite her youth. Her ability to read the motion of the offense, figure out where the disc is moving next, and then be there in a flash makes for a poach defender that will have even the most even-keeled handlers keeping a wary eye.
Follow that field awareness up with a hearty tablespoon of highlight-play potential, perhaps Cardenas' trademark in her on-field play. With incredible timing and dynamism, she's one of the best at lining up and executing on huge layout blocks. Add in with that a pinch of clutch factor and you have yourself a game-winning defender, able to go out and get the block when Molly Brown needed it most: see Cardenas' mind-blowing layout poach block to prevent a Fury break score in the late stages of Denver's title winning game.
As for the secret ingredient in this perfect defender recipe? Why it's Cardenas' endless energy and exuberance while playing, her head always held high even as she's putting in the hard work of chasing down the best in the world.
And there you have it. That's the recipe for making the perfect defender in ultimate, also known as the one, the only, Manuela Cardenas.
–Jenna Weiner
First Runner-Up
Claire Trop (Washington DC Scandal)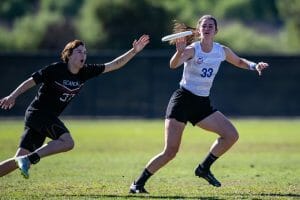 Imagine you're a part of a team with title aspirations, only for your best player to get sick the week before Nationals. Worse than that, it's a condition that induces fatigue and headaches. Then imagine a bit further until that player posts an absurd 12G/18A/11D statline and is one of only two people to get double-digit blocks.1 That's what Claire Trop did for Scandal, playing out of her mind for any regular person, or the superhero she is in the condition she was in. She took all the toughest matchups, she played the most amount of points, and she did everything her team asked of her at 110%. If this is how Trop plays when she's not at her peak – once again, posting more blocks than almost every other player at the tournament – imagine a bit further what might have been if the young star hadn't had the deck stacked against her.
In basketball, people often cite the "Flu Game" when making the case for Jordan as the GOAT. It wouldn't be surprising if we look back on this Nationals for Trop with the same argument a few years down the road.
–Graham Gerhart
Second Runner-Up
Shayla Harris (San Francisco Fury)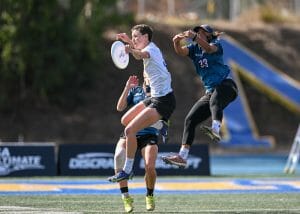 Sometimes a single play can encapsulate all of a player's best qualities in just a moment, a freeze-frame instance of their greatness. Such was the incredible nature of Shayla Harris' clean block between two Molly Brown players in the championship final — pictured here — the emergent Fury defensive star somehow sliding between her opponents to snatch the disc away and prevent a Denver score. It was a perfect example of Harris' outstanding body control and defensive field awareness, her ability to simultaneously avoid contact while shutting down the opposition's most potent threat being second to none.
For Harris, it's not simply a matter of coming up with clutch catch-blocks in the national final either, as her defensive output is prodigious regardless of the opposition. Harris picked at least one block in five of Fury's six games at Nationals, and her total of eight blocks led San Francisco during their time in San Diego. The young2 defensive powerhouse demonstrated a level of smothering defense nearly unmatched in the division this season, and did so while showcasing what elite no-contact defense can look like at the top of game time after time.
–Graham Gerhart
---
The other being Soju Hokari for Ozone. ↩

relatively for Fury, at 26 years old ↩