The next stars of the club division.
Ultiworld's 2022 Club Awards are presented by Breakmark; all opinions are those of the author. They have given away almost 1000 reversibles this year and want to get to 2500 and beyond. Find out how you can help and get yours at Breakmark.com!
Ultiworld is pleased to announce our annual Club Awards. While we consider both regular season and postseason performance, because of the nature of the Club Division, we weight success in the Series and at Nationals above all else. The Club Awards are voted on by Ultiworld reporters, contributors, and editors.
Our Breakout Player of the Year may be the hardest-to-define award that we dole out each year. We aim to recognize players typically 25 years old or younger who weren't widely expected to have a major impact on the club season at the start of the year. While their teammates or local community may have known about their talent level, their performance in the 2022 season thrust them into the national consciousness in a way that raises expectations for their contributions for years to come. Without strict parameters around what constitutes "too well known" at the start of the year, our voters are given the opportunity to decide for themselves who best represented their definition of a true breakout season in the club division.
Player of the Year Award
All-Club First Team
All-Club Second Team
Offensive Player of the Year Award
Defensive Player of the Year Award
Breakout Player of the Year Award
Coach of the Year Award
Club Awards Voting Breakdown
---
2022 Breakout Player of the Year
Greta Eisenbrey (Portland Schwa)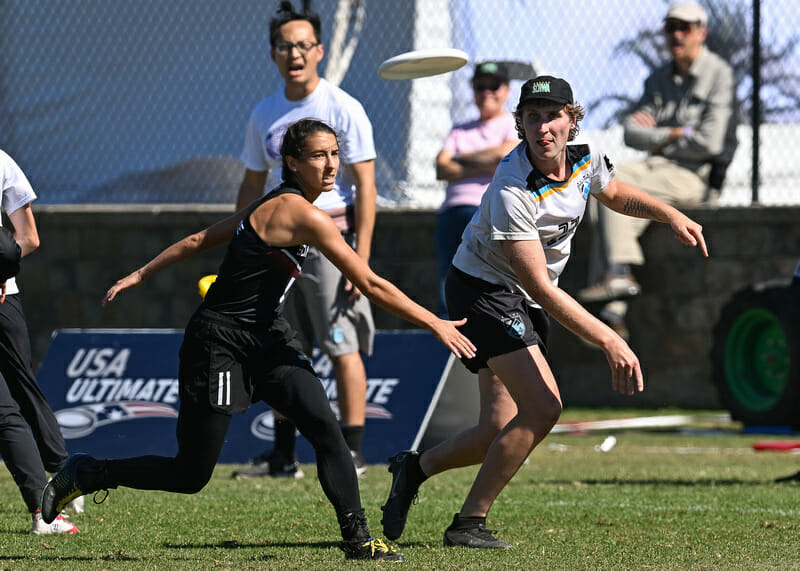 Rarely does one player claim a spot on two Breakout Player of the Year lists over the course of their career since that is the nature of breaking out—after it's happened once, it can't really happen again. Sure, that exclusive club does add new members on occasion, especially between the college and club divisions over a span of years1, but to make two in one year in both semi-pro and club? Now that's something special.
Enter Greta Eisenbrey, WUL BPOTY podium finisher with Oregon Onyx, Oregon Schwa rookie, and offensive line standout this club season for the Northwest region stalwarts. By claiming not only another BPOTY podium but a spot at the top this time around, Eisenbrey proved just how quickly her game has leveled up this season and how integral she's become to Schwa's success.
It's the little things that make Eisenbrey so critical to Oregon's offense. They're seemingly always available as a reset handler, they make the smart passes that keep Schwa's offense moving, and they frequently serve as a release valve when Oregon comes under pressure, their height certainly not hurting Eisenbrey's ability to come down with high-stall throws. Her patience and control with the disc belies her first-year status, and Schwa coach Bobby Gough described Eisenbrey as having "a savvy and composure that is something you'd expect a 10-year veteran to have," about as high a compliment as a player making their first ever Club Nationals appearance could receive.
To walk into a team replete with veteran talent and establish yourself as one of the go-to handlers is no easy feat, yet Eisenbrey handled that role with aplomb. In addition to her quieter, but no less meaningful, contributions, Eisenbrey also tallied the second-most assists for Oregon at Nationals with ten2, and chipped in a goal, an assist, and a block in Schwa's breakthrough win in their prequarter against Traffic. As one of Oregon's youngest players, Eisenbrey looks the part of a core player for Schwa going forward, as they well and truly broke through for good this season.
–Jenna Weiner
First Runner-Up
Saioa Lostra (Denver Molly Brown)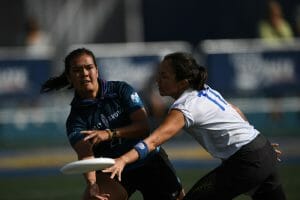 With increased coverage in the women's division, the addition of PUL and WUL seasons, WUCC, and World Games, it's become increasingly difficult to find a true breakout star that we didn't see coming in some capacity. It's not as if Saioa Lostra is a completely unknown quantity, but her ascendancy this year makes "breakout" seem like a tame description for the moment she's having. Not only was Lostra a meaningful addition to Molly Brown as a true rookie this season, she was a starting O-line handler for the eventual champions!
It would be wrong to say that Lostra won Denver their game against Fury in the final, but it wouldn't be wrong to say they might have lost that game without her. Lostra was a rock. Even when Fury started poaching off her and dared Molly Brown to win the game through their rookie, she delivered without any hint of nerves or timidity. She tallied two assists and a goal in the finals, almost all of which was scored in the second half. Lostra's championship performance was a microcosm of her season as a whole. She did whatever was needed of her on Molly Brown and did it with the accuracy and mental fortitude of a veteran. Denver's never had a problem bringing in young talent to their program, Lostra's just well ahead of anyone's schedule.
When thinking about a BPOTY for the club season, it's often a young player that's been underestimated until this point. Well, Lostra won't be underestimated again after this year. After all, the last team that made that mistake lost themselves a national title.
–Graham Gerhart
Second Runner-Up
Soju Hokari (Atlanta Ozone)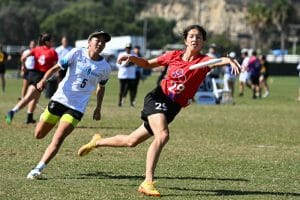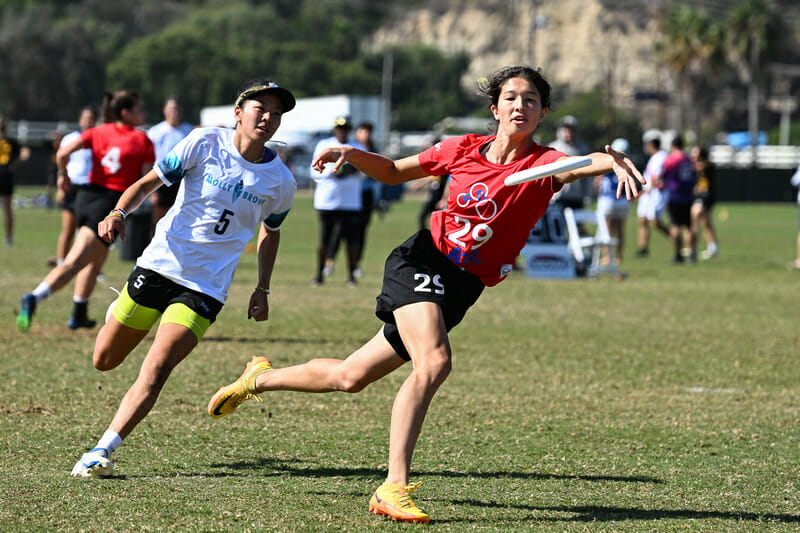 There are a lot of reasons why Ozone should be excited for their future after 2022 Nationals, but Soju Hokari has to be at the top of the list. The Emory product led the tournament in recorded blocks, a feat that sounds ludicrous until you see Hokari play. There's an insistence and calculation to her movement that get her one step ahead of her opponents, even when she has worse positioning. Hokari doesn't just want the disc more than her opponents, she  would actively take the disc away from receivers who thought they had a clean catch on their hands. No one could have predicted just how impactful Hokari would be for Ozone at Nationals, but it's even more exciting to imagine what we'll see from her in the years to come.
–Graham Gerhart
---
Bridget Mizener being one of the most recent examples last season for Raleigh Phoenix ↩

Only behind multi-time national champion Claudia Tajima ↩