The players who had defenses stumped this season.
Ultiworld's 2022 Club Awards are presented by Breakmark; all opinions are those of the author. They have given away almost 1000 reversibles this year and want to get to 2500 and beyond. Find out how you can help and get yours at Breakmark.com!
Ultiworld is pleased to announce our annual Club Awards. While we consider both regular season and postseason performance, because of the nature of the Club Division, we weight success in the Series and at Nationals above all else. The Club Awards are voted on by Ultiworld reporters, contributors, and editors.
Our awards continue with the Offensive Player of the Year, recognizing the individual, and two runners-up, who we felt had the most impactful and productive seasons helping their teams score. They set up goals, finished off points, and produced yardage at consistently high levels against the top defenders.
Player of the Year Award
All-Club First Team
All-Club Second Team
Offensive Player of the Year Award
Defensive Player of the Year Award
Breakout Player of the Year Award
Coach of the Year Award
Club Awards Voting Breakdown
---
2022 Offensive Player of the Year
Levke Walczak (Boston Brute Squad)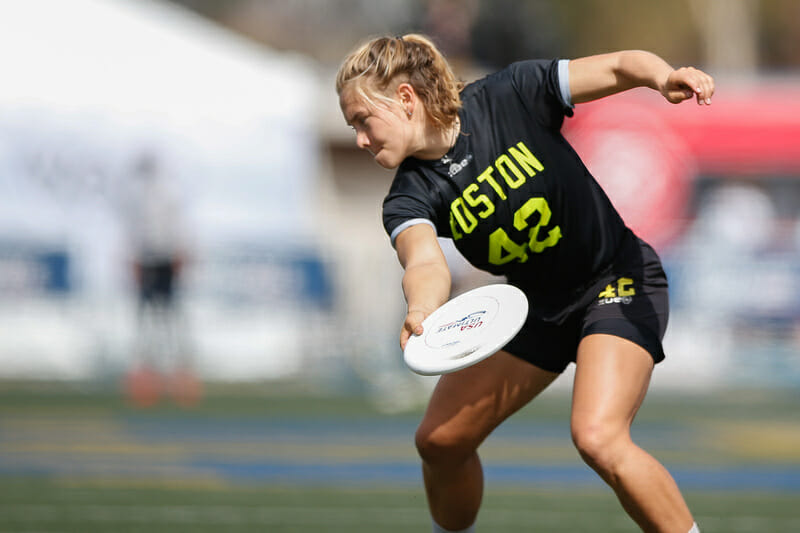 To adapt a phrase coined by famous English footballer1 Gary Lineker: "Ultimate is a simple game. Fourteen people chase a disc for ninety minutes, and at the end, the German always excels."
The German in this case is one Levke Walczak, and her all-around offensive excellence was indeed that regular for Brute Squad throughout her time with Boston this season. Zippy short throws or on-a-dime deep throws, slicing under cuts or skying grabs in the end zone, Walczak was Boston's Swiss Army knife on offense with the right tool always available whenever Brute Squad needed her to step up.
Possibly the most remarkable thing about Walczak's offensive potency is the ease with which she makes things happen on the field. A natural athlete with a background in competitive soccer before she made the leap to ultimate, Walczak plays with poise and power, calmly finding pockets of space before unleashing hucks with explosions of pure force and energy.
And really it's that energy which defines Walczak, as she pairs exceptional offensive performance with an infectious joyous expression of play that belies how much effort she's putting out on the field. It's not easy picking up a double-double of goals (12) and assists (14) at Nationals, let alone as Brute Squad only played six games, let alone as Walczak shouldered an incredible offensive load for a Boston team she only played with for two tournaments this year.
When it comes to setting a bar for offensive excellence, it's hard to surpass Walczak's performance against Fury in that incredible double game point semifinal. Even as Boston fell just short of making it to the final for a seventh straight season, the German star still contributed directly to over half of Brute Squad's scores against the Southwest giants with three goals and five assists2, an astounding offensive showing that you rarely see at any level. How does it come so easy for Walczak time and again? Well, ultimate is a simple game of fourteen people chasing a disc across a field, and in the end, it's the German that will always excel.
–Jenna Weiner
First Runner-Up
Britt Dos Santos (Toronto 6ixers)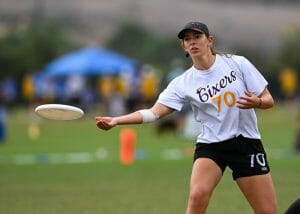 For two years we didn't get to see Canadians compete south of the border. But while a break like that might have slowed down the average player, somehow Brittney Dos Santos came out the other side better than ever. She was easily the most dominating player for Team Canada at the World Games this summer, then in the same month she put up extraordinary stats at WUCC for Toronto 6ixers (38 assists and 23 goals).
Dos Santos is absolutely electric to watch. This year, teams repeatedly put their best defender on her and they rarely even slowed her down. Toronto 6ixers counted on her to do some of everything – on both sides of the disc – and time and time again this season, Dos Santos delivered. Whether it was commanding the offense with picture-perfect hucks, toasting her matchup upline, or getting a clutch layout block in the game's biggest moment, Britt Dos Santos is playing with a fire these days that cannot be put out. The only question we're left with at the end of this season: what can't she do?
–Kelsey Hayden
Second Runner-Up
Dena Elimelech (San Diego Flipside)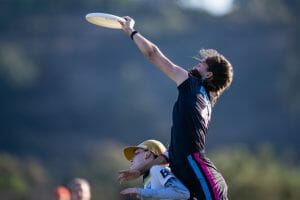 Remember in early 2000s sports video games where one could build a player with absurd physical ability paired with unbeatable finesse and technique? We might not truly see that in ultimate until we get our own eSports equivalent, but I'd imagine that make-it-yourself player would look a lot like Dena Elimelech. The Flipside star was a cheat code for her team, giving them an outlet whenever they needed one while also threatening the deep space simply by being on the field. No amount of strategical plotting or button-mashing of the "block" button could get in the way of Elimelech and the disc.
Flipside came into 2022 as a young team with a lot to prove and they relied upon Elimelech despite her youth. That paid off in the long run, especially at Nationals, as she rattled off a 20G/6A/8D stat line that put her on the podium for goals scored and put her in the spotlight as a premier offensive talent. There aren't many players that can do what Elimelech makes commonplace on the field; hardly anyone can come close, even at maximum effort.
–Graham Gerhart
---
Also known as a soccer player here stateside ↩

Along with four blocks ↩