The next stars of the club game.
Ultiworld's 2022 Club Awards are presented by Breakmark; all opinions are those of the author. They have given away almost 1000 reversibles this year and want to get to 2500 and beyond. Find out how you can help and get yours at Breakmark.com!
Ultiworld is pleased to announce our annual Club Awards. While we consider both regular season and postseason performance, because of the nature of the Club Division, we weight success in the Series and at Nationals above all else. The Club Awards are voted on by Ultiworld reporters, contributors, and editors.
Our Breakout Player of the Year may be the hardest-to-define award that we dole out each year. We aim to recognize players typically 25 years old or younger who weren't widely expected to have a major impact on the club season at the start of the year. While their teammates or local community may have known about their talent level, their performance in the 2022 season thrust them into the national consciousness in a way that raises expectations for their contributions for years to come. Without strict parameters around what constitutes "too well known" at the start of the year, our voters are given the opportunity to decide for themselves who best represented their definition of a true breakout season in the club division.
Player of the Year Award
All-Club First Team
All-Club Second Team
Offensive Player of the Year Award
Defensive Player of the Year Award
Breakout Player of the Year Award
Coach of the Year Award
Club Awards Voting Breakdown
---
2022 Breakout Player of the Year
Mika Kurahashi (Vancouver Red Flag)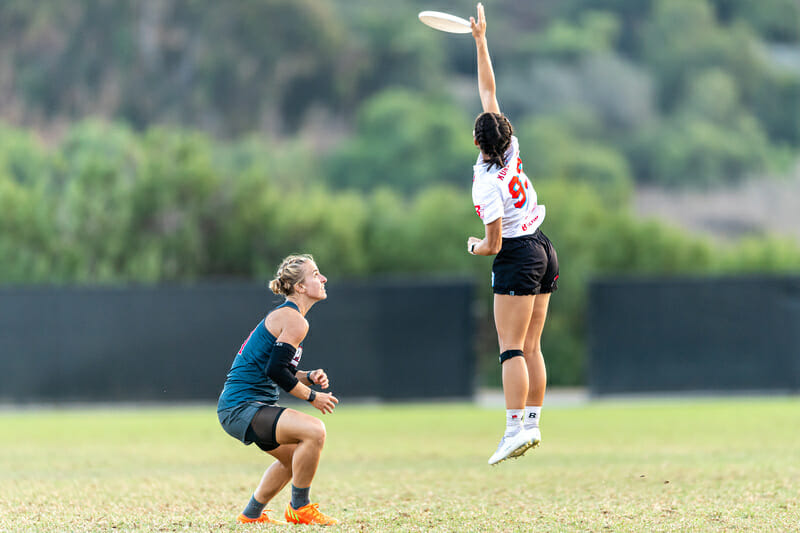 The razor sharp cutter from the gang of northern upstarts Vancouver Red Flag, Mika Kurahashi spent this long season carving a name out for herself deep in the best defenses the world has to offer. Her speed and athleticism led her team's offense in what has been the definition of a breakout season not just for Kurahashi, but Vancouver as well.
Red Flag's penchant for deep looks has been well documented and Mika Kurahashi's ability in the air makes it a rather understandable one. Her length and explosiveness combine to create a sphere of influence that can engulf large swathes of the back field, which is a difficult invitation for anyone to turn down.
Kurahashi consistently demands the focus of their opponent's best suppressors, sweeping through systems to lead the other side of Red Flag's swashbuckling style swiftly down the field with big gains on unders and threaded leading passes to onrushing teammates.
Each new step she takes in her fledgling senior career has been earning her acclaim, from World Games tryouts, throughout her freshman college season1, and over an elongated club season this summer. Kurahashi put on incredible performances on some of the biggest stages, picking up 25 goals and 10 assists on Red Flag's silver medal run at WUCC, along with 14 goals and four assists in San Diego, placing a firm foothold in the territory we expect her to be towering over in the next few years.
-Lorcan Murray
First Runner-Up
Alex Nelson (Seattle Mixtape)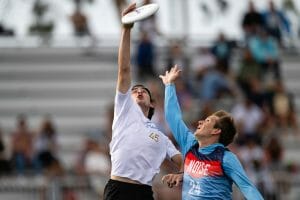 Alex Nelson sent an email to Mixtape leadership early on in the season, asking them to give him a chance to have an extended tryout. It's a good thing that Mixtape decided to roster him because it appears that Nelson will be one of their star players in just a few years.
Nelson came from the Seattle youth ultimate pipeline who were coached by Mixtape players. With their guidance, Nelson learned how to play good mixed ultimate and put in the work to play with the best. Khalif El-Salaam specifically highlighted Nelson's performance as a cutter, stating he made well-timed cuts, left space for his teammates (especially the FMPs), and made excellent decisions operating in a variety of situations. Nelson put in the effort to make his playing look effortless. He made the needed deep cuts and caught goals when they mattered, as well as creating enough pressure on defense to force turns.
"I remember when I was 20 and the disc went up and it's like 'Leaf, soul snatch!' and do you know how long I've waited for it not to be me?" said Khalif El-Salaam about Nelson after the final. "And Alex, yes! 'Let me just jog it on out, going downwind.' It's just phenomenal to see players like that who put in obscene amounts of work to play good mixed Ultimate."
-Laura Osterlund
Second Runner-Up
Jane Koch (Minneapolis Drag'n Thrust)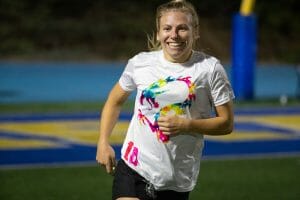 Thanks to her high-flying bids and her top speed, Jane Koch stepped out for Drag'n Thrust as a player to watch this season. And watchable she is, putting on a show for spectators with highlight play after highlight play, and seemingly always playing with a smile on her face. Koch made catches this season that no other player could make2. The role of a D-line player is, at times, to shift tides and make big plays when it matters most. This is precisely what Koch did as she scored breaks and got huge blocks when her team needed them in some of Drag'n's most important games this season. At times, these would line up and come during the same point, really putting her stamp on the game. Koch was constantly able to get wide open on her cuts throughout the season, which should let other teams know she will be a force to be reckoned with for seasons to come.
-Laura Osterlund
---
Where she picked up third in our D-I Rookie of the Year award ↩

Again, look to her catch in the semifinal for evidence. ↩