Rounding out the 14 best players of the 2022 club season.
Ultiworld's 2022 Club Awards are presented by Breakmark; all opinions are those of the author. They have given away almost 1000 reversibles this year and want to get to 2500 and beyond. Find out how you can help and get yours at Breakmark.com!
Ultiworld is pleased to announce our annual Club Awards, continuing with our All-Club Second Team in each division. While we consider both regular season and postseason performance, because of the nature of the Club Division, we weight success in the Series and at Nationals above all else. The Club Awards are voted on by Ultiworld reporters, contributors, and editors.
Our All-Club teams recognize the top performers across the division. While previously we have closed our Awards with our First Team and Second Team, displaying the top seven and next seven players who had the best seasons, they have been moved up in the schedule. As our voting process is ordered, the top vote-getters for All-American honors function as the ordered list in our Player of the Year voting — our highest individual award.
Player of the Year Award
All-Club First Team
All-Club Second Team
Offensive Player of the Year Award
Defensive Player of the Year Award
Breakout Player of the Year Award
Coach of the Year Award
Club Awards Voting Breakdown
---
2022 Mixed All-Club Second Team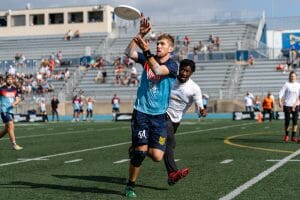 Dylan DeClerck (Madison NOISE)
If you want a (mostly) D-line player who can clean up on offense after forcing the other team to turn, look no further than Dylan DeClerck. Throughout the course of the season, he consistently made momentum-shifting plays that came in the form of share-worthy blocks and scores. Time and time again, DeClerk forced turnovers from opponents at crucial moments in his games and constantly paired up on the biggest threats across the line (he was paired against Denecour and El-Salaam in the semifinal and final, respectively). While said opponents still got the disc, DeClerk made sure that their touches did not come easily. His big defensive plays also were often not quiet1 and while they didn't always make the highlight reels, they caused jaws to drop.
What makes a defensive threat a real asset is their ability to capitalize after a turn. That's how you score breaks and win games. And this is what DeClerck helped NOISE do all season. Constantly, he proved he was a menace on the field by ensuring he was a deep threat, with his runs and throws alike. Even his deep cuts always come at the right time, as he caused many a lead-change in NOISE's favor.
-Laura Osterlund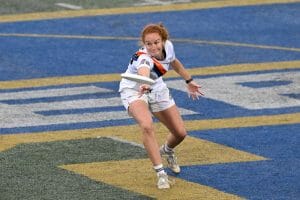 Emily Barrett (New York XIST)
Emily Barrett has been the definition of an "impact addition" for New York XIST this year. Her wide-ranging performance was a key part of their deep championship run in San Diego. Barrett picked up two Second Team All-American selections for Ohio State Fever in 2019 and 2020. The first was due to her incredible presence downfield and the second followed her taking on more of a balanced offensive role; both skill sets were on full display at Nationals.
Her storming style presented problems for everyone who tried to stand in New York's way. Whether flowing smoothly with the disc or aggressively pursuing it, Barrett fit into the DNA of XIST seamlessly this season. This was clear to everyone who enjoyed their scintillating semifinal skirmish with Seattle when she led her team in total yards,2 routinely finding space against the always adapting Northwest defense. In total Barrett picked up seven goals, six assists, and four blocks over the long weekend, cementing her place as one of the most valuable players in the division and helping build the legitimacy of New York's aspirations going forward.
-Lorcan Murray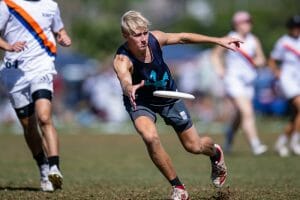 Austin Taylor (Atlanta Dirty Bird)
Given that it has been a few years since Atlanta sent a mixed club team to Nationals, they figured they'd go out in style. The division's leading goal scorer and goal thrower both came from the Dirty Birds, with Taylor being the latter. His aggressive and relentless throwing attack ensured his club would get plenty of chances to live up to their namesake, a scoring celebration.
Taylor has been known since his college days as "Draco" for his resemblance to a certain wizarding world character. Perhaps he had the magic then or has grown to match the moniker, but he can pull off some mystifying feats when wielding his weapon of choice.3 From small ball to arcing shots, the Atlanta handler demonstrated he has command of a variety of throwing spells.
-Keith Raynor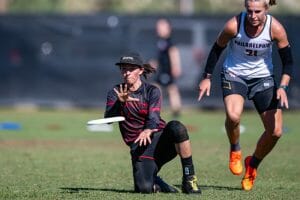 Jade McLaughlin (Fort Collins shame.)
Fort Collins shame. are a team that has worked hard to establish themselves as fun-loving club,4 yet it is the steely determination of Jade McLaughlin that comes to the fore when watching her play. The Arizona Sidewinders' enduring commitment to get plastic is apparent on both sides of the disc. On the defensive end she is a terror for opposing offenses, consistently shutting down options with her tireless effort. McLaughlin is somehow even more dangerous following a turn, grinding opponents to dust before leaving them in hers. She picked up eight goals and seven assists at Nationals, a further testament to her sincerity in the red zone. She also collected three blocks for good measure.
Simply put, it's difficult to beat Jade McLaughlin to a space. It's a big part of why the Arizona Sidewinders took home bronze in the Western Ultimate League, a feat McLaughlin replicated by coming third in our WUL Player of the Year for the competition, and it's a key part of why shame. topped their group at Nationals.5 Determination is key to success, whatever form it takes for you. After all, you've got to fight for your right to party.
-Lorcan Murray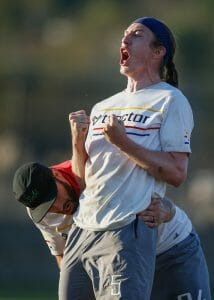 Jack McShane (Denver Love Tractor)
Jack McShane has been the driving force of Denver Love Tractors' offense for a long time, and even with his teammates stepping up big in support this season, Denver's engine remains the Mac. We're all fairly well acquainted with his offensive capabilities from the outside: he can throw just about anything, just about anywhere6 along with a near spectral ability to get free from his defenders in the dump space. It's what earned him second runner up in our Offensive Player of the Year award last year, and is why he led his team with assists at Nationals (16) this year.
He continues to direct traffic deftly for Denver, but a key reason his team made their run to the quarter finals this year lies in his ability to lead indirectly as well, working with his rising retinue of talent to help Love Tractor plough forward with more depth. McShane's calming presence spreads across the field, bringing assurance in the most stressful of times and fertilizing the potential for Denver's future harvests.
-Lorcan Murray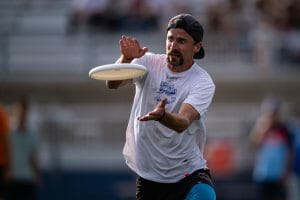 Cam Bailey (Seattle Mixtape)
Cam Bailey seems to have an answer for every question, whether on the sideline or in front of the end zone. When Bailey first made the transition to ultimate from track and field, his considerable athleticism made him a terror for players to mark and earned him back to back Second Team All-Club selections in 2015 and 2016. Upon making his return to our selections six years later, he does so due in no small part thanks to his incredible performance with the disc in hand. Bailey has been a versatile offensive force for Seattle Mixtape this season, exemplified by the even six goals and six assists he picked up at Nationals. One of those assists came in the nail-biting semifinal between Mixtape and New York XIST, a soaring flick huck the majority of the pitch, perfectly placed into El-Salaam's path to make it 13-11. Two points later he would throw a left handed push pass in front of the opponent's end zone during Mixtape's deadly handler weave. That's versatility from one of the most unpredictable players in the game today, and it's as difficult to deal with as it is to forecast.
XIST Coach Izzy Bryant confirmed as much following their semifinal: "Cam Bailey, we had no answer for. Phenomenal player right there."
-Lorcan Murray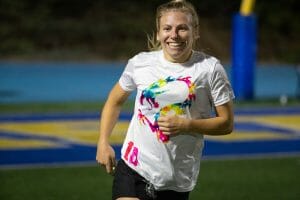 Jane Koch (Minneapolis Drag'n Thrust)
Name a player with more impressive layout grabs than Jane Koch, I dare you. If you don't believe me, just look at her most recent highlight from the Nationals semifinal. Despite being on Drag'n Thrust's roster last season, Koch had her breakout season in the PUL with Minnesota Strike and started making people's radars as a genuine threat on the field. We've already established that Koch has that certified pack of dawgs in her, and with a catch radius that gives her access to throws that are hopeless for the game's other participants, it's not a surprise that she is earning her compliments. When it's not a catch on the layout, it's a block that moved Drag'n's game forward to give them success. However, Koch's catches and knockaways aren't always horizontal; sometimes they're vertical, but in the air nonetheless.
If it's not her flying squirrel-like, gravity-defying grabs that get her past her opponent's reach, it's her constant running and top speed that gives her a leg up. We've all heard the saying, "it's a marathon, not a sprint," but to Koch, it's somehow both. After running her opponents dizzy on the unders7, she runs at top speed to ensure she is an open target in the deep space, resulting in a score.
-Laura Osterlund
---