The best three coaching staffs of the 2022 club season.
Ultiworld's 2022 Club Awards are presented by Breakmark; all opinions are those of the author. They have given away almost 1000 reversibles this year and want to get to 2500 and beyond. Find out how you can help and get yours at Breakmark.com!
Ultiworld is pleased to announce our annual Club Awards. While we consider both regular season and postseason performance, because of the nature of the Club Division, we weight success in the Series and at Nationals above all else. The Club Awards are voted on by Ultiworld reporters, contributors, and editors.
The Coach of the Year closes our annual awards. As so many teams have added more and more sideline-savvy consultants to their roster with less asked of a single head coach, this has essentially morphed into "Coaching Staff of the Year." Coaches can impact the game in so many ways — tactics, motivation, communication, personnel management, program development, skill-building, etc. — and it can be hard to divine what exactly each has contributed to their team. But good coaching is something that we feel that 'we know it when we see it.'
Player of the Year Award
All-Club First Team
All-Club Second Team
Offensive Player of the Year Award
Defensive Player of the Year Award
Breakout Player of the Year Award
Coach of the Year Award
Club Awards Voting Breakdown
---
2022 Coach of the Year
Isaiah Bryant, Diana DeLeo, Judy Jarvis (New York XIST)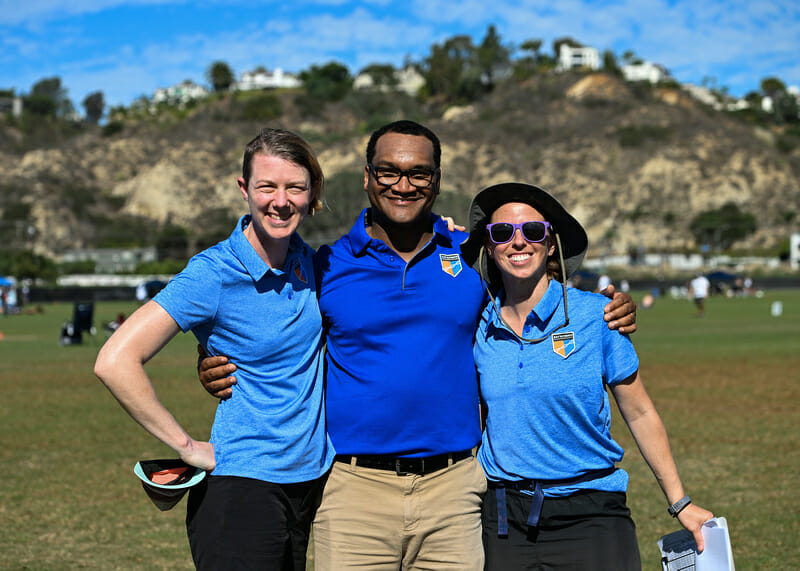 It was a banner year for New York XIST who marched to the semifinal from the no.8 seed, winning their pool along the way to cap off a strong season loaded with consistent play. Their 28-3 record after Nationals, despite playing strong competition both in and out of region, is evidence of how steady this club was through the 2022 season.
Bryant, DeLeo, and Jarvis had their team extremely prepared, taking time to formulate well-thought-out game plans that flustered opposing offenses. The trio built a smart and reactive team that could adjust to varying types of situations and challenges. Teams like Dirty Bird, Drag'n Thrust, and Mixtape — the last of whom might have been more pressed by XIST than any other side — are all vastly different in personnel and approach, but XIST reshaped to tackle each effectively. That strategic flexibility was powered by a culture of understanding the game and putting in the time off the field with film, scouting, and tactics.
In addition, the team integrated a host of quality new players over the past two seasons that melded effectively in the postseason to create a powerful whole. The club's culture was strong, with an energetic sideline that nearly carried them in the semifinal, thriving on personality and character, and pushing the buy-in necessary to ask for a lot from its members.
-Keith Raynor
First Runner-Up
Zhi Chen, Bryson Fox, Drew Johnson (Seattle Mixtape)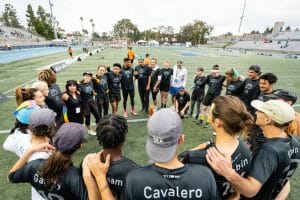 Long gone are the days of a freewheeling Mixtape team that relies on goalty and some older vets taking the lead to function as the on-field structure. To keep up with competition, they've got a strong (and growing) group of sideline leaders who make their second consecutive appearance on the Coach of the Year list. This year's runner-up spot follows a win in the category last season, proving Bryson Fox, Drew Johnson, and newly added Zhi Chen are some of the division's finest.
Granted, Mixtape have some very talented and experienced players at the helm. But they did bring on some youngsters who were getting key reps late in the season and developed and prepared them for the bright lights. And they did all of this while navigating the treacherous waters of trying to win another championship to follow their world title from this summer. Many talented and experienced squads have failed this test in season's past, but Mixtape's strong coaching staff helped ensure they aced the exam.
-Keith Raynor
Second Runner-Up
Josh Hemmesch, Carlos Lopez (Minneapolis Drag'n Thrust)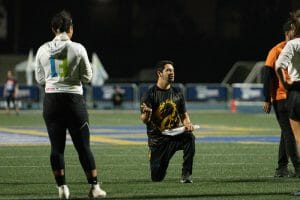 Drag'n Thrust have been a powerhouse for a decade now and their success time and time again is no accident. The key components that Drag'n have are returning players who set examples for newer players and strong leadership guiding their team to do well. Coach Josh "Schwa" Hemmesch fits in both of these categories. The team has undergone quite the turnover since 2019, losing all but six or seven players, but with Hemmesch with the team since its early years, he helped carry on the team's legacy and maintain the team's culture even with newer members.
Unlike Hemmesch, Carlos Lopez is relatively newer to the team this season, but still just as valuable of an asset. Lopez always had a positive attitude during games. During huddles, Lopez was the one giving the pep talks and hyping his team up. In the tough moments and when the team was losing, he never gave up on the game. And even when Drag'n lost, he kept his head held high and didn't lose spirit. Combine these two coaches and you get a dynamic duo that has helped keep the team strong after all these years.
-Laura Osterlund