Madison's unrivaled star becomes the first player to win Player of the Year honors in multiple club divisions.
Ultiworld's 2022 Club Awards are presented by Breakmark; all opinions are those of the author. Please support the brands that make Ultiworld possible and shop at Breakmark!
Ultiworld is pleased to announce our annual Club Awards, starting with the Club Player of the Year in each division. While we consider both regular season and postseason performance, because of the nature of the Club Division, we weight success in the Series and at Nationals above all else. The Club Awards are voted on by Ultiworld reporters, contributors, and editors.
Our Player of the Year winner is the best overall performer of the 2022 Club season and is our highest individual award. The winner is not eligible for consideration in any of our other individual awards. The runners-up will be identified as the second and third vote-getters when the All-Club Teams are revealed in the coming days.
Player of the Year Award
All-Club First Team
All-Club Second Team
Offensive Player of the Year Award
Defensive Player of the Year Award
Breakout Player of the Year Award
Coach of the Year Award
Club Awards Voting Breakdown
---
2022 Mixed Club Player Of The Year
Robyn Fennig (Madison NOISE)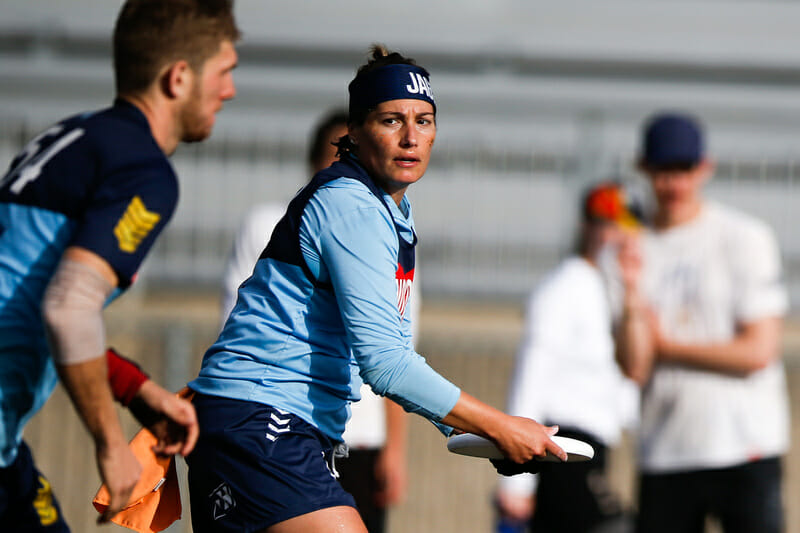 Robyn Fennig is a known quantity. Across multiple divisions, with teams in different cities or even on opposite sides of the Atlantic, everyone knows Robyn. And still, no one yet seems capable of stopping her. Fennig lit up the Mixed division in the domestic and international season this year, the indispensable dispenser at the base of Madison NOISE's offense that helped drive the team on their run to the final in San Diego. In fact, in a Nationals weekend of admittedly unexpected success for Madison, Fennig's key performance was the one thing everyone did see coming. It didn't matter though and it rarely does — Fennig is undeniable, and that's why we had to award her our Player of the Year for the Mixed division in 2022.
This is not her first honor from our humble site — far from it. This is Fennig's fourth consecutive First Team All-Club selection, and her second POTY award, making her the first person to achieve the feat in two divisions. She also took home OPOTY in 2018 with Heist, along with two All-Club Second Team selections in 2013 and 2014, which means she's literally been performing in our sport's elite tier for the entire decade since we started handing out awards.
More recently, Fennig has been a central force for NOISE's offense1 during the program's most successful two-season stretch to date. This season, she led the team on and off the stat sheet, more than doubling the next highest assist totals on her team at both the US Open (15) and Nationals (26)2 while also serving as the gravitational center of nearly everything NOISE tried to do offensively. Across the final and semifinal in San Diego, Fennig threw for 461 yards, picking up 6 assists and adding 2 goals for good measure. Sure there are turnovers, of course there are — that's what happens when you take on the kind of looks Fennig does on a regular basis. But delivering big throws in big moments is what make the big difference between your team having a shot at the medals or shots at the pitches on Sunday.
As players we all dream about the moment. Whether it takes the form of a layout block on the goal line, a posterizing grab in front of the home crowd, or one last deep look for all the marbles, our dreams take many forms but always has that one core thread: we save the day. Well Fennig has made a career out of living that dream, and did so twice in a row in the bracket at this year's Nationals, first in the San Diego sun to dispatch the reigning title-holders Seattle BFG then again under the floodlights of Mira Mesa High School to beat NOISE's regional rivals Drag'n Thrust for the first time in 15 postseason matchups. The former was a searing flick blade to Avery Johnson that reduced Seattle's desperate, season-on-the-line defense to mere spectators; the latter was a diamond-weighted backhand huck that allowed Dylan DeClerck to comfortably chase down. Against BFG, Fennig essentially "called Game" on the reigning champs' season3 while against Drag'n she admitted she didn't even know it was universe point. Those moments we spend our night times chasing, Fennig is out here living as easy as we lie asleep in bed.
And trust us, Fennig is out here living. In a weekend of tension and a season of frequent flyer miles, Fennig has never taken things too seriously. For one thing, she got those 461 yards on 69 touches, and there's no way you can convince me that was an accident. Whether she's crushing Claw after a nail-biting victory or wolfing Wisconsin gold after a back-breaking loss, Fennig is a constant source of the energy we all want to feel beside us on the line.
Intimidating opposite, invigorating alongside, we all know who Robyn Fennig is, and we still have no idea how to stop her, but when it's this much fun to watch, why would you want to?
– Lorcan Murray
---
In keeping with, like, all the teams she played for previously. ↩

26?! ↩

As related by Executive Editor Steve Sullivan immediately after watching it happen. ↩