Ultiworld's 2022 Club Awards are presented by Breakmark; all opinions are those of the author. They have given away almost 1000 reversibles this year and want to get to 2500 and beyond. Find out how you can help and get yours at Breakmark.com!
Ultiworld is pleased to announce our annual Club Awards, continuing with our All-Club First Team in each division. While we consider both regular season and postseason performance, because of the nature of the Club Division, we weight success in the Series and at Nationals above all else. The Club Awards are voted on by Ultiworld reporters, contributors, and editors.
Our All-Club teams recognize the top performers across the division. While previously we have closed our Awards with our First Team and Second Team, displaying the top seven and next seven players who had the best seasons, they have been moved up in the schedule. As our voting process is ordered, the top vote-getters for All-American honors function as the ordered list in our Player of the Year voting — our highest individual award.
Player of the Year Award
All-Club First Team
All-Club Second Team
Offensive Player of the Year Award
Defensive Player of the Year Award
Breakout Player of the Year Award
Coach of the Year Award
Club Awards Voting Breakdown
---
First Team All-Club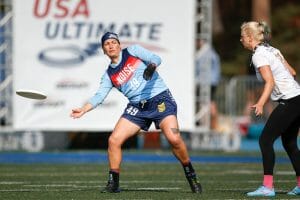 Robyn Fennig (Madison NOISE) Player of the Year
If you've ever watched a game in which NOISE is playing, you'll notice the same thing: Robyn Fennig was the rock of her team's offense this season. As the center handler, every other throw flowed through her until she eventually decided to send the disc deep into the waiting hands of her receiver. Typically, this deep look resulted in an assist. It's easy to believe that this season was one of, if not the best in her career. This is especially evident from her performance in the semifinal game at club Nationals, where she was involved in scoring half of her team's points and had (arguably) the best-looking throws of any player in the mixed division, if not some of the best throws in the whole tournament. Combine her fantastic arm with her speed and you get a force that is a real challenge to mark up against.
Not only is Fennig a wonder on the field, but she also plays a key role on NOISE's sidelines. Her voice was constantly one of the loudest and she took pride in leading the "CHONK" energy all season.1 It's this relentless energy that makes it a real treat to share sidelines with her. When she walks off the field, she does so with such swagger that only a veteran player with her amount of experience carries.2
For more on Robyn Fennig, read her Player of the Year writeup.
-Laura Osterlund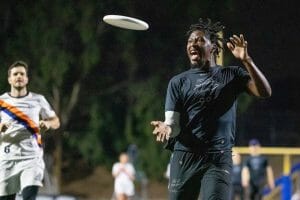 Khalif El-Salaam (Seattle Mixtape) Player of the Year First Runner-up
Khalif El-Salaam can do it all. He rarely has to, thanks to the quality of the club around him, but if you need something, he'll deliver. It is impossible to take everything away in ultimate, and El-Salaam is a master of taking whatever is available to him and beating his opponents into the ground with it. You want to force him under? He's got the throws to hit back corners. Trying out a flat mark? He'll weave you dizzy. You want to force him deep (?!?)3 get ready for the show. His versatility makes him a constant threat on the field, and someone all opponents must take into account when planning for Seattle. He led his team in goals this season while almost matching that number in assists and far surpassing it in 'hot diggity' moments.4
Coming into this tournament, Khalif was a hot favorite to take POTY, and in all fairness he has a compelling case. The one thing holding him back was the talent of his teammates. That's a good problem to have.
-Lorcan Murray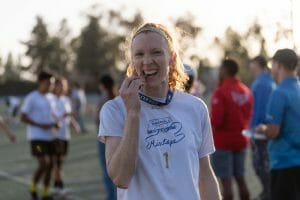 Kelly Johnson (Seattle Mixtape) Player of the Year Second Runner-up
Americans have an unusual relationship with irony, but if it's ever truly manifested in these shores, it's in the form of Kelly "Vegas" Johnson, just about the safest bet you were going to find in the Mixed division this year. She sat at the control room of Mixtape as they engineered the rare "double peak." Johnson is frequently the person to get the offense moving – she picked up 32 assists and seven goals climbing dual mountain ranges of ultimate in Cincinnati and San Diego. She clearly led the charge for Seattle in the final, throwing for over 300 yards and getting twice as many touches as anyone else on her team.
She has been essential to the success of Mixtape. On the few occasions teams have been able to produce some resistance to their attack, her ever aggressive take on dump cutting means she is always ready to restart the Seattle side. I mean, teams have thrown just about every game plan in the book at Johnson this year, switching matchups across gender-matching lines, changing structures, setting traps; the whole world has got to have a go at shutting her down. And her response?
"I'm going to run the same way."5
Well if it ain't broke.
-Lorcan Murray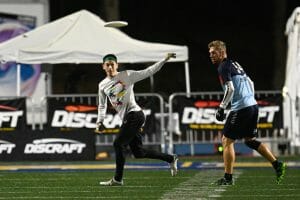 Caleb Denecour (Minneapolis Drag'n Thrust)
For the past few years, some might say that Caleb Denecour has become the Susan Lucci of the POTY podium, consigned to the honorable runner-up status. Of course, there's a reason why he is always on our All-Club team and so frequently recognized on the POTYium, which is that he never disappoints when on the field. He constantly makes big plays and is a consistent O-line cutter, and this season was really no different.
Denecour really leaned into his team name and was the true embodiment of a dragon on the field. He approached each of his games with such fire that he pushed his team to do well. Like the dragon, Denecour also practically flew on the field.6 He could jump up to reach for nearly any disc with confidence he could come down with it.
Like always, Denecour was a very versatile player throughout the season. It's still unclear whether there's anything that he can't do on the field. He ran deep, threw deep, caught almost everything in any way possible, had a full arsenal of throws,7 was a force to be reckoned with on defense, and of course was once again a master stat-keeper for his team. He truly is a rennaisance man when it comes to this sport, which is why he makes our lists time and time again.
-Laura Osterlund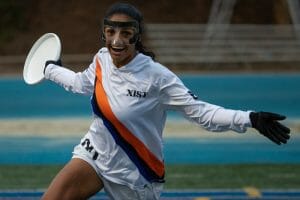 Genny DeJesus (New York XIST)
Perhaps no player made more of splash in San Diego on the national scene than Genny DeJesus, whose performance drew wild praise. New York XIST came into Nationals with a point to prove, and DeJesus was the driving force for an offense that burned its way deep into the championship bracket, singing the fingers of the eventual champions on their way out. DeJesus has climbed the furthest from our pre-Nationals top 25 club player rankings than anyone else on the list8, and she has done it by putting in the hard yards. Seriously, go watch tape of her cutting, and then show it to every player who thinks three steps counts as a fake. Her commitment is ferocious, losing defenders deep in their own territory and rewarding the trust of her handlers with open targets for big gains.
In the business end of the season these moves brought a security to New York's offense that enabled them to leave black eyes in their wake across the division. DeJesus led her team on the pitch, the stat sheet, and the sideline, fulfilling the captain's role to the maxim of each of its demands. When New York comes back next year, we'll definitely be paying more attention.
-Lorcan Murray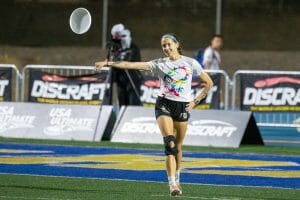 Danielle Byers (Minneapolis Drag'n Thrust)
After a spectacular showing at Pro Champs this season, Danielle Byers earned the nickname "Buckets." And honestly, it fits her well. With the absences of Drag'n's two main goal-scorers from last year,9 several players stepped up to bat, with Byers being one of them. She finished Pro Champs and Nationals with an overall statline of 28 goals and five assists, a dominant share of her team's scoring production. She got most of these goals the same way: by burning her defender deep to get wide open in the end zone. With long strides and the grace of a (former) dancer, Byers resembled a gazelle in motion when she ran.
At Nationals, Byers solidified herself as one of the leading goal scorers in the mixed division by scoring 16 goals (the second-highest amount in the tournament), while also reminding her opponents that she is one of the fastest players and biggest deep threats in the mixed division.
Byers quickly became one of Drag'n Thrust's most reliable receivers this season, with only three turnovers at Pro Champs and Nationals, and could grab some of the throws that appeared to be over-shots. Turns out, "too far" isn't even in her vocabulary. And, like every other player on this list, she didn't simply rely on cutting as her main strength this season, as she could be seen ripping a few deep looks of her own on top of leaping in the air like it was nobody's business.
-Laura Osterlund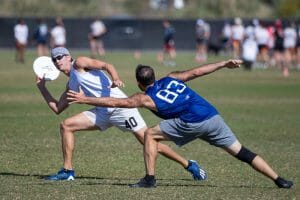 Mac Taylor (San Francisco Polar Bears)
Did you know in the Napa Valley they say "wine ages like a fine Mac Taylor"? (They don't, but they should.) With 19 goals and 50 assists, it's easy to see why, Taylor had himself quite a season, earning his third First Team All-Club selection, eight years on from the first one he picked up with in our inaugural awards in 2015, and those accolades don't even touch on the incredible achievements he had in the former half of the decade.
He's still getting it done clearly. His arsenal of monster shots are well documented, as he has spent another season lighting up defenses for San Francisco. Taylor has been the bae of the Bay for over a decade: he helped change the game in the early 2010s, and he's still changing games in 2022. His lethality has morphed over the years, but it remains plenty potent, whether he is anchoring the Polar Bears offense in the backfield, unwinding zones, or tearing down high discs. I'd say we should enjoy it while we still can, but at this rate it seems like we've got plenty of time.
-Lorcan Murray
---