The most vital defenders of the club division.
Ultiworld's 2022 Club Awards are presented by Breakmark; all opinions are those of the author. They have given away almost 1000 reversibles this year and want to get to 2500 and beyond. Find out how you can help and get yours at Breakmark.com!
Ultiworld is pleased to announce our annual Club Awards. While we consider both regular season and postseason performance, because of the nature of the Club Division, we weight success in the Series and at Nationals above all else. The Club Awards are voted on by Ultiworld reporters, contributors, and editors.
Our awards continue with the Defensive Player of the Year, recognizing the individual, and two runners-up, who we felt were the top defensive performers this spring. Whether through generating blocks, shutting down options, helping out teammates, or all of the above, these defenders stood out doing the tough work that too often go unrecognized.
Player of the Year Award
All-Club First Team
All-Club Second Team
Offensive Player of the Year Award
Defensive Player of the Year Award
Breakout Player of the Year Award
Coach of the Year Award
Club Awards Voting Breakdown
---
2022 Defensive Player of the Year
Nathan Champoux (Ann Arbor Hybrid)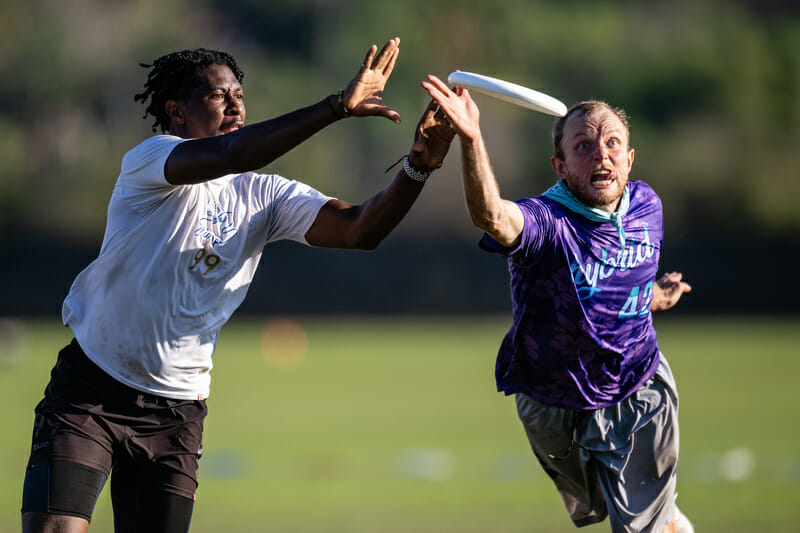 We closed the write up of Nathan "Skunk" Champoux's DPOTY runner-up in 2021 wondering if he was more likely to ascend to the top of the DPOTY podium or land on the POTY podium. After earning an invite to the Team USA World Games tryouts this year, he was able to earn the Defensive Player of the Year outright in 2022. Champoux was doing his part, logging 11 tracked blocks at Nationals, which may have led the division if not for his teammate, Axel Agami who is credited with 12.
Champoux was responsible for pacing an athletic and potent Hybrid defense that impressed all season, taking tough matchups and helping coordinate switches and other schemes as Hybrid sought to make life difficult for opposing offenses. Skunk was able to continue his growth and had a strong offensive showing with six goals and 14 assists at nationals as he helped quarterback the D-line offense and crossed over to offense in some spots as well. He also improved his pulling and was one of the primary pullers for Hybrid, a small advantage that can add up when players get as much usage as he does.
The future remains bright for Champoux as one of the division's top defenders and – it bears repeating – one of the absolutely nicest and most genuine people in ultimate. He cares deeply about earning the respect of his competitors through his actions on and off the field, and he's the kind of teammate that will fit into any team seamlessly and make everybody happier when he's around. He'll be a favorite to land on the DPOTY podium again this time next year. That is, unless he and his teammates fare better at Nationals in 2023, in which case he's a prime candidate to land on the POTY podium as he continues his rise to the top of the division.
-Ben Murphy
First Runner-Up
Zellema Mot (Vancouver Red Flag)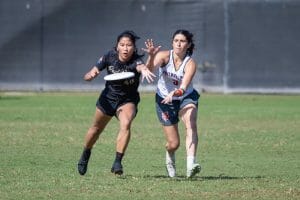 Zellema Mot is the epitome of the ferocity of youth. She has built a reputation for tight, imposing defense with highlight blocks aplenty across the division and the world this season. She is the tip of the spear for one of the most athletically intimidating D-lines in mixed ultimate, leading from the front, selecting the assignments for her teammates and saving the biggest targets for herself. Her confidence levels up her game as she rises to the challenge of elite opposition.
At a base level, Vancouver Red Flag like to back their marks and force cutters under on defense, something that has led to many a surging layout block for Mot. Open lanes become treacherous passageways, turnovers lurking down every potential corridor that shows the thrower the illusion for available yardage. Her speed and awareness are sharp enough to slice open any offense, something we imagine she'll be doing for a long time to come.1
-Lorcan Murray
Second Runner-Up
Bryan Vohnoutka (Minneapolis Drag'n Thrust)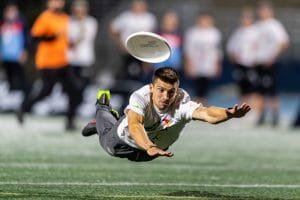 Much like a superhero, Bryan "BVon" Vohnoutka likes to save the day with his defense, especially when his teammates are in dire trouble and need it the most. The foremost example would be his performance in Drag'n Thrust's miraculous instant-classic comeback win the Pro Championships final.
This season, Drag'n Thrust has not had the cleanest games, allowing them many opportunities to earn the disc back. Many times, it was Vohnoutka that gave Drag'n another chance. He did so with such flair that most of his blocks are somewhere in the air, further bolstering the (appropriate) Drag'n claim to aerial superiority in the division. As a result, he landed himself on several highlight reels this season and helped carry his team to victory on more than one occasion. And even when DnT couldn't pull out a win, Vohnoutka's gritty play assured their defense would also go down fighting.
-Laura Osterlund
---
And her swagger is only going to get worse if we don't find a way to stop her. ↩