Plus news from USA Ultimate staffing and college preseason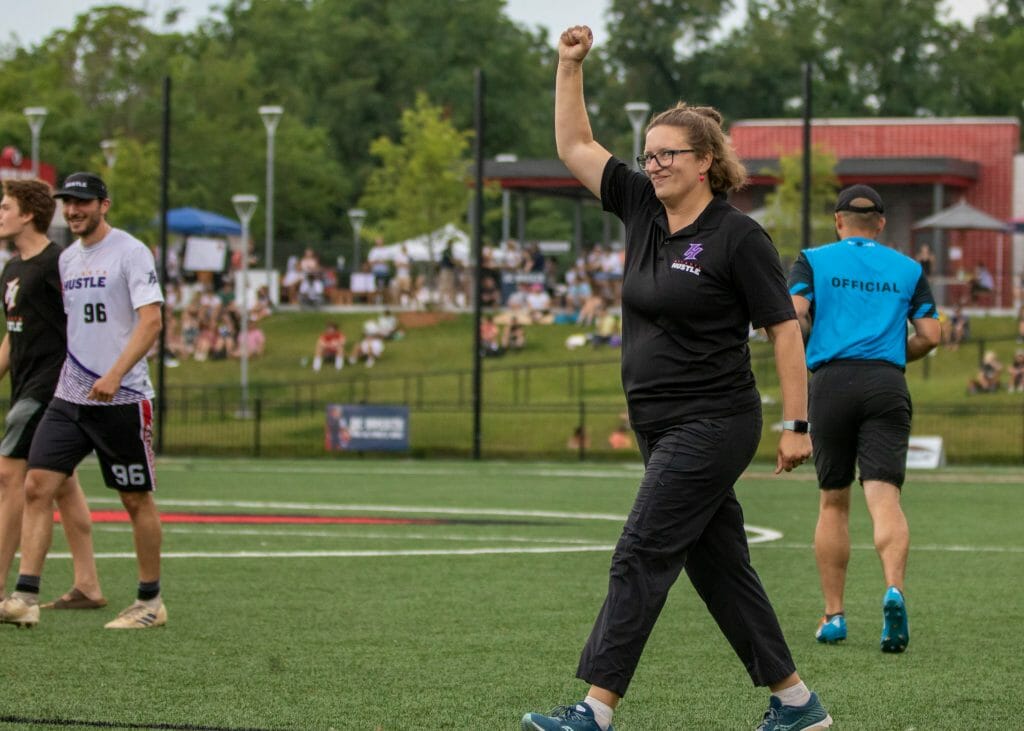 Opening Pull is Ultiworld's weekly wrap-up of the previous week in ultimate, available both here on the site and as an email newsletter. We've gathered the news you need to know and highlights you need to see. Check back weekly or subscribe now to receive Opening Pull in your inbox along with a rundown of the previous week's content on Ultiworld.
Hall of Fame Class of 2022 Announced
Fifteen new Hall of Fame inductees were announced today, five in the women's and men's divisions, as well as the starting class of the mixed division.
The Ultimate Hall of Fame is thrilled to announce the 2022 Class of inductees.
Congratulations to the new members of the Hall!https://t.co/IZSvz9Jg4A

— Ultimate_HallofFame (@UHalloffame) November 7, 2022
Congratulations to Cara Crouch, Anja Haman, Miranda Roth Knowles, Alex Snyder, and Alicia White; Mike Caldwell, Sam Chatterton-Kirchmeier, Mike Namkung, Alex Nord, and Bart Watson; Emily Smith-Wilson, Scotty Conway, and Mixed Contributor, Joey Gray. Contributor Joe Seidler and Special Merit inductions The MOB and Downtown Brown round out the 19th class. The 2022 Class will be officially inducted into the Ultimate Hall of Fame during a ceremony at the 2023 National Championships.
Fennig, McDonnell, and Cardenas Named Ultiworld Club Players of the Year
We announced the winners of our annual Club Player of the Year awards in all three USA Ultimate club divisions, recognizing the players who had the most outstanding impact on the club season.
Robyn Fennig was named the Player of the Year in the mixed division, making her the first player to win POTY in two club divisions. She led Madison NOISE to an appearance in the championship game with her powerful play.
Washington DC Truck Stop had a remarkable season and were the top club up until its final moments. Rowan McDonnell was a major part of their spectacular offensive attack and was on full display at Nationals.
Valeria Cardenas won a World Ultimate Club Championship title with Revolution, a club national championship with Denver Molly Brown, and now can add Player of the Year to the list of 2022 accolades. She brought tremendous backfield play to Denver's title run.
Our All-Club teams were kicked off by the POTY announcements, recognizing the season's top 14 contributors in each division.
College & Youth Tournament Round-Up
Fall Easterns (Men's)
Reigning D-I college men's champions North Carolina Darkside began their title defense with an undefeated showing at Fall Easterns, taking down NC State in the final on universe point.
James Madison University, meanwhile, made some noise in pool play with close upsets over Brigham Young and UNC Charlotte before falling to Penn State in the quarterfinal.
Steel City Showdown (Men's)
Pittsburgh En Sabah Nur took on all comers at Steel City Showdown this past weekend, notching wins over Case Western, Georgetown, Cornell, and Lehigh. CWRU gave Pittsburgh their toughest match of the tournament in the very first round and went undefeated after the initial loss, though it took a universe point win against Lehigh.
Blue Ridge Finale (Women's)
North Carolina Pleiades continued their flawless run1 at Blue Ridge Finale and it was never close. The champs went undefeated, beating Virginia Hydra 13-4 in the final and only allowing 15 points across seven games. Pleiades' second-to-last loss to another college team was at Blue Ridge Finale in 2019, when they lost on universe point to Virginia.
Pittsburgh Danger, another 2022 Nationals qualifier, also fell to the UNC buzzsaw 13-4 in the semifinal. Pittsburgh and Virginia played their own close game in pool play as the pool 1 and 2 seeds, respectively, with Virginia pulling off the upset 9-7.
DiscNW League Championship (Boy's)
Eastside Prep took down Nathan Hale in dominant fashion on Saturday to become the 2022 DiscNW Boy's League Champions. Eastside Prep's 15-6 victory avenged their loss to the same Nathan Hale team in the High School National Invite semifinal earlier this year. The game was streamed and can be rewatched on YouTube.
New Hires at USA Ultimate
USA Ultimate announced the addition of four new staff members to their headquarters team.
We'd like to officially welcome Emily, Marc, Gervon and Bryan to the USA Ultimate team! Emily and Marc joined us this summer while Gervon and Bryan have joined us in the past few months. https://t.co/NxD9VQFbRy#USAUltimate | #USAU pic.twitter.com/6OdeqLuxls

— USA Ultimate (@USAUltimate) November 4, 2022
Marc Zigterman began his tenure over the summer as the organization's new manager of athlete and national team programs in the club division. With a wealth of experience in a variety of roles – player, captain, TD, sectional coordinator, and member of several local boards – Zigterman will work to expand all club programs in addition to retaining youth and college members.
Gervon Williams joins USAU as manager for Equity, Diversity, and Inclusion & youth engagement. He brings over 10 years of experience in the sports and nonprofit industries to the role that will serve him in developing new local outreach initiatives and growing the number of girls and BIPOC youth participants.
As sanctioning coordinator, former Macalester College Purse Snatcher Emily Woolridge will head the organization's sanctioning program. Bryan Geenen, meanwhile, will spearhead USA Ultimate's social media and public relations as the manager of communications.
Highlight of the Week
Rutgers hosted an alumni scrimmage on Sunday to commemorate the 50th Anniversary of the first-ever intercollegiate ultimate game, which took place on November 6, 1972 between Rutgers and Princeton. Larry Anouna opened up the festivities with bookends, proving ultimate is truly for all ages.
Last Week on Ultiworld
USAU Club National Championships
2022 Club Awards
Podcasts
Looking Ahead
Our 2022 Club Awards have begun! With Player of the Year and All-Club teams announced last week, be on the lookout for all the rest, including OPOTY and DPOTY.
---
They haven't lost to a college team since Queen City Tune Up 2020 to Carleton College, 1,005 days ago ↩