Pittsburgh En Sabah Nur and Georgia Athena come out on top in one of the last college fall tournaments.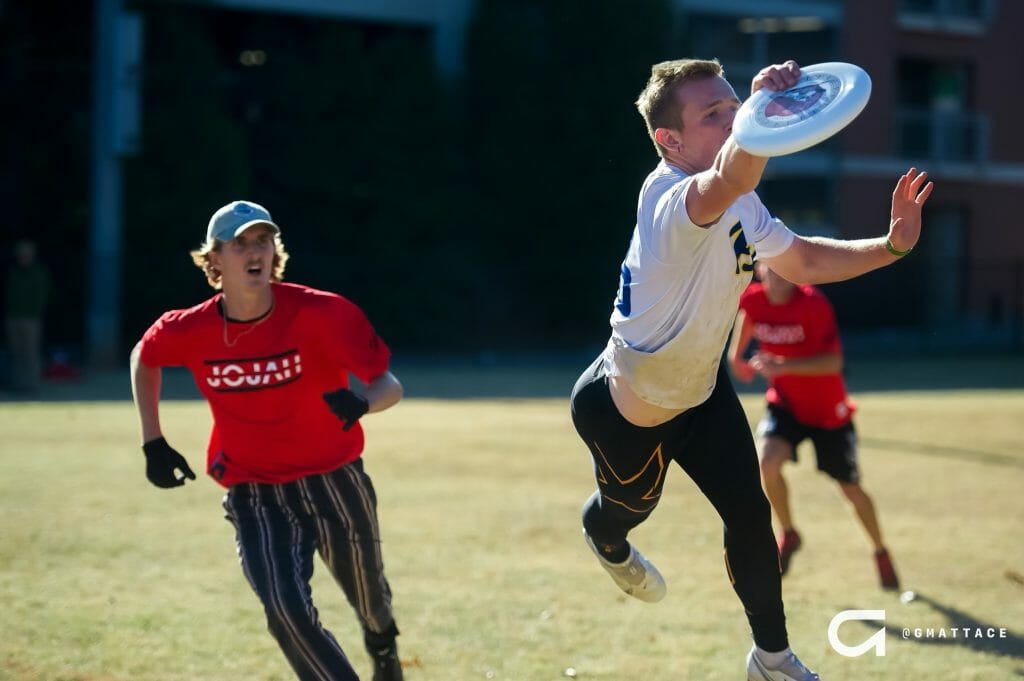 Athens, GA – Some of the best teams on the east coast took the field for one last fall tune-up at Classic City Classic in the men's division, offering us a glimpse of what to expect – and what not to expect – in the spring. No team escaped the weekend without a loss, but lots of individual players showed they were ready to step fully into the limelight.
The women's side offered a clear view into the Southeast region's 2023 crystal ball, but little information about the national picture.
Men's Division
Pittsburgh Announce Title Ambitions
2022 national semifinalists Pittsburgh En Sabah Nur look like a good bet to match or exceed that finish in 2023 after a formidable fall showing at Classic City Classic. They defeated Georgia Jojah 14-11 in the tournament final, with their only loss on the weekend coming in a crossover game against UNC Darkside for bracket positioning.
The team's strengths were threefold: star power, depth, and O-line defense. Let's get the star power discussion out of the way first: 2022 All-American Henry Ing was the best player at the tournament by a wide margin. He is so good in the air that it is a legitimate system play in the red zone for En Sabah Nur to put a throw up high near him, which they did several times throughout the weekend. He also had the strongest, most consistent forehand hucks of the tournament and was perhaps the tournament's best dump defender. Joining him at that uber-elite level, though, was defense-first senior Tristan Yarter. Yarter's pulls at CCC would have ranked near the head of the class if it were a high-level club tournament. He applied rigorous pressure and did everything necessary to punch in breaks once Pitt forced turnovers.
More encouraging than the incredible peak of their top end, however, is the depth of it. "Everyone was getting a lot of play time," said Marcel Oliart. "We trust them all to learn as they go. We always say that if you come into a tournament you have to be better by the end of the tournament if you want to win. You have to improve game to game, half to half, point to point… and the team wins."
Considering how many key players they lost after 20221, it comes as a bit of a surprise how quickly they were able to get great performances out of players new to their roles. Upperclassmen Aiden Landis (with some lovely throwing) and Scott Heyman (churning into the weak points on the field quicker than defenders could tighten up) drove a lot of the forward progress alongside Ing. Meanwhile, sophomores Peter Kotz and Nicky Troilo have developed into reliable – and occasionally explosive – assets. Oliart has leveled up his athleticism on both sides of the disc. Perhaps the most crucial piece (outside of Ing and Yarter) is Kevin Tsui, returning to the team after being sidelined with injury for all of last season.
Tsui was one of the most impressive two-way contributors for an O-line that, even when they hit some rough patches in execution, abhors giving up a break. They played tremendous defense after turnovers in the semifinal and final, possibly the strongest sign that they are more than ready to compete in the spring. Alongside Tsui, Ing, and (when he crossed over) Yarter in that regard was Dillon Garrett, whose outstanding huck defense is a sign of major growth.
"I'm so proud of Dillon Garrett. He's been on O-line for a while, and he's been a phenomenal offensive player. But he's had the reputation of not being the best defender… but my god he stepped up big this weekend," said Oliart. It was Garrett who, when Ing dropped a simple pass on universe point against Vermont Chill in the semifinal, made the defensive play that saved the game and allowed them to move on to the final.
Vermont: A Big Step Forward
Speaking of Vermont, they were spectacular. If the way they played in Athens carries over to the spring, the team's ceiling could be sky-high.
"Sky" being the operative word. Chill are an athletic team across the board: Chase Drinkwater, Turner Allen, Eli Standard, and Kuochuan Ponzio had multiple highlight reel moments. Nobody made more huge plays, though, than sophomore Zack Watson-Stevens. He has industrial-strength springs that propel him well above or beyond what would seem possible for even the bounciest players. The plays he made in the second half of the semifinal against Pittsburgh included a layout upline block at Yarter's shoulder, a nifty sky of Heyman, and the filthiest catch of the tournament by any player, leaping and reaching past Kotz's shoulder from way out of position to force universe point. Keep an eye on this guy.
But even outside of the spectacle, Vermont appear to have all the qualities of an elite-level team. They boast a clear offensive structure, consistent teamwide fundamentals, and a slew of intelligent defenders – shout-out on that front to Ryan Bliss and Ben Payson, reprising their roles from last year as the defensive front line, as well as to quick-footed sophomore Parker Lin-Butler.
Perhaps most importantly, the intangibles are in place. Chill shrugged off an 0-3 deficit against Tennessee like a brief bout of gas; they downed Texas TUFF, Brown Brownian Motion, and Ohio State Leadbelly by several breaks each. Facing a multi-break deficit to start the second half against Pitt, they immediately scored three consecutive points to put the game back on serve. And they absolutely destroyed finalist Georgia in a Sunday morning crossover, 15-3. Yes, a lot of that was the product of some serious Jojah execution problems (see: next section), but great teams are merciless when given opportunities, and Vermont were merciless.
"First CCC ever. We've actually never really come to a tournament of this strength in the fall. And I think it's really just about setting the tone for who we are as a team and what we want to achieve this season," said Allen. "I'm definitely a little bit disappointed. I feel like we could have made the final and won this whole thing. But the only loss on the whole weekend, the only close game was a uni point that ended on serve? I am so excited for this team and the potential this team has."
A-plus weekend for a team on the rise.
Highs and Lows for UNC, Georgia, Brown
All three of the most recent national finalists were in attendance, and all of them showed clear but inconsistent strength.
Hosts Jojah seemed to have some issues with focus in the early rounds of each day. Their Saturday opener against Virginia was not pretty for much of the game, although they rebounded to win comfortably. Sunday's crossover against Vermont was atrocious: the whole team were unable to adjust to the cold weather and dropped, by one player's estimation, 25-30 passes en route to a brutal 15-3 defeat. But once they rounded into form each day, they were mostly exceptional.
"Both days I feel like we picked it up, each and every game, each and every point," said senior Cole Chanler.
Aidan Downey was the clear star. His quickness to attack the disc was remarkable, and his already-proven arsenal of creative throws seems to have expanded to include more no looks, longer hucks, and more precisely shaped throws to cutters under pressure. He took over for Georgia's first win over Brown to close out pool play, and he caught the game-winning goal to beat Brown in the semifinal. But Downey was far from Georgia's only impressive player. Jack Krugler and Ryan Flick have both settled into major throwing roles for the offense; they are a little inconsistent right now as they get their feet wet, but both have undeniable talent. Senior Isaac Huntington runs cold occasionally, but when he's on it's tough to find an answer for him. A pair of Coles, Chanler and Krucke, anchored the defense. When they get Adam Miller back from injury next semester, they should improve team steadiness to more consistently hit their considerable ceiling.
North Carolina likewise battled consistency in execution as they rotated players through various potential spring roles. At their best, they had the smoothest offense of the tournament. Rutledge Smith acts like a crowbar to open up the field: a backhand mark just doesn't do anything at all against him. With Ben Dameron and Josh Singleton typically available, they chew up yards in a hurry. John McDonnell flashed some enormous pulls on the D-line. NC State grad transfer Dylan Hawkins was – with the exception of a couple of drops late in a losing quarterfinal effort against Brown – very good. Eli Fried started to look like a strong initiating cutter (and was his typical excellent defensive self in the event of a turnover). However the position chart shakes out for the spring, count on seeing Luke Duan as a fixture on the O-line. He was instrumental in the red zone and will be key to the team's success in the spring. What's abundantly clear is that the two-time champs are in good hands all around. If there is going to be a drop-off at some point from their brilliant run over the last several seasons, it won't happen in 2023.
B-Mo are another question. On the one hand, their three losses (twice to Georgia and in the third-place game against Vermont) do not inspire a great deal of confidence. Their throws were erratic throughout the weekend and the defense is clearly not yet at the level we saw last spring. Those weren't the key factors for Brown, though, and it isn't how their weekend should be judged. They wanted high-level competition reps for their players above all else, and they got them. "It was great making quarters because that guaranteed three quality good games on Sunday, and that's what we came here to do," said Jacques Nissen.
In particular, they were intent on stretching their deep game and using the whole roster to do it. This resulted in quite a few bad huck turnovers, especially when Nissen and Leo Gordon were not on either end of the play. But it also forced opportunities for players to consider expanding their limitations – and sometimes to succeed. Freshman Jason Tapper, who caught the game-winner in their quarters victory over North Carolina, is already emerging as an important deep threat. Cal Nightingale unleashed a handful of impressive bombs. Noah Ball-Burack and Oscar Low are among those from the 2022 B-Mo side who are showing signs of taking steps forward offensively. Elliott Rosenberg and Will Steinfeld did an excellent job on the defensive side, and Nissen has made marked improvements in that department as well. All in all, it was tough to get a true spring reading as they played a different kind of long-focused developmental game than most of the other teams at the tournament.
Quick Hits
NC State Alpha appear to have the talent to remain a strong national presence in 2023. Sean Wiles was very, very good playing both ways. Seniors Cooper Williams and Zac Kuelz had strong tournaments, and a pair of freshmen – Henry Kennedy and Henri Lassard – seem poised to have immediate impact.
It was an odd weekend for Texas TUFF. They looked simultaneously overmatched and promising. At their best, they had the defensive chops to put up breaks against any team in the tournament, especially once John Clyde had the disc in his hands. But they failed to establish much rhythm on offense in spite of mostly solid performances from Gavin Babbitt and Saaketh Palchuru. It isn't at all clear what to make of them.
Ohio State Leadbelly, Georgia Tech A Tribe Called Tech, Virginia Night Train, South Carolina Gamecock Ultimate, and Alabama Yellowhammer all showed enough spark to be regional threats. Expect them to hang around the fringes of the bid picture and top-25 throughout the spring, and don't be too surprised if any of them score a big upset in the post-season.
All-Tournament Line
Aidan Downey (Georgia)
Henry Ing (Pittsburgh)
John Clyde (Texas)
Leo Gordon (Brown)
Luke Duan (UNC)
Tristan Yarter (Pittsburgh)
Zack Watson-Stevens (Vermont)
Freshmen to Watch
Adam Grossberg (Georgia Tech)
Casey Thornton (Vermont)
Jason Tapper (Brown)
Henri Lassard (NC State)
Henry Kennedy (NC State)
Matt Callen (Virginia)
Owen Smith (Texas)
Women's
Athena: The Southeast's Team to Beat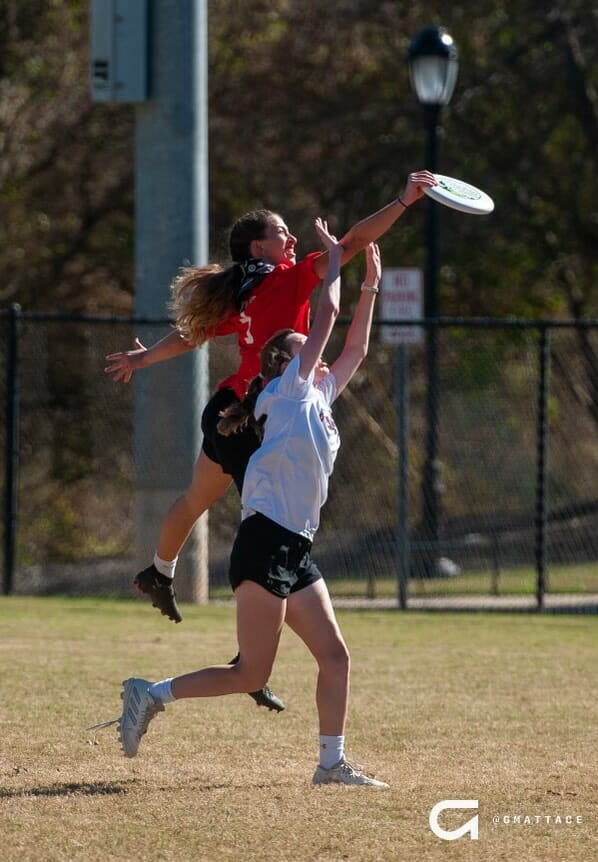 Those who were expecting a step back for Georgia Athena with the graduation of a few high-profile players were rudely dispossessed of that take with a dominant Athena victory. They ran the table and looked good doing it. As if to put the finest possible point on it, they defeated regional foes Florida State Seminole Ladies 11-3 in a rematch from pool play.
The top-line players were junior Fiona Cashin and freshman Quincy Booth. Cashin has been showing the potential for explosive play for the better part of twelve months now across various arenas: for Georgia, with the PUL's Atlanta Soul, and most recently as one of the rookies on Atlanta Ozone. This weekend, though, is the first time all of that promise seemed to come together for a full tournament of exclamation-point plays. More than any other player at CCC, she showed herself capable of a huge skying leap or a massive layout bid; it was an avalanche of highlights. Booth was, if anything, even more impressive as she stepped easily into the high-touch role. There was not a defender present who could do anything about her in the reset space, and she was as serene as a pond on a windless day pushing short passes up the field. The transition to the college game does not seem to have fazed her in the slightest. Mixing in some stellar hucks and a few good defensive plays, she has clear potential to be a driving force for the team both in the spring and in the years to come.
But the story of Georgia's dominance had more to do with their surprising depth. Paige Robinson, Elle Mayer, Mia Bongcaron, Eva Ross, and Alysa Miles have all taken a major leap forward, if this weekend was any indication. Miles in particular looked like the fastest player at the tournament. If the roster continues to improve at this pace, they could be on track not only to make Nationals, but to make waves there.
Quick Hits
Despite their lop-sided loss in the final to Georgia, Florida State are clearly going to be a force in the region. Handlers don't get much more hard nosed than Cam Curvey, and she has a pair of ace receivers to distribute to in Ashlyn O'Connor and Hannah Grimes. They brought a short roster and were notably exhausted by the end of the weekend: a full squad almost certainly tightens up their margins against Georgia.
Emory Luna are in good shape this season and beyond. They hung with Florida State for a half in the semifinal, but a couple of breaks put them in a hole they didn't have time to dig out of before the cap horn. Soju Hokari is on the cusp of being one of the best college players in the country. Gena Lee and Asuka Li also played very well for them.
All-Tournament Line
Ashlyn O'Connor (Florida State)
Cam Curvey (Florida State)
Efiotu Jagun (Georgia Tech)
Fiona Cashin (Georgia)
Paige Robinson (Georgia)
Quincy Booth (Georgia)
Soju Hokari (Emory)
---
Myles Cooper, Will Hoffenkamp, Will Helenski, and Dan Nichols have all moved on. ↩