The Atlantic Coast gets rolling with two top 10 teams in attendance.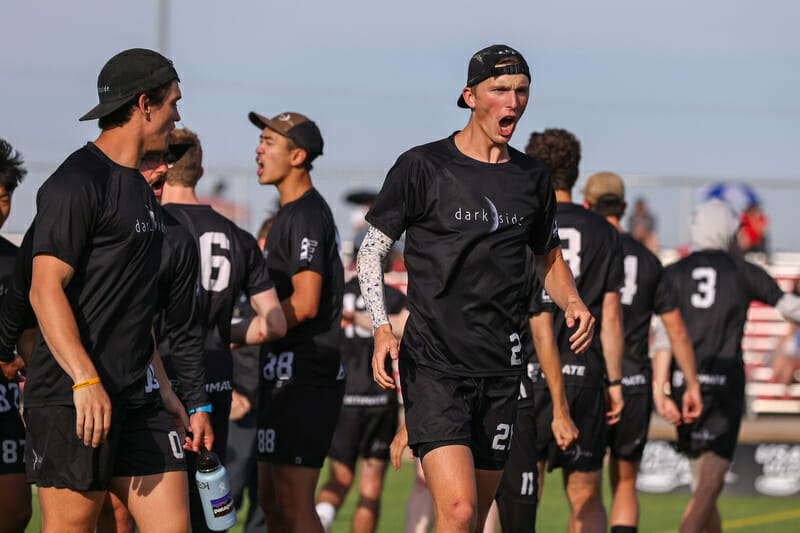 Ultiworld's coverage of the 2023 college ultimate season are presented by Spin Ultimate; all opinions are those of the author(s). Find out how Spin can get you, and your team, looking your best this season.
After UNC romped at last weekend's women's Carolina Kickoff, the men's division takes the spotlight for an early season high-level warm-up. Saturday will give us our first real look at the 2023 iteration reigning champs, as well as some of the other top Atlantic Coast contenders. There's even a little treat for the D-III fanatics out there, with a couple of the top programs trekking to the Triangle.
Tournament Profile
Date: January 27-29
Location: Chapel Hill, NC
Weather: Highs around 55, light wind
Top 25 teams: 4 (2 D-1, 2 D-III1 +)
Filming Schedule
These games will be available online next week for Ultiworld Full and Plus subscribers. They are being filmed, not livestreamed.
NC State vs. UNC Charlotte
Richmond vs. Carleton CHOP
Georgetown vs App State
Duke vs Georgetown
Two Quarterfinals
Semifinal
Final
College Team Packs are on sale now! Get video access and subscriptions for your entire team and coaching staff (including all of our 2021 college fall footage) along with a guaranteed filmed game, download access for highlight/Callahan/Donovan reels, and more. Save 10% if you buy a Team Pack by January 31st!
First Look at the Champs
You might have heard… #1 North Carolina Darkside is really good. They romped through Nationals in 2021, they romped through Nationals in 2022, and they have the kind of roster that can romp through Nationals in 2023. Or – we think they do. This weekend is the first chance we'll really get to see the pudding that proves it. Yes, Darkside played in the fall, but their approach (as has become typical for them) was much more about building team systems and widening individual skillsets than locking down roles. It's unquestionably a sharp approach in the long run, but it led to some unusual results: for instance, a quarterfinal CCC exit.
With the opening of the spring season, though, it is now best-foot-forward time, and we should expect to see a version of UNC that much more nearly matches their final form. How will the team deploy the rangy duo of Rutledge Smith and Dylan Hawkins? Will offensive stars Josh Singleton and John McDonnell play significant minutes for the D-line the way they did in the fall? How will they balance usage among so many top level handlers like Andrew Li, Kevin Pignone, and (a returning) Matthew McKnight? Who's got more big play potential in 2023: Eli Fried or Ben Dameron? As we wait for the answers to those questions, the one thing that we can be certain of is that, as the division's pacesetters, UNC has everyone's attention.
Tiering NC State
Let's get one thing out of the way right up front: I don't know what to make of #9 NC State Alpha, and neither do you. That's how things stand now, anyway. By the time Sunday afternoon rolls around, though, we will have a real idea whether they are a legitimate threat to challenge UNC in the region, if they are merely a strong Nationals team, or if the loss of two of the team's best players from 20222 has hobbled them in the short term.
For my money,3 the floor isn't much to worry about. Alpha have been increasing their talent base and baking in systematic institutional knowledge for more than a full generation of players now. At their absolute worst they'll still have a couple of two-way difference makers in Suhas Madiraju and Sean Wiles alongside more than a line's worth of Nationals-level support. That's if everything goes wrong. The better chance is that a few of the players who have been flashing signs of dominance over the last 12 months (Cooper Williams, Zac Kuelz, Daniel Ferriter, Hiatt von Alten) kick it into high gear on a more permanent basis. And with a pair of freshmen in Henri Lessard and Henry Kennedy ready to make an immediate impact, they could play Darkside as tightly as they did in the final of Fall Easterns – a one point UNC victory. It should be an informative weekend for a fascinating wild card of a team.
Sleeper Stars in the AC
Everyone knows (but it's easy to forget) that not all of the country's best college players compete for bracket-level Nationals teams. Case in point? The Atlantic Coast region, former stomping ground of guys like Chris Kocher, Tyler Monroe, and Jacob Fairfax – none of whom ever so much as sniffed a trip to the Big Show. In 2023, the AC is going to have even more of that kind of out-of-the-spotlight excellence on tap.
The names to know are Duke Brimstone's Albert Yuan and UNC Charlotte Skyrise's Ben Simmons. This isn't to dismiss the fact that both teams have a solid base of skill, but those two have the kind of outsized impact on the field that can drive a defense crazy. Yuan, who just made the cut for the US U24 team with an excellent tryout in November, uses phenomenal quickness to stay on the attack at all times. It seems like he always gets to the disc first – high, low, wide, wherever – and releases it before the defense is ready for his next move. Simmons, in addition to being one of the region's better athletes, slices through the field along unorthodox lines with his throws. He has built fantastic chemistry with his teammates during his Skyrise career. If there's an upset over the top seeds in the making this weekend, look for those two to be leading the charge.
Early Season D-III Action
Who said D-I gets to have all the fun? Buried in the back half of the seeding is what might be the most consequential matchup of the whole tournament: it just happens to be between a pair of D-III outfits. Power Rankings mainstays Richmond Spidermonkeys and Carleton CHOP (traveling a long way from their Minnesota home) look to get their programs back on track after missing out on Nationals in 2022. Their first major intradivisional test will be against one another. Neither team return many major contributors from their 2021 Nationals bracket runs, so Carolina Kickoff ought to be a chance for the new generation to measure themselves against the standards of their forebears – and it could be a preview of what we will see in May.
---
We don't have officially have 2023 rankings yet, but both programs have a steady history of being in the top 25. ↩

Trevor Lynch and Dylan Hawkins ↩

I don't bet ↩