Your guide to the biggest players, teams, and stories of the 2023 D-III college season!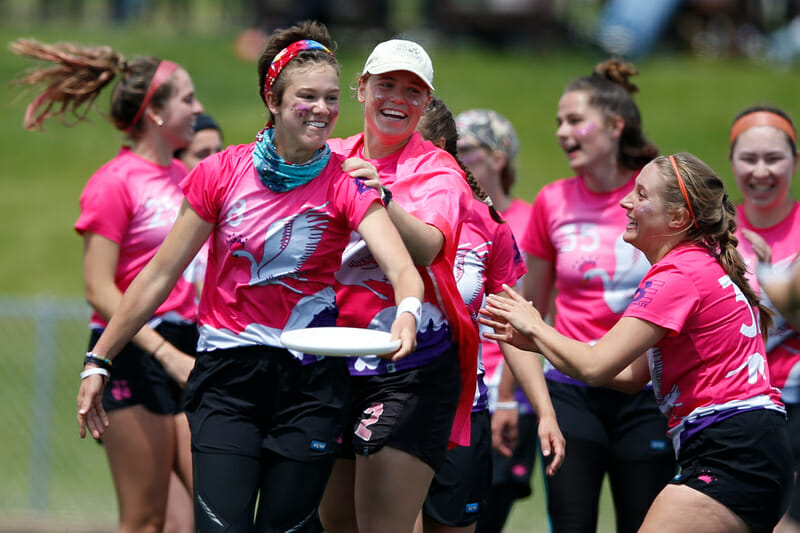 Ultiworld's coverage of the 2023 college ultimate season are presented by Spin Ultimate; all opinions are those of the author(s). Find out how Spin can get you, and your team, looking your best this season.
For the first time since 2019, we are poised to have a full college season with normal rankings, a normal bid process, and a normal Series. Well, as normal as college ultimate can be, anyway.
College season is back, and it brings with it all the things that make these next few months so fun. Whether it's title chases, regional rivalries, new stars, unbelievable rookies, or unexpected storylines, each year we find college ultimate delivers entertainment and plenty to talk about. We've gathered up the stories and names you need to know before the college season kicks off.
Major Storylines
Middlebury Going for 3-peat
Since 2019, the Middlebury Pranksters have only lost one game. For the last two seasons, they have shown no mercy to every team they've faced. With the roster depth they had the last few seasons, it's safe to say their many returners can continue their hot streak and keep the team squarely in title contention — especially since one of those returners is two-time POTY Claire Babbott-Bryan. The last two seasons, CBB has been the driving force of Middlebury's O-line as a jack of all trades on the fields, where it's seemed that no one could match her level. In her senior year, it'll be fun to see her power magnified as she enters the season as the favorite to win her third straight POTY award.
What's made the Pranksters even more impressive as a whole is that they rarely crossed over their O-line stars to defensive points but still piled up the breaks. Their depth has been that good. With their top-to-bottom skill, Middlebury is on track to achieve a feat that has never happened in the history of D-III and hasn't happened in college ultimate as a whole since the Stanford women did it in 2005-2007, the fabled Nationals three-peat.
There's a reason why no other team has won three championships in a row: besides the obvious and inevitable roster turnover that happens to teams every year, being in the top spot for two years in a row is bound to put a target on any team's back. You can guarantee that any team they face will want a shot at beating the reigning two-time national champions — and opposing coaches will spend plenty of time scouting out Middlebury's weaknesses. Certainly, there are plenty of teams who can give the Pranksters a run for their money, like Wellesley and Carleton Eclipse.
Will any team be able to take down Middlebury? Or will they overcome the pressure and become the first team to put the three in Division III? Only time will tell.
– Laura Osterlund
Looking Forward to a Return to a "Normal" Season
The past two years have undeniably been a reset for college ultimate, especially in the world of D-III. With team roster continuity already threatened by graduating seniors, study abroad, and the risk of injury forever looming, scrappy D-III teams have to overcome a significant amount of adversity to just get to Regionals. Players whose developmental years were lost to COVID shutdowns are now in leadership positions: what does this mean for a return to a "normal" season and how will the teams line up?
For the 2021-2022 season, two national tournaments meant two competitive seasons: fall and spring. For this year, teams can capitalize on the fall season to develop chemistry, bring rookies' skills up to speed, and learn new defensive sets. Depending on team philosophy, playing time will differ, and tournament results will vary — making preliminary power rankings uncertain. Looking to the new year, teams will face blustery spring weather as the competitive season ramps up.
That's the beauty of D-III ultimate, isn't it? The lack of perfection in the game keeps spectators on their toes and reporters itching for storylines. A switch in the wind or a sudden game-changing play by a rookie who just learned how to bid could mean the difference between a championship or missing out on a bid to nationals entirely. It will be exciting to see how the season shapes up and what new players make their impact.
– Fiona Nugent
New England: Perennial Region to Watch
Once again, New England is looking to be the most talented and volatile region this season. According to our post-season power rankings from June 2022, New England houses 5 of the top 10 teams in the division (#1 Middlebury, #2 Wellesley, #6 Mount Holyoke, #7 Williams, #10 Brandeis), with two more teams knocking at the door (#11 Amherst, #24 Colby). It's highly likely with the return of the bid algorithm that New England will scoop up the maximum three strength bids, but the question still remains: which four teams will make it to Columbus?
A very safe bet would be Middlebury, the favorites to take home the trophy. The two-time defending champions, led by Babbott-Bryan, are looking to cement two sets of three-peats in her senior year. A CBB three-peat may occur on the POTY podium, in the championship game, or both – no matter what happens, greatness is sure to follow CBB this season. This is without even mentioning 2022 All-American First Team member Keziah Wilde, 2022 DPOTY first runner-up Madelyn Lander, and 2021 DPOTY Kamryn You Mak all returning to the Pranksters roster. Anything less than a finals berth would be shocking for a group of this caliber.
Nipping at Middlebury's heels are four teams hungry for the remaining bids. Wellesley Whiptails, even after graduating Donovan winner and POTY second runner-up Josie "Butter" Ku, have a solid roster led by 2022 COTY Marshall Goff with 2022 All-American First Team member Tess "Roo" Dolan and ROTY Bella Steedly looking to return to the championship game. A shaky finish for a short-staffed Wellesley squad at perennial New England fall tournament Lobster Pot may look disheartening, but the Whiptails are primed to get back to the form they found in Milwaukee by Regionals. Williams Nova, after a tragic COVID outbreak left them out of contention for a spot at Nationals last season, are looking to storm back onto the scene. With most of their leaders playing in the offseason with top 25 women's club team Northampton Starling, expect to see Williams looking poised and ready to do damage on their revenge tour this season.
Mount Holyoke Daisy Chain, the third bid earners at last season's Regionals, are eyeing a return to Nationals utilizing the immense talent of 2022 DPOTY and U24 Women's team selection Gigi Downey, as well as the throwing prowess of Second Team member Sydney Zobel. After a heartbreaking universe point loss to Daisy Chain in the game-to-go, Brandeis Banshee is on the hunt for their Nationals return after the program's first ever showing in 2021. Led by a skilled handler core of captains XiHu "Flame" Arfa, Nina "Mamba" Zhang, and Sofia "Cypress" Cohen, Banshee is looking to keep their momentum going after a strong start to the 2022-2023 season.
Adding to the maelstrom of strong teams, late 2010s D-I powerhouse Dartmouth Daybreak will be competing in D-III this spring season: how will they stack up against the D-III powerhouses in the region? Can Amherst Sparkle Motion or Bates Cold Front improve on their backdoor quarterfinals exits at last season's Regionals and make a deeper run into the bracket? There's simply too many good teams and not enough bids for the college division's strongest region.
– Ben Moyer
USAU Return to the Algorithm
USAU announced a return to the algorithm for 2023, the first time in four years. Each region will receive one auto-bid to Nationals with six strength bids up for grabs. We already anticipate a cutthroat New England region, with five teams in the top 10 of the power rankings. However, expect Ohio Valley to be a battle as well, with the Haverford Sneetches finishing with a strong 7th place tie with Lehigh Gravity last year at Nationals. It will be up to these teams to perform during the spring season to win a strength bid, lest they battle it out in the game-to-go come April.
This isn't to discount the other regions from racking up strength bids, too. With a championship from Stanford Open already under their belts in 2023, Carleton College Eclipse has already established themselves as a force to be reckoned with. St. Olaf Vortex is sure to be on Eclipse's heels in the North Central, hoping to win a strength bid for themselves to send them both teams to Ohio. Additionally, the Northwest region should be contested as well — Portland UPRoar and Lewis & Clark Artemis are sure to be hopeful returners to Nationals, but pre-COVID nationals regulars Puget Sound Clearcut could certainly throw a wrench in these team's plans.
One thing is for certain this season: teams will not be competing for the auto-bid to Nationals; they'll be vying to win that second strength bid all season.
Strong Rosters Rebuilding
At the end of last season, there were questions raised as to Portland UPRoar's future success without back to back Offensive Player of the Year Jaclyn Wataoka managing the disc. After throwing a jaw-dropping 29 assists in Milwaukee, who will fill her shoes? This past weekend, UPRoar answered that question with a strong third place finish at Stanford Open. Not just one player stepped up, it was the whole team. Having doubled their roster since last May, Portland has shown that their loss of one impactful player meant room for the entire team to take on bigger responsibility.
On the other side of the coin, Lehigh Gravity not only lost All-American Second Team player Anna Sivinski but seven other players who led the team in scores and assists from 2022 Nationals.1 However, Gravity also looks to prove doubters wrong with a decisive tournament win at Autumn Sky Championships — highlighted by this huck from senior captain Catherine Spellman to rookie-to-watch Jessica Fiske:
To round out our analysis of impressive teams from last year, Rice Torque returns both Sandy Wu and Sophia Figueroa. The duo carried their team to prequarters in both Norco and Milwaukee, with Wu bringing home a Breakout Player of the Year Award in 2022. In a region that requires a huge amount of travel to even attend regular season tournaments, we anticipate Centex to be the South Central's opportunity to tee off the season.
Players to Watch
Some of the players we think will define the 2023 college season. 
Atlantic Coast
Carolina Brusch (Mary Washington)
Lucy Sevetson (Richmond)
MaryEileen McDermott (Catholic)
Great Lakes
Tegan Doherty (Knox)
Morgan Hopkins (Knox)
Emma Elliot (Michigan Tech)
Metro East
Rose Gordon (Skidmore)
Olivia Pestos (SUNY Geneseo)
Emily Xu (Rochester)
New England
Claire Babbott Bryan (Middlebury)
Tess Dolan (Wellesley)
Gigi Downey (Mount Holyoke)
North Central
Harper Brooks-Kahn (Carleton)
Zoe Marquis (Carleton)
Leina Gotta (St. Olaf)
Northwest
Julia Hanly (Portland)
Makayley Kruger (Portland)
Beatrice Bugos (Puget Sound)
Ohio Valley
Lindsey Hua (Haverford/Bryn Mawr)
Phoebe Hulbert (Haverford/Bryn Mawr)
Catherine Spellman (Lehigh)
Southeast
Hannah Tritschler (Berry)
Joi Buckley (Berry)
Victoria Green (Union)
South Central
Sandy Wu (Rice)
Sophia Figueroa (Rice)
Eileen Finley (Truman State)
Southwest
Jaya Duckworth (Occidental)
Meiyi Weisbord (Occidental)
The Current Power Rankings
---
See Anna Sivinski and Jaclyn Wataoka face off in the WUL with San Diego Super Bloom and San Francisco Falcons, respectively. ↩