The University of Oregon Callahan winner is headed back to his home state.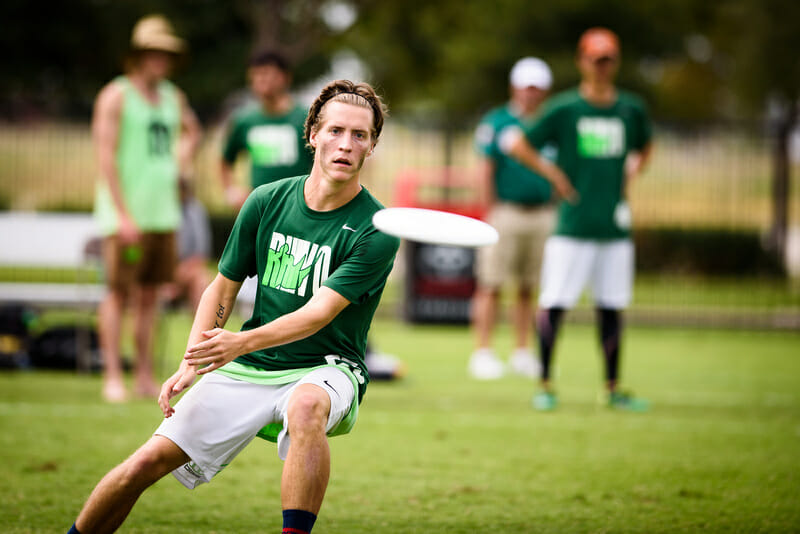 2019 Men's Club Player of the Year, USA National Team representative, and Seattle Sockeye star Dylan Freechild is heading home.
The Oregon native is set to return to his former club team, Portland Rhino Slam!, in the 2023 club season, further shaking up the power dynamic in the Northwest region and continuing Rhino's rise towards title contention.
"I always imagined coming back," said Freechild, who is moving from Southern California with his fiancée Amy back to Oregon. After six years of being a travel player with Sockeye, he will play for his local team again this season.
"Dylan's contributed a ton to Sockeye on various levels (culturally/socially, as a player, in terms of equity, in terms of the structure and sustainability of Sockeye, etc.) over the years," said Sockeye captain Trent Dillon. "It will for sure be sad to see him go."
After winning a championship in 2019, Sockeye hasn't been able to rekindle the magic despite retaining the core of the team that carried them to a title, losing in semifinals in 2021 and then in prequarters last October. 2023 looks to be a reset year for the team after a grueling push to get back to the top of the mountain.
"We'll be undergoing an overhaul for sure, both in terms of personnel and approach," said Dillon. "But I think given the contributions and leadership from folks like Dylan (as well as Ben Snell, Nathan Kwon, Simon Montague, Jacob Janin, and others) over the years (a lot of which had to do with long-long-term sustainability and pipeline development – a little harder to see from the outside), I think we'll be in a position to compete with the best of them again in no time."
Meanwhile, Rhino Slam is coming off of back-to-back semifinals appearances and now adding one of the best club players of this generation.
"Dylan means a lot to Oregon as a homegrown talent who has accomplished just about everything that you can in this sport," said Rhino Slam captain Vinh Bui. "I've personally seen him grow from a kid in middle school with a mop top and high socks to the person and player he is now. I'm really proud of him and I'm really proud of Oregon as an underrated hot bed for ultimate.
"It's easy to think that it will be an instant fit, but there is a whole generation of Rhino players who have never played with him or don't know him on a personal level. So it will require work to build chemistry and trust on both sides. Thankfully we've been deliberate about building our team culture around trust since 2019. It's also easy to expect results right away, but we'll continue to focus on building a fun team culture, investing in our community, and working hard together first."
Freechild says that the choice to return to Rhino was clear for him — coming back to Oregon was always the plan, and he wanted to make sure to play again with Rhino while he was still at his best as a player. "At one point at World Games in Alabama [last summer], we played ultimate trivia and Miranda [Roth Knowles] asked which city had never won a championship in men's, women's, or mixed," he said. "I knew in my gut Portland was the answer, so I went ahead and answered and got it right. I knew then that with my move back to Oregon and my turning 32 this coming club season, it was time to try and make that happen. It's not just about playing Rhino again but about investing in the community I call home. I think this will remain my goal even after I'm done playing."