And the Men's Player of the Year is...
Ultiworld's 2019 Men's Club Awards presented by DiscStore.com; all opinions are those of the author. Get $10 OFF Hooded Jerseys for your team using code Ultiworld20 at DiscStore.com!
Ultiworld is pleased to announce our fourth annual Men's Club Player of the Year award. While we consider both regular season and postseason performance, because of the nature of the Club Division, we weight success in the Series and at Nationals above all else. The Club Awards are selected based on input from Ultiworld reporters, contributors, and editors.
Our Player of the Year winner and runners up are the three best performers of the 2019 Club season and the POTY podium represents our highest individual award. As such, players honored here are not eligible for our other awards.
Offensive Player of the Year Award
Defensive Player of the Year Award
Breakout Player of the Year Award
Coach(es) of the Year Award
All-Club First Team
All-Club Second Team
2019 Men's Club Player Of The Year
Dylan Freechild (Seattle Sockeye)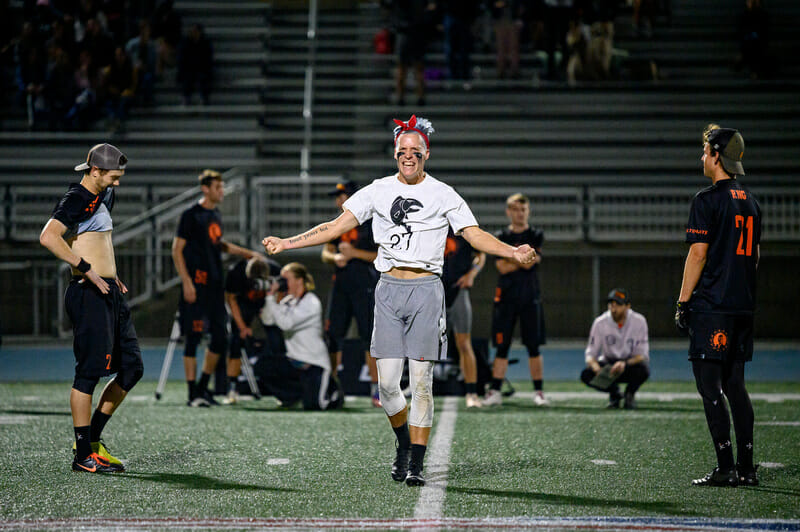 How could it be anyone else? In a year where Sockeye went wire-to-wire as the top team in the country, Freechild similarly owned the season as the best player in the men's game.
This award and this season has been years in the making for one of ultimate's most scrutinized players. He's possessed an undeniable brilliance his whole career, and the past three years with Sockeye that brilliance has been channeled into a steely efficiency, unlocking a new level to his game. There have been some growing pains with a new fit and a new culture, but this season Freechild put his stamp on the team and on the history of the program by leading Seattle to a long awaited title.
Always one of the most talented players, Freechild has honed his game to a lethal point. Brash and precocious, he attracted almost as much criticism as plaudits for his play: Too flashy, 'all style, no substance,' can't do what it takes to really win. But those critics have been silenced as Freechild has stripped away all excess from his game and all doubt from his sense of purpose. There is no wasted motion, no frivolous give-and-go's; every step is intentional and precise. The Sockeye captain has combined his prodigious gifts with a masterful understanding of motion and space to become the toughest cover in the division.
He possesses a repertoire of stutter steps, hesitation moves, and shoulder shakes that could get a statue to bite. And that famous pace, plastering defenders hazily on the background of a poster. Always churning and finding an advantage, running full tilt at imperceptible angles on paths no one else can follow.
And he does it all backwards and in heels on defense. Freechild was always able to notch big blocks1 but now he has shown the ability to become a defensive blanket. His instinctual defense allows him to integrate seamlessly into Seattle's intricate poaching schemes as well go toe-to-toe in person defense against all shapes and sizes of matchups.
The maturity of his game was validated in the final of Nationals against Machine. Sapped of the speed that was his greatest weapon by a foot injury, Freechild showed off the cerebral elements of his game, creating space for his teammates and keeping the offense moving without needing to get every touch. While earlier in his career Freechild may have felt the need to play hero-ball in a big moment, his ability to remain cool and play within his team's strengths as Machine's comeback mounted showed the maturity of a player who has figured out what it takes to really win. In sudden death, he took the reigns, running one last give-and-go before dishing the winning goal.
But even without that performance in the final, Freechild's season as a whole was undeniable. He was leading the team at the head of a calm O-line and juicing the defense to get big breaks all season. Turnovers have been all but eliminated from his game, not from a regression to conservatism, but from learning a sense of pace, of when to pull the trigger and when to bide his time.
Freechild has come close to this award in the past, coming in as runner-up in 2017 after an injury at Nationals sent him and Sockeye home early. A first team All-American the past two seasons, it's been clear for a while now that he had put all the pieces of the game together. But this season those pieces took shape into a masterwork.
–Patrick Stegemoeller
1st Runner-Up
Ryan Osgar (Minneapolis Sub Zero)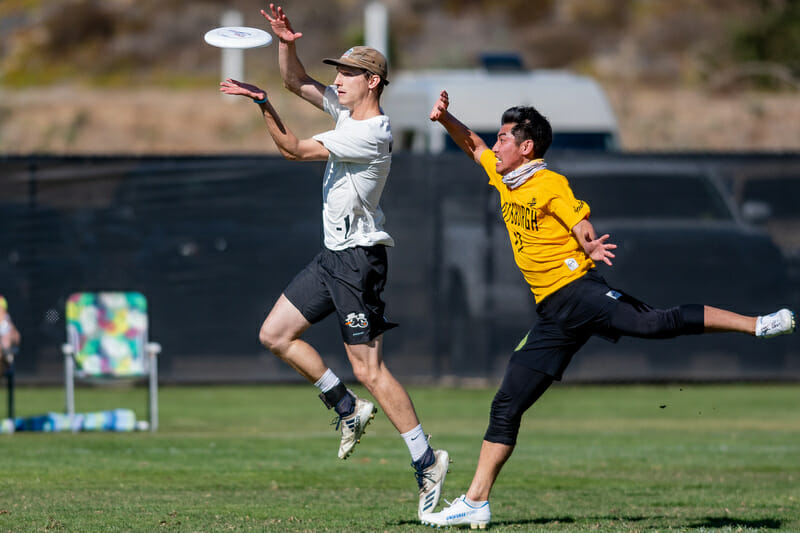 Sub Zero totaled 93 points at Nationals this year. Ryan Osgar scored or assisted on 49 of them. Let that sink in for a minute.
Scoring stats alone rarely produce an adequate picture of a player's impact. In Osgar's case, though, the numbers do him justice. His 32 assists led the tournament by a mile. The 17 goals were good for second overall, and, honestly, if he hadn't been on the throwing end so many of the scores himself, he could well have topped Leandro Marx's 20. Osgar's Nationals performance wasn't a statistical aberration either — it only represented a step up from a gaudy nine goals and 27 assists he posted over six games at the US Open in August.
Anyone who watched Sub play in 2019 will remember the low-trajectory outside-in forehand hucks Osgar would slip between and beyond deep defenders so often that they became the team's bread-and-butter offense. Equally memorable, perhaps, was the impression of total self-assurance given by the notably subdued walk he would take to the sideline after each one while his teammates stormed the field. But to view Osgar only in that light — the division's premier deep thrower, bar none — is to sell him short. The one-time Minnesota Grey Duck star was everywhere for Sub's offense in 2019. He cut to initiate the offense on nearly every pull play, provided late-stall outlets mid-point when the defense clamped down, and — on the points where he didn't find an early deep look to his liking — played the key role in Sub's goal line dominator.
It's all the more remarkable that a single player was able to bend the game to his will given recent trends in team defense. In this golden era of zones, switches, sags, and system poaches, there was no scheme to contain Osgar in either the lane or the red zone. In his least productive game of the tournament, Sockeye 'held him to just' two goals and three assists.
The cherry on top is that, far from being reckless with the disc, Osgar operated as a model of efficiency. Shooters and throwaways are a package deal, and you give a player the green light in the expectation that the hits will more than make up for the inevitable misses. But his 49 points at Nationals came at a price of only six recorded turnovers — leaving him with by far the best +/- line in any division.2
–Edward Stephens
2nd Runner-Up
Chris Kocher (New York PoNY)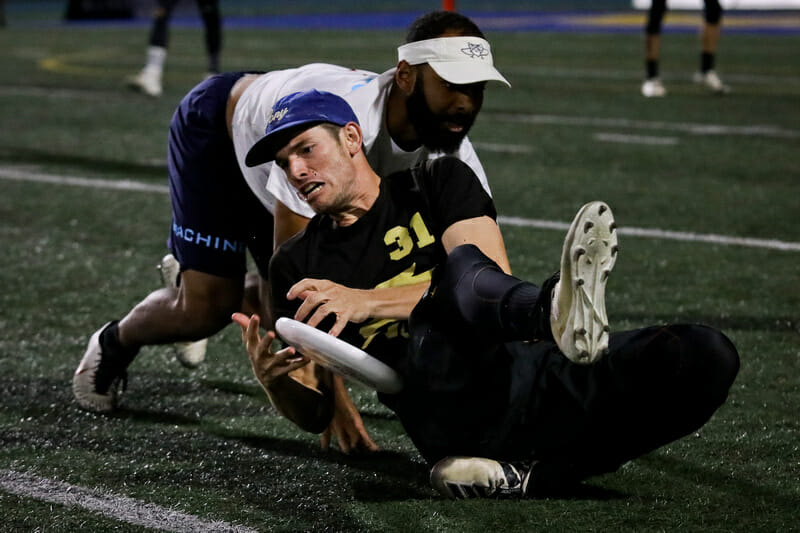 Flashback to NexGen 2012: Chris Kocher is one of 15 players selected to tour the country, playing against numerous elite club teams. While he played well, Kocher was one of the least notable players on the squad; postseason analysis pegged him as a player with a "low offensive impact." The 2013 tour was more of the same. Kocher finished with a meager 2G/2A/3D and an 88% retention rate. Teammates like Matt Rehder, Jimmy Mickle, Simon Montague, and Dylan Freechild stood out as future superstars; Kocher was a gritty defender and not much else.
Six years, three world championships, and one national title later, we're now having a much different conversation about Chris Kocher. While a honed elite defender, Kocher has sharpened his offensive prowess to a fine point. He's one of the most versatile players in the game, able to occupy any role his team needs. Shutdown defender? Check. Unstoppable cutter? That's well-documented. Stupendous handler? He and Mickle's lethal backfield movement last season won PoNY a title. He did all that and more in 2019.
Along with Mickle, Sean Keegan, Harper Garvey, and Alex Thorne, Kocher rotates in and out of PoNY's handler sets constantly, utilizing give-and-go's to eat up large swaths of field. Should a defender stifle his upline cut, he attacks deep, leaving his out-of-position defender in the dust. Kocher is constantly probing defenses with slicing cuts and nimble footwork, looking for that weak spot. He's an opportunist, plain and simple, and there are few in today's game that can take advantage of those opportunities like he can.
Amidst PoNY's postseason struggles, Kocher was the picture of consistency. While Mickle floundered, he stepped into the field general role and quarterbacked the offense ably. No, PoNY's season didn't end the way they wanted, and there's a number of factors we can point to as the reason. Chris Kocher isn't one of them.
PS: If Kocher someday makes the Hall of Fame, this is the picture they're putting up next to his plaque.
–Charlie Enders
***
Editor's Correction: Due to an initial ballot miscount, we previously misrepresented the order of the two runners up. We apologize to both players for the error.
---
See; "SAVES THE GAAAMMMEEE". ↩

Women's: Kami Groom, +23; Mixed: Ian Engler, +25 ↩