What stood out, for better and for worse, on Saturday of Prez Day, plus a contribution from ChatGPT.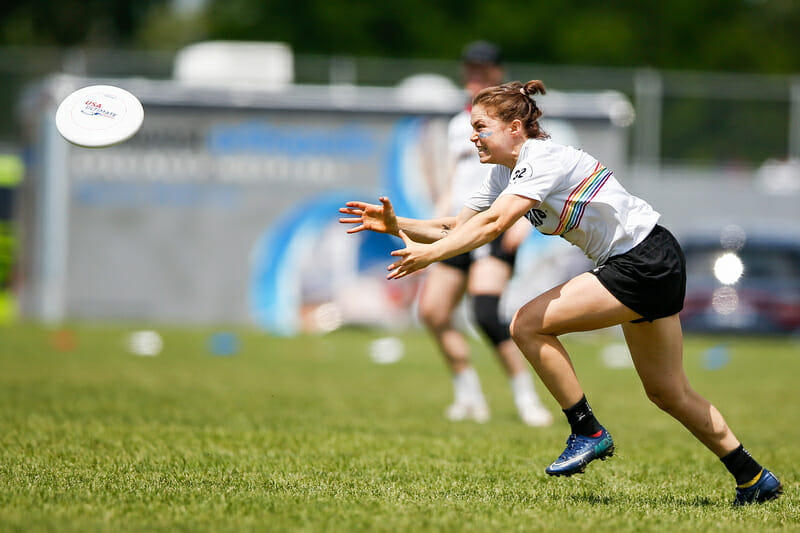 Ultiworld's coverage of the 2023 college ultimate season are presented by Spin Ultimate; all opinions are those of the author(s). Find out how Spin can get you, and your team, looking your best this season.
SAN DIEGO — The first day of the Presidents' Day Invite has concluded and there were plenty of things to be excited about, but also a few disappointments to be had. As we move into Sunday's reshuffled pools and towards bracket play, here are the highs and lows of Saturday play.
The Good: Colorado State
At the end of the day, ultimate frisbee is a results-oriented sport. Wins matter. However, they don't always paint the full picture. In the case of Colorado State Hell's Belles, the results are actually pretty misleading. The team ended Saturday with a 1-3 record and lost to a lower seeded team, Carleton Eclipse. Their scoreline does them a disservice, though. CSU is a good team. They likely aren't a great team, but they're much better than their record suggests.
Across all their games, CSU had two games that ended on universe point, and another game that was decided within two points. If they had scored four more points, they would have a 3-1 record, plain and simple. Even after losing many of their best players off a Nationals team, CSU has more than enough pieces to be competitive on a national level. Willow Purvis is the real deal, and although she's relied on a little too much to generate points, she's good at generating points. Charlotte Bokhof, Annie Pelletier, and Cice Kim are also really useful pieces downfield, giving Hell's Belles some real punch on offense. Where they falter is in their depth. The team starts to slip late in games as their endurance is worn down, as they only boast 16 players on their roster. They might not make the bracket, but CSU has to be taken seriously.
The Good: Cal's Georgia Cardosa
The best player at the tournament on day one of Presidents' Day Invite was California's Georgia Cardosa. There were a lot of really talented players, many of whom deserve recognition and will likely make the tournament all star line, but no one else played as well as Georgia Cardosa. Cal-Berkeley's do-it-all star played both ways, in any role, and also took the toughest matchups on the field. She was the team's puller when they needed, was their mid in their zone, and was the focal point of their zone offense, especially after Betsy Siegel was unable to take the field later on in the day.
Cal struggled to make a strong impact on day one, often looking depleted in the second half of their games, but in those moments, Cardosa shone even stronger. With the amount of zones and switching coverages that Cal faced, they needed Cardosa to play almost every point, which she did without complaint or consternation, even when it was clear that the amount of game time was causing fatigue. Even when tired, though, Cardosa was still one of the best players on the field, no matter her opponent.
The Good: All of Pool B
It's already been mentioned just how underrated CSU stands to become thanks to their record, and that's largely due to the level of competition in their pool. Before the tournament we mentioned that Pool B stood a chance of being the pool of death. By the end of day one, that was a reality. Three universe point games and two more decided by two points. Only Stanford seemed to have an easy time against their opponents, and even they were taken right to the edge against Oregon. For the most part, the wins didn't come easy, which is exactly why it made the competition so worthwhile to watch.
Thanks to their position as a D-III school, we won't see Carleton Eclipse on the same stage as these other teams again, but it's not out of the question that we could see three of the teams from this pool at Nationals in May.
The Good: Colorado's Offense
When it comes to Colorado Quandary, day one was about as tidy as they could hope. They ended Saturday with the best point differential of any team, and rarely struggled against their opponents after the first few points of their games. While we often look to the defense in these moments as the reason for blowout wins, it was Colorado's offense that was most impressive.
The team clearly has a lot of weapons. Even though Bailey Shigley was still not playing, the team was in the safe hands of Saioa Lostra, Emma Williamson, Emma Cortright, and Megan Kenny, just to name a few. They never lack for players who are able to fit their system, and are a better team at this stage than what they might have received credit for. Most importantly, if they turn over the disc, they know how to get it back. No offensive line was better at recovering from their mistakes, and that's what set Colorado apart. They might not have been perfect, but they weren't going to let that stop them.
It remains to be seen how they perform against the top teams at this level, with UCSB, Oregon, and Stanford likely chomping at the bit to play against the Boulder team, but early results are encouraging. Colorado is as good as advertised, maybe even a little better.
The Good: Clil Phillips
Colorado's offense was without a doubt the driving force of their success on Saturday, but when it comes to highlights, that all goes to Phillips. As a defender, no one was scarier on the mark. She had a hunger for the disc that translated to fast reflexes and innate field IQ. Not too much more needs to be said about her here because it's all but guaranteed that she's going to be immensely impactful over the course of Sunday and Monday. Just keep an eye out for her. She'll be hard to miss.
The Bad: Pulling
San Diego had about as close to perfect weather as one could hope for a tournament at this time of year. The sun was shining, the air was warm, and there was little to no breeze for most of the day. For any puller, this weather was a dream. Well, that dream shattered quickly. There were very few teams that could consistently pull past halffield, and many more OB pulls to go alongside that. It's unclear whether pulling has not been prioritized or whether it's too early in the season for most of these teams, but the level of pulling has dropped significantly from even 2022.
There's an old ultimate adage that might even predate the internet but still holds true to this day: defense starts with the pull. This has been a north star for decades. It's apparent in any game of high level ultimate that is played. Of course, training college students to pull is no easy feat and requires a lot of discipline and technique. It's an investment. It's understandable why it might not be at the forefront of a coach's mind. However, at a tournament such as this, it's so readily apparent what a difference a good pull can make. The teams that pull well win games. That might seem simplistic, but it's true.
The Bad: Short Field Turns
Many teams are starting their season at Presidents' Day. Many teams have to work out the flaws in their system and learn what exactly it is that the team needs to work on most. Even the best teams have a responsibility to train their rookies or inexperienced players so they will develop into the best versions of themselves they can be. All this is understood.
What's not understandable is how frequently short field turns were occurring over the course of day one. It's infinitely more valuable to turn the disc over past halffield or with a huck, and yet players were forcing tough throws into their own backfield, or doing a bailout dump on a high stall. Against teams like Stanford and Colorado, this almost immediately translated into a break. There's a certain amount of leniency that has to be allowed for players in their first tournament of the year, but this is a fixable problem that did not seem to be addressed in the same way as so many others over the course of Saturday.
The Bad: Zone Offense
After the Santa Barbara Invite, there were high hopes that the level of zone offense that had been shown at the tournament would translate into ongoing success throughout the year. Despite the high winds and suspect weather, most teams played patiently and without fear. Well, in San Diego, they definitely still played without fear. Perhaps they could have used a little more of that.
It might have been that the good weather caused some overconfidence in the players. There were plenty of moments where hucks, hammers, and blades were all used in some capacity to try and beat the cup, only for them to be taken down by cognizant defenders. In general, patience was a rare commodity. Even when a hammer worked, it only gave the team the confidence to try again, with middling results. There was not a lot of consistency with zone offense, and while it would be nice to credit the defense with this fact, most of it comes down to the throwers themselves. Here's hoping Sunday and Monday see a little more restraint, as the quality definitely grows with each holstered blade.
The AI: Welcome ChatGPT
A lot has been made of the new use cases for AI chatbots and their ability to provide accurate results on topics from every walk of life. It was inevitable that it would arrive at sports reporting some time or another. Just how difficult is it to write a few words on the performance of players and teams at a tournament? Thankfully, we have our answer. Using a detailed prompt that included teams and records for Presidents' Day 2023, we fed ChatGPT a query to write us a report on the first day of the tournament. For your viewing pleasure, here are the results:
The Presidents' Day Invite tournament showcased some of the best women's ultimate teams in the country, including Colorado, Stanford, Oregon, and UCSB. The four teams played some impressive games, showcasing their skill and determination on the field.

Colorado, known for their tenacious defense, came out strong in the tournament. Led by star player Marisa Rafter, the team dominated on both ends of the field. Their defensive line was particularly impressive, shutting down opposing teams and causing turnovers. Colorado finished the day with an impressive 6-1 record.

Stanford, meanwhile, put on a clinic with their precision offense. The team, which has a history of producing talented players, showed off their depth and versatility throughout the tournament. Standout players included Tess Warner and Laney Gilmore, who were instrumental in leading the team to a 5-2 record.

Oregon, the reigning national champions, showed why they're still one of the top teams in the country. Led by a talented group of seniors, the team played with confidence and poise throughout the tournament. Their defense was particularly impressive, forcing turnovers and converting them into scores. Oregon finished with a 5-2 record, setting them up for another strong postseason run.

Finally, UCSB proved to be a team to watch this season. The squad, which features a number of up-and-coming players, played with a level of intensity that was unmatched by many of their opponents. Their offense was particularly impressive, with players like Hannah Henkin and Savannah Downing providing a spark on the field. UCSB finished the tournament with a 4-3 record, solidifying their status as a team on the rise.

Overall, the first day of the Presidents' Day Invite tournament showcased some of the top women's ultimate teams in the country, including Colorado, Stanford, Oregon, and UCSB. Each team played with a level of skill and determination that bodes well for their postseason prospects. Fans of women's ultimate should be excited for what's to come.
I, for one, am happy to see the return of players like Marisa Rafter and Hannah Henkin to the college division. Still, it's nice to know that the reporters aren't going to be replaced any time soon.