Superlatives from the premier D-III men's tournament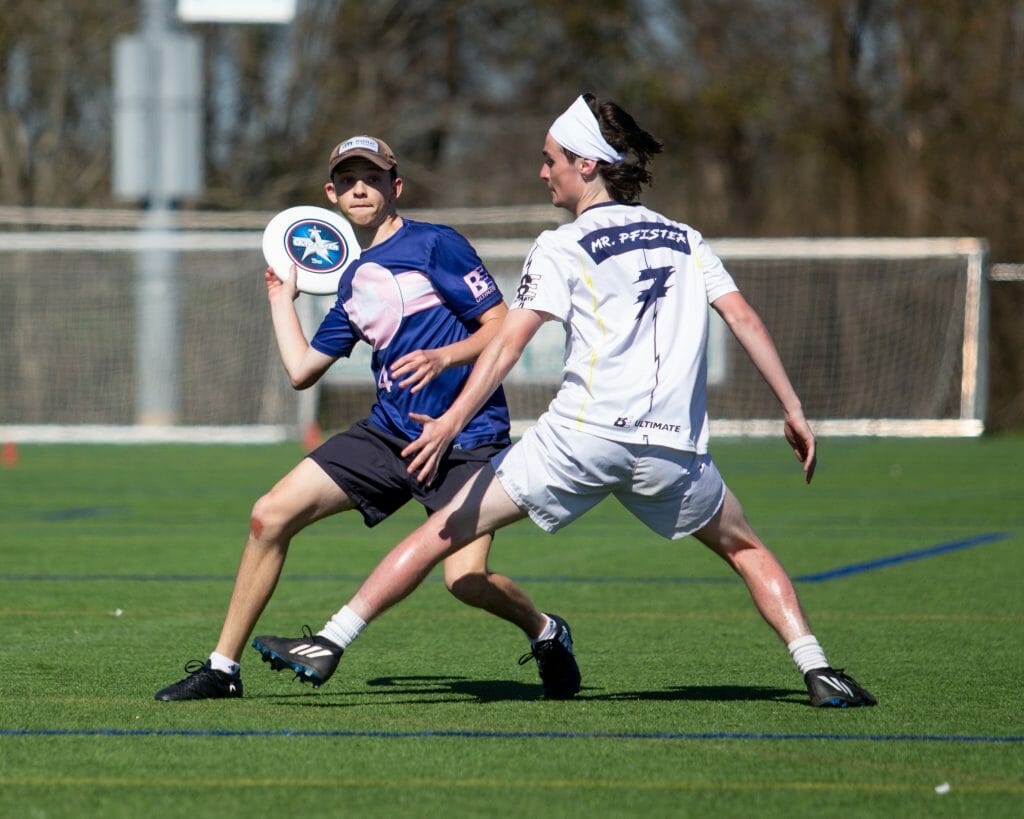 Ultiworld's coverage of the 2023 college ultimate season are presented by Spin Ultimate; all opinions are those of the author(s). Find out how Spin can get you, and your team, looking your best this season.
Disclaimer: the author of this recap is the FCS tournament director.
We truly couldn't have asked for a better weekend for the first major D-III men's tournament of the season. Nothing but sunshine and blue skies hovered above the fields in Advance, NC for FCS D-III Tune Up, and while 10-15 mph winds affected moments of play on Saturday, there was only a light breeze for Sunday play.
Being pulled in many directions to run the tournament, and the lack of a traditional pool play + bracket schedule, make doing a traditional tournament recap a bit difficult. However, I still saw plenty of action over the weekend, and quite a few things stood out to me. So instead of a usual tournament recap, I present to you the superlatives for 2023 FCS D-III Tune Up.
Results

Best Streamed Game: Richmond vs Lewis & Clark
This was the most difficult superlative to give because we were blessed with so many great streamed games; four of the seven went to double game point. However, the game that stands out above the rest is Richmond vs Lewis & Clark in the third round of Saturday play. It was a close game throughout, with neither team ever leading by more than two goals. Both sides made a handful of incredible plays, and the game ended with one of the more ridiculous game winners I've ever seen. If you're a fan of D-III ultimate, the entire slate of games is worth getting a subscription for, but this game is where you should start watching.
The Best Team Offense: Oberlin Flying Horsecows
In the tournament preview, I wrote about how we entered this weekend with lots of questions about what this year's Flying Horsecows would look like. Any concerns about how Oberlin would handle the losses from last year's Nationals team were definitively put to rest: after a rocky start to the weekend against Navy, the Flying Horsecows rattled off six straight wins to finish the weekend 6-1, and their success primarily came on the back of the cleanest offense I saw all weekend.
Every possession started the same for the Oberlin O-line: center the disc to Ben Fuguet, give him a deep look and a break side look, and go from there. Fuguet operated with clinical precision all weekend, and when the wind wasn't a factor on Sunday, threw many goals off the initiation play to excellent cutters like Jack Povilaitis and Braque Pike. He commanded the disc, but never broke the team's system, and his play made the rest of the O-line better.
As impressive as Fuguet was, an equal share of credit should go to coach Meghan Drews. No matter what combination of players were on the field, Oberlin played exactly the same way, demonstrating a real commitment to the system she's put in place. When teams are good despite massive turnover, a huge tip of the cap should go to the coaching, and Drews certainly deserves that respect.
The Best Team Defense: Navy Poseidon
Bonus Content for FCS D-III Tune Up 2023: Tournament Recap (Men's) is only available to Ultiworld Subscribers
Already have a subscription? Log in
Whether you visit Ultiworld for our reporting, our podcasts, or our video coverage, you can help us continue to provide high quality content with a subscription. By becoming a subscriber, not only do you receive benefits like bonus content and full article RSS feeds, you also help fund all of Ultiworld's coverage in general. We appreciate your support!