Title contenders, roster changes, and potential new stars for the 2023 Premier Ultimate League season!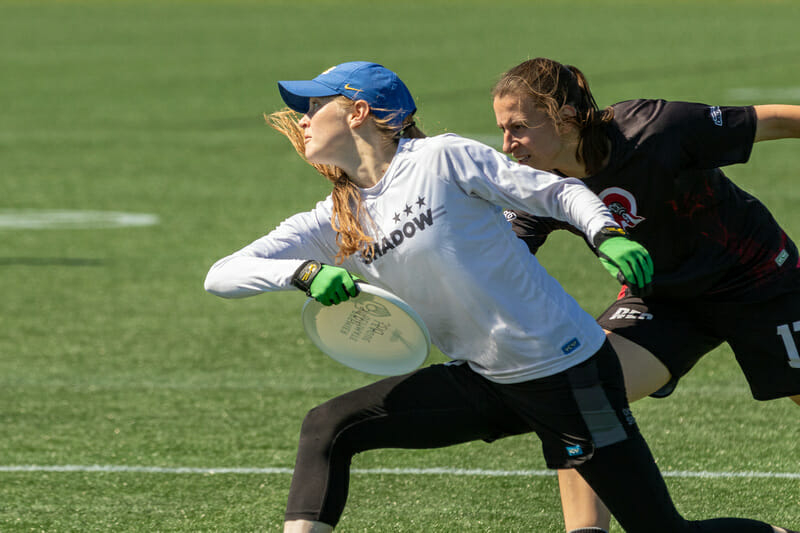 Contributing author Laura Osterlund works in communications for Minnesota Strike.
This weekend marks the start of the 2023 Premier Ultimate League season, the league's first without reigning champions Medellin Revolution. In Revo's place, Philadelphia Surge have joined the East division, making for a gauntlet of teams from Portland down to DC. 
The 2023 PUL season will run for 11 weeks between April 2 and June 17, with Championship Weekend set to be held in DC June 16-17. Each team will play six games total, with between three and four games against divisional opposition and two to three games against teams from outside their division. As in 2022, the top team from each division will make it to Championship Weekend, along with the best second-place team as determined algorithmically. For more on this season's PUL schedule, see Jenna Weiner and Ryan Kindell's PUL schedule announcement article.
Stories to Watch
New Year, New Champs
The Queen is dead, long live the Queen.
With undefeated, two-time champions Medellin Revolution off to start a new Latin American-centric league, the PUL is guaranteed to have a brand new champion for the first time since the league launched in 2019. The only question is: who will it be?
Any list of contenders has to start in the East division. Once again looking like the best division in the league, the East hosts a quartet of teams that all feel like potential title contenders before the season kicks off. Still, a strong Raleigh Radiance looms in the South division, and Minnesota Strike have risen to the top of the Midwest pecking order with the additions of Robyn Fennig and Sarah Meckstroth. Here's a quick rundown of each of the top-six contenders, and why they will, or won't, win the title come season's end.
DC Shadow
2022 record: 4-2, 2023 projected Strength of Schedule: 0.5771
Why they will: Shadow were runner-ups last season, and Claire Trop returns to lead the line alongside fellow World Games winner Carolyn Normile. Seems as straightforward a case as there is.
Why they won't: With Philadelphia joining the league, DC will be without some of their key players from last year, including Raha Mozafarri, Linda Morse, and Casey Gorman, which could prove to be their undoing this time around.
Portland Rising
2022 record: 5-1, 2023 projected Strength of Schedule: 0.545
Why they will: Rising had the second-best record in the league last season at 5-1 (alongside Raleigh), and the top end of their roster is loaded with some of the best talent the Northeast has to offer.
Why they won't: Portland played a softer schedule last season that cost them a spot in Championship Weekend, while this year their schedule is among the most difficult in the league.
New York Gridlock
2022 record: 2-3, 2023 projected Strength of Schedule: 0.586
Why they will: With the additions of Yina Cartagena and Elizabeth Mosquera from Revolution joining experienced club talent from the likes of XIST, BENT, and Brute Squad, there's an argument to be made that New York has the best roster in the league.
Why they won't: Gridlock's roster was great as well in 2022, but the team underperformed their expectations. The same could well happen this year in the stacked East division.
Philadelphia Surge
2022 record: N/A, 2023 projected Strength of Schedule: 0.686
Why they will: Star players up and down the roster? Check. Pre-built chemistry from club seasons past? Definitely. An enthusiastic fan base ready to cheer their team to victory? Absolutely. All the pieces are there for league newcomers Surge.
Why they won't: It's extremely rare for a brand-new team to win the title in their inaugural season, and with the level of competition that Philly will be facing, the odds feel long for them to break that trend.
Raleigh Radiance
2022 record: 5-1, 2023 projected Strength of Schedule: 0.300
Why they will: Radiance seemed primed to cruise to top of the South division for a second straight season, and from there their talented squad needs only two wins to take home the title.
Why they won't: Last season a supremely skilled Raleigh roster fell short in the semis to the best that the East division had to offer, and they could falter at a similar hurdle once again.
Minnesota Strike
2022 record: 2-4, 2023 projected Strength of Schedule: 0.281
Why they will: Minnesota have Robyn Fennig throwing hucks to Sarah Meckstroth for them this season, and along with having the easiest projected strength of schedule in the league, that may be all they need.
Why they won't: Strike picked up just two wins last season, and while Fennig and Meckstroth are incredible additions, two players alone don't make a team.
Electricity Comes To Strike
When it comes to roster announcements this season, very few have been more shocking than Minnesota Strike when they announced not one, but two world-class players as additions to their team in Sarah Meckstroth and Robyn Fennig.
Right off the bat, Strike announced the return of one of their 'founding seven' Sarah Meckstroth. To some, especially to many Minnesotans, this was less of a shock compared to her move to Raleigh last season. The reason? Meckstroth is back living in Minneapolis. That said, there were some discussions among the ultimate community about which team the World Games champion would play with this season. Would she go back to her new North Carolina friends? Return to her Minnesota roots? Or find a fourth (if you count Meckstroth's 2021 season with DC Shadow) team to add to her impressive PUL resume?
Just when we thought Strike had broken their biggest news of the season with the Meckstroth announcement, Minnesota also announced the addition of reigning mixed POTY Robyn Fennig. Some keen eyes may have seen Fennig appear on one or two of Strike's Twitter posts from tryouts, but not many probably thought anything of it. Knowing that Fennig is highly connected with Wisconsin's ultimate scene and recently relocated to Sacramento, California, the announcement that she signed with Strike came out of left field — scratch that — a whole different ball park.
With these two powerhouses finally playing on the same team together for the first time since winning WUCC in 2014, they give Strike quite the superstar duo this season. That said, Fennig and Meckstroth will likely not play much on the same lines together — Fennig seems set to helm Strike's offensive line while Meckstroth tends to head up defensive or flex lines — but they still have plenty of Minnesota's returning stars to connect with. For example, Meckstroth will look to receive monster hucks from her former Drag'n Thrust teammate Alicia Carr, while Fennig will find a target in her 2019 DC Scandal teammate Danielle Byers. Not only that, but as two of the strongest players on the team this season, they're bound to take some pressure off of other returning standouts, including Byers, Jane Koch, Makella Daley, and Steph Wood. Not only will there be two players who have proven capable of carrying teams to victory on their own, but Fennig and Meckstroth are also likely going to draw some of their opponents' best defenders, allowing their teammates to make even more magic.
Of course, I have to also give credit to Strike's other additions. Gerene Taylor was another one of Monarch's most consistent handlers last season, while Emma Peaslee put up some big performances during her time on Radiance. Megan Randall will also possibly be able to help strategize about winning against Gridlock after coaching them in 2019, and DC transplant Carly Eckstrom might just be Strike's secret offensive weapon, making her PUL debut.
Both Fennig and Meckstroth are also proven assets off the field. They both know and love this sport well and have had prior experience on other teams in the PUL. They can bring some unique knowledge and insight to the team that mainly consists of players who are only in their second ever season playing in the PUL. Especially with her time on NOISE this past club season, Fennig has been heralded for her weirdness and enthusiasm that gave the team just the boost it needed to make it to the final at Nationals last year2. In Meckstroth's case, she is the most recent player on the team to win a world championship with her World Games appearance3, and can bring in some extra confidence and strategies from her wealth of experience.
Is it too soon to say that Strike will be a powerhouse team this season? Probably. Does Strike look as strong as some of these East coast teams? It's hard to say. But one thing's for sure, by adding Meckstroth and Fennig, Strike's ceiling just got quite a bit higher.
Is Raleigh Ring-Ready?
Raleigh has been the second strongest franchise in the PUL, behind the two-time champs. With RevoPro abdicating the throne, it only makes sense for the succession plan to call for Radiance's ascendance. But it might be too early to start asking around the Triangle for ring sizes.
This is simply not the Raleigh that has looked so formidable the past two seasons. Roughly half of their roster will be making their pro debuts, many of whom are youngsters like Theresa Yu, Erica Birdsong, and teenager Bella Russell. And while their incoming class has talent, it is a big ask to expect them to replace losses like Sarah Meckstroth, Audrey Lyman, Ella Juengst, Tyler Smith, Karen Ehrhardt, Jenny Wei, and Lyla Stanland.
Bucking the trend is Qxhna Titcomb, an established club star who is coming off a very successful Western Ultimate League campaign helping the Seattle Tempest earn a title. Her talent will be welcomed, as will her veteran perspective. Having some seasoned viewpoints will be beneficial for such an inexperienced team. Even their coaching staff, headed up by Liz Leon, is all new.
Of course, the returning group comprises a number of stars whose game is still on the rise. The UNC core of Dawn Culton, Bridget Mizener, Alex Barnett, and Grace Conerly have so much upside, while Ashley Powell and Claire Revere are plug-and-play vets.
The talent on Radiance is probably still championship caliber. Yet the considerable roster turnover and new coaching staff — it is worth noting that Leon comes from outside the North Carolina coaching community that has a lot of throughline systems — leave a lot of work to be done and lay plenty of potential pitfalls in front of this year's group.
Fresh Faces Galore
Every team, no matter the location or league, is bound to turn over a lot of their rosters. It's inevitable. It's a rarity when teams keep the majority of their players (the teams with the most returners are Torch, with 20 out of 26, Strike, with 18 out of 26- both including practice players). To say we've seen a roster shake-up within every PUL team this season might be an understatement. It's safe to say that every team has either a major signing or a notable absence this season. That said, the roster turnover of any team might not be new news, but the fact that there are a few teams with 10 returners or less really makes a statement.
Milwaukee Monarchs (10 returning players)
Notable Absences: Robyn Fennig, Georgia Bosscher, Sara Gnolek, Melissa Gibbs, Ness Canaday, Katy Stanton, Erynn Schroeder, Marge Walker, Kaitlynne Roling, Madison Moore, Gerene Taylor, Sarah Lipscomb
Notable Additions: Rose Glinka, Cassie Brown, Emily Cohen, Donna Johnston, Ashley Welsh
This season, Monarchs lost a handful of their talent for a myriad of reasons. A handful of these players moved out of the area and/or found teams to play with that are closer to their current locations. However, it's possible that this team is still reeling in the aftermath of the events that transpired last season, and the team's leadership core went through an entire transformation.
With the complete metamorphosis of the face of the team as we knew it from the team's departures, we'll get to see a new generation of Wisconsin's perennials. Some like to say that Madison, WI is the frisbee capital of the world, though perhaps just the people from there, and let's hope they're right because these local talents have some big shoes to fill.
Columbus Pride (10 returning players)
Notable Absences: Penny Wu, Dom Sutherland, AJ Uthe, Lilly Mendoza, Tiffany Lim, Emmy Schroeder
Notable Additions: Kat McGuire
It's another new look for a team, and this time it's Columbus Pride. Last season, they eked out only one win, against their closest rivals, Indy Red, earning them a bottom-seed finish in the Midwest division. They've had a history of being in the middle of the bottom of the pack, having a good ebb and flow of comings and goings of big-name players. But this season, it appears as if they've taken a small step back. They've lost several USAU Nationals caliber players without gaining many new ones who play at the same level to take their place. Kat McGuire will step in to fill in some of the cracks left by the players who are no longer with the team with her big game experience garnered as a member of Ann Arbor Hybrid.
Atlanta Soul (7 returning players)
Notable Absences:  Jess Sourbeer, Soju Hokari, Jin-Mi Matsunaga, Leah Tsinajinnie, Cate Woodhurst, Marie Perivier, Martha Wilber, Lanie O'Neill
Notable Additions: Amelia Cuarenta (just a practice player though), Cori Bradham, Erynn Schroeder, Dani Ortiz, Maria Vargas, Quincy Booth (?)
Every league has it: the team that's at the bottom, and last season, Soul was that team in the PUL. Let's rewind a little bit more though. In 2019, Soul won several games and arguably held their own against prominent teams (Revo, Gridlock) in the league. But they started bleeding talent, due to two years off and new team additions. Their season in 2022 was also rough due to a hard schedule, resulting in a winless year. So it's no surprise when the bleeding continued.
However, new year, new team has never been more true that it is for Soul this season, and the team even changed their entire brand this season into something more social-justice focused. Not only that, but they gained some extra talent on their roster. Dani Ortiz and Maria Vargas hail from Mexico and will hopefully add some unique perspectives. And Erynn Schroeder is back with the team, and we all know she's a beast on the field. With this extra depth added to the roster, let's hope that Soul can secure a win again.
Up and Up and Up
We've talked about some of the teams with a host of new players, now let's talk about a few of those squads looking to build upon their performances last season with at least half of their roster returning. Seven of the PUL's twelve teams bring back 50% or more players from their 2022 crews, three of which are in the jam-packed East division alongside league newcomers Philly, and the aforementioned Minnesota. That leaves Nashville Nightshade, Austin Torch, and 2022 Championship Weekend attendees Indy Red to cover, all of whom should rightfully think that they can improve upon their records from last season this time around.
Nashville Nightshade
Tennessee's PUL representatives will play the 2023 season with the smallest roster of all twelve teams – just 22 players total, half of which make a return from Nightshade's 2022 squad. The big names are well-known for Nashville, in particular Jesse Shofner and Rachel Kramer, but they aren't the only key returners for Nightshade, who have pulled players from across Tennessee and around the Southeast. Making the commute from Kansas City is Amanda Borders, a second-year player for Nashville. Borders will have company for her travel this year as Nightshade rookie Nadine Rowen also hails from KC. Katharine Gilbert and Emily Branson both return to lead Nashville's strong contingent out of Knoxville, while current Vanderbilt Surge captain Morgan Butts adds an injection of youth to this veteran Nightshade team looking to bounce back after a tough 1-5 2022 season.
Austin Torch
Torch bring back a league-high nineteen players from their 2022 roster, a promising sign for an Austin team that finished second in the South division with a 3-3 record. Four players have stayed with Torch since their first year back in 2018, and it'd be a surprise if Dre Esparza, Elise Bjork, Annie Ortiz, and Rachel Yeager don't play big roles for Austin once again this season. The pipeline from the Texas Melee college program remains strong as well, with Julia Schmaltz, Sanja Stojcic, and Emma Berrigan some of the leading lights for Melee over the years making their Torch returns. Those are only some of the notable names for this deep and talented Austin roster, and Torch will have their eyes set on trying to knock off Raleigh Radiance for the South division crown this year.
Indy Red
For a 2022 PUL Championship Weekend attending team, Indy have been somewhat overshadowed in the Midwest with Minnesota's striking additions, but don't discount potential back-to-back appearances for Red. They bring back seventeen players from their division-winning roster, and notably add Risa Umeno from Columbus and Melissa Gibbs from Milwaukee, who could help boost Indy over their divisional rivals. Tracey Lo, Hayley Banas, and Mya Hernandez bring back plenty of chemistry from their time playing together on both Red and mixed club team Ann Arbor Hybrid, while Kristin Dudley is Indy's representative from Pittsburgh Parcha. Even with Strike's improvements, Red's continuity will play well into their favor, though drawing the matchup against Minnesota on the road this season doesn't make things any easier for Indy as they aim to make their return to Championship Weekend.
Players to Watch
East Division
Elana Schwam (Portland Rising)
It's a joy for all involved that Elana Schwam will hit the PUL field for the first time this season with Rising, and the longtime standout from Boston is a huge value add for Portland. While Schwam hasn't been able to play at the elite level the last several years as a parent, during her time with Brute Squad in the club division she was known for making incredible layout catches, coming up clutch with important blocks, and a signature spike after her numerous scores. Hopefully we'll see much of the same from Schwam this season with Rising, as one of the best stories, let alone best players, in the sport hits the field again.
Genny DeJesus (New York Gridlock)
She's been around for a while, and has been known for shredding it on the field. But it's only recently that eyes have been on Genny DeJesus, as she tore things up in the cutting space at USAU Nationals in 2022, earning a spot on Ultiworld's All-Club First Team, with a broken nose no less. On a team with starpower from Brute Squad and Revolution, it might be easier for opponents to overlook players like DeJesus, and that's where she'll get you. With dizzying under cuts and powerful deep cuts, combined with teammates who can throw a real dime or two, she'll be hard to catch. And by the time her defenders do find her, it'll be too late, she'll already have collected the score.
Raha Mozafarri (Philadelphia Surge)
For any first-time team, having veteran players there to steady the nerves is crucial, and Mozaffari is one of the best in the business. A consistent presence in the upper echelons of the club division (see Mozaffari's appearances on Ultiworld's All-Club teams in 2015, 2017, and 2019), Mozaffari has operated as close to a "true hybrid" as one can get, meaning that she'll likely slot in wherever and whenever Philly need her. So don't be surprised if come season's end, Mozaffari has quietly filled up the stats sheet for Surge as one of their centerpiece players.
Ashleigh Buch (DC Shadow)
Shadow's #1 was first to be announced in DC's roster rollout this year, and for good reason. Buch is a matchup nightmare for her opponents as one of Shadow's favorite deep targets, and on defense she's more than happy to pick up block after block when teams try to test her on over the top throws. While certainly not the biggest name on a team with two recent World Games players, Buch might be one of the most important for a Shadow team looking to make a repeat run to the final.
Midwest Division
Gerene Taylor (Minnesota Strike)
To describe Gerene Taylor's presence and power in this sport is simple: If you know, you know; if you don't, you don't. She's not always the player to make big highlight plays4, but her quiet consistency in her throws has made her a superhero for all of the teams she's played on. Her arsenal of throws is about as full as it comes and she plays with the smarts to know which throw to whip out and when.
Anastasia Foster (Indy Red)
With their central location, Indy Red draw talent from around the Midwest region, but one of their farthest flung players is Anastasia Foster, who plies her club trade with Houston Crush City. One of Red's best playmakers, Foster showed off her impeccable timing with a "highlight of the week" worthy grab last season against Columbus, and is typically in great position downfield as a go-to outlet for Indy's handlers. Expect Foster to put up her fair share of goals and blocks for Red once again this season, as Indy tries to make back-to-back Championship Weekend appearances.
Sydney French (Milwaukee Monarchs)
It's hard to believe that Sydney French has only been playing Ultimate for two years. Her first season, she played with Madison Mousetrap, a team who finished 13th out of 16 teams at regionals. Her second and most recent season, she took on the world with Madison NOISE and placed second at Nationals. This meteoric5 rise is simply unheard of! Her defense is strong enough to smother even the most intimidating opponents6, snuffing their undercuts and forcing them to stretch the field. Pair that with her ability to stay calm on offense7 and you get a stunner in Milwaukee/Madison!
Kat McGuire (Columbus Pride)
Continuity has been hard to find for the Pride, so they'll have no problem inserting new addition Kat McGuire into a prominent role. The speedy cutter can operate as a red zone dynamo or in the midfield to set up continues. There will be a lot of usage up for grabs in Columbus, and McGuire may turn out to be the brightest light in Fortress Obetz this year.
South Division
Theresa Yu (Raleigh Radiance)
Glue players. They hold teams together, fitting into whatever roles their team needs them to, and making an often understated impact on the field. Enter Theresa Yu, who made the 2022 college Breakout Player of the Year podium with an all-around performance for the UNC Pleiades that is bound to carry over into her time with Radiance. Along with her current, and former, college teammates, Yu will help facilitate Raleigh's offense with a measured patience punctuated by big play moments, especially on the defensive end. If her opponents don't grant her the respect she deserves, Yu will surely make her impact felt point after point for Radiance.
Erynn Schroeder (Atlanta Soul)
If you somehow haven't heard of Erynn Schroeder, well, now you have. Good for at least one jaw-dropping layout catch a season, Schroeder returns to Soul after playing last year with the Monarchs. On a roster that only brings back seven players from its 2022 iteration, expect Schroeder to put up big numbers and big plays as they aim to lead Atlanta to the team's first win since 2019.
Rachel Kramer (Nashville Nightshade)
The woman many simply call "Nasa", a nickname from her collegiate career, was a central producer for the Nightshade last year. She's in her prime as a player, a smart and smooth lefty who can control the pace of play. She capitalized on defenses overattending to Jesse Shofner last season and excelled in every facet.
Brianna Stedman (Austin Torch)
A difference maker on and off the field, Brianna Stedman returns for their third season with Austin as part of the Torch's deep handler core. With their impressive deep throwing ability, Stedman will help power Austin's defensive line offense to success, and with well-established chemistry from their time on Texas Melee and Torch seasons past, Stedman is bound to be a key piece of Austin's success this year.
Preseason Power Rankings
---